4 Essential Tips for Small Business eCommerce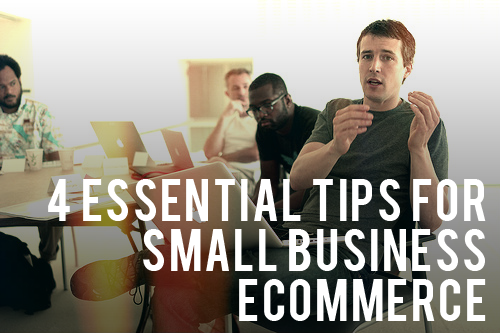 Taking your small business online can be a bit intimidating, especially if you aren't entirely web savvy. However, the draws of increased profits and an expanded customer base are too appealing to pass up. There are countless resources available online, and you should be able to get up and running in no time. When embarking on your eCommerce journey, keep in mind these 4 essential tips for small business success:
Tip #1
Get a Good Copywriter
Online, you have only a few ways to express yourself. Your customers need to know what your company's message is and how awesome your products are. A copywriter is going to help use language to fully describe your product and make it very appealing to prospective buyers. Because a buyer cannot pick up the product and look at it, you need to harness the power of words to bring the ecommerce buying experience to life. A good copywriter can effectively communicate to your customers, persuade them to purchase, and differentiate your small business from the competition.
Tip #2
Get a Good Photographer
Like the copywriter, a good photographer can go a long way in getting sales for your online shop. Detailed product shots can help your customers explore your product and see if it fits their needs. Pay attention to good lighting, and use high resolution images on your site. You need your products to look their very best. In addition to product photos, including styled "lifestyle" shots of your products in use and/or people enjoying them help sell. Show your customers what their life could be like if they purchase a product from your small business. You want excellent product photos to go with your excellent copy. Both factors can make or break a sale.
Tip #3
Make it Easy to Check Out
The easiest way for any small business to lose a sale after your copy and photos are all set is to have an awful check-out experience. Make sure your shopping cart works properly and the purchase can be completed in a few clicks. Ensure your customers trust putting in their payment information and that they feel secure through the process. If checking out is overly complicated or broken in any way, you are likely to lose the sale and the customer. The highest rate of shopping cart abandonment takes place at checkout, so it is essential to keep this process smooth.
Tip #4
Use Testimonials
Testimonials are very powerful tools that allow your existing customers to help you get more sales. Small businesses don't often have nationwide recognition, so they need to rely on social proof to validate their offering. Try to capture positive feedback from your customers and ask if you can feature them on your ecommerce site. Include their testimonial on your product pages. You can even go further in eliminating purchasing hesitation by including video testimonials.
If you optimize your ecommerce efforts by utilizing the above tips, you will save yourself time, increase sales, and improve your bottom line.
PayStand loves small business. Check out how our next-generation payment processing will change your life.