5 Ways To Improve Your Shopping Cart Conversion Rate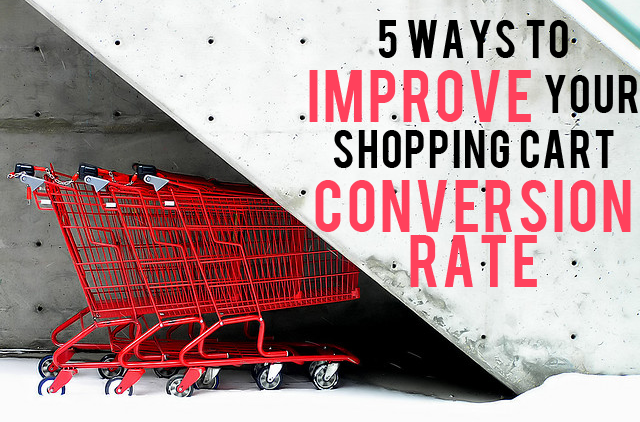 When selling products online, there are few things more important than your shopping cart conversion rate. Great product shots and descriptive information may drive a lot of 'Add to Cart' clicks, but they can only get you so far if your shopping cart does not convert. If you haven't convinced the customer to actually check out, your company can lose out on significant revenue. Here are five ways to improve your shopping cart conversion rate.
1) A Natural Flow
Let's start with the obvious. A large button on your website guiding customers to the cart and checkout is essential. A customer can't buy your products if they can't find the cart. When navigating within their shopping cart, customers need to easily be able to find all of the information they expect. That means a list of all products in the cart, including their price along with an option to change quantities and remove items. Every second the user spends looking for the right way to modify their cart or check out makes them less likely to actually go through with the purchase.
2) Be Clear About the Price
When users navigate to the shopping cart, they need to be able to easily find the individual product prices and total price. Be sure to include modified sales prices as well as sales tax and shipping. All these numbers can easily become confusing - so highlight the final amount, which the customer will actually be charged, with larger font and bolding.
3) Allow Guest Checkout
The desire to make potential customers register is understandable. But many of your purchases will come from one-time users, and they may not be willing to create an account knowing that they will not come back. You do not want to discourage these users from checking out, so be sure your shopping cart has a Guest Checkout option that allows one-time customers to purchase your product without registering on your site.
4) Show Your Security
Customers are becoming more wary of submitting their credit card information to online merchants. Counteract these feelings by assuring your customers about your site security certificate. Ensure that your payment processor is secure and compliant, like us here at PayStand. Do everything you can to make sure customers feel comfortable with actually completing their purchase.
5) Ensure Browser Capability
Some eCommerce software, such as the free version of Magento, have stopped working in-sync with older browser versions such as IE7 or Firefox 15. Updating your eCommerce software is crucial to avoid missing out on the few customers still using that software.
We're totally fanatical about eCommerce, shopping carts, and small business. Contact Us today to find out how Paystand can help with your shopping cart and checkout. Our platform provides everything you need to accept payments anywhere, at anytime, on any device, from your website or social media pages.