As any lawyer knows, every minute spent outside of billable hours in their firm is a minute that cuts into their profits at the end of the year. But most lawyers don't have the time or wherewithal to research and implement new technologies that might dramatically reduce their overhead.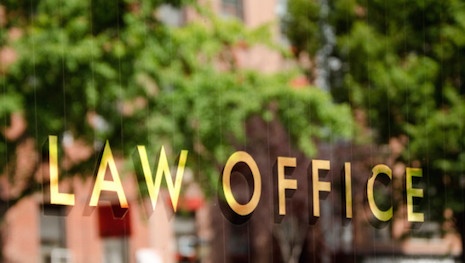 Adopting new systems can also lead to a slippery slope of questions that can cause most law partners to give up and stick with the old ways—such as, "Should we spend the money to revamp our whole website?", "How can we make sure we're handling client funds securely?", and
"What about compliance issues?"

Because most law firms are partnerships where all members have to agree to make big changes, getting consensus to move forward can prove challenging. But as more clients expect to be able to pay online, some law firms are looking at their digital payment options and discovering the benefits of integrating a payment gateway into their firm's website--shortened billing cycles, lower printing and mailing costs, and precious time savings for admin staff.
One firm's surprisingly painless switch to online payments
Recently a family law firm founded over 50 years ago approached us, looking for ways to reduce the administrative overhead of their traditional system of check payments. Clients' checks were often slow to arrive and required a full-time staff member to process and deposit them. An important requirement was that clients be able to pay either directly from their bank account or with a credit card. Finally, they wanted to give their clients a professional-looking payment experience directly on their site, without sending them over to PayPal or another consumer payment gateway.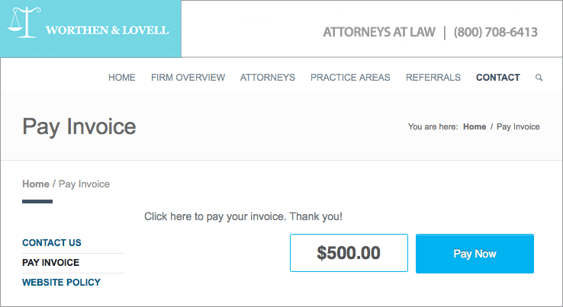 Within just a few days, the firm had a secure payment gateway implemented on their site, without the need for an IT pro or site redesign. Clients can simply enter the amount of their invoice and choose whether to pay by credit card or
eCheck
using their secure online banking login.
The response from their clients has been enthusiastic-- in just a few months, the firm has received over $250,000 in online payments through their website. Payments are coming in more quickly, relieving the firm's admin staff of having to send multiple reminders for late bills. While they still receive payments by check, now they have a simple way to transition clients gradually to online payments.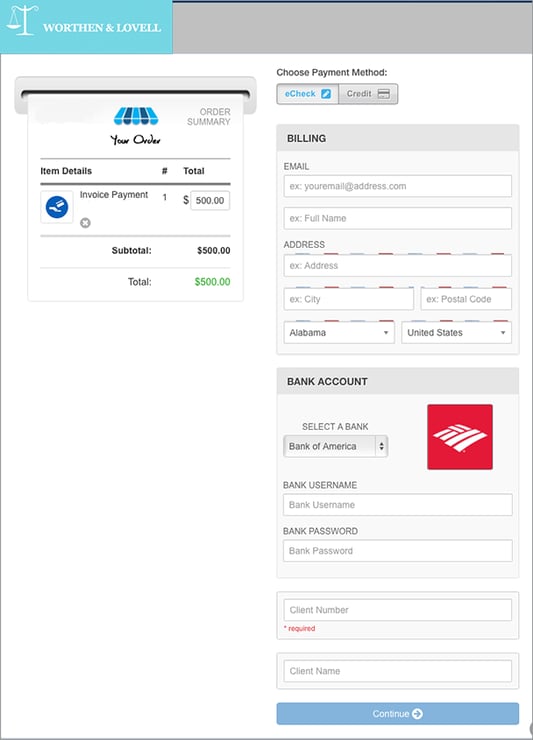 Take-aways for adopting digital legal payments
Are you looking for ways to accept legal payments online? Keep these tips in mind to make sure it's a process you only have to set up once:
If the majority of your payments come by check, make sure to provide an eCheck option in your checkout (many clients prefer not to pay legal bills by credit card, especially business clients)
Avoid keeping clients' credit card info on file. That could put your firm in violation of PCI compliance, which is required of any business that processes or maintains customer credit card and bank account data. One way to ensure this is to use a PCI-compliant online payment system and not handle physical credit cards in your firm's office.
Know exactly what you'll be paying in transaction fees. Many credit card merchant services are less than transparent about the fees they charge on top of baseline interchange rates. Lawyers are duty-bound to keep overhead costs low for their partners, so look for a flat-rate provider that won't punish you for high volume or high-value transactions.
Not sure if online payments are right for your firm?
Drop us a line
and we'd be happy to show you a few more examples of simple, successful online payments for professionals.
Tags: ACH, eCheck, law firms, legal payments