Bitcoin Political Fundraising - Increase Donations using PayStand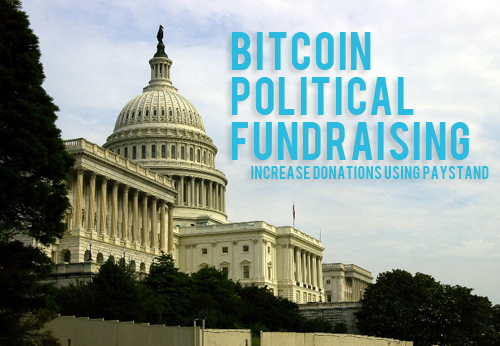 Political fundraising is a great effort in and of itself. Between running your campaign and rallying supporters, donations take center stage to keep the wheels turning. You know that you must have a way to accept political donations online, but when you take into account the hassle and costs of traditional online payment processors, you quickly realize you're not only losing time, but losing valuable donation money to fees and charges for every single donation that is made. You don't have to be the president of the USA or even a presidential candidate to realize that fees don't equal a successful campaign.
Luckily, new technology in online payments is emerging and easing the pains of accepting online donations. In May, the Federal Election Commission made Bitcoin an acceptable and legal form of currency for campaign donations. Candidates are now adding Bitcoin to their campaign fundraising efforts. Bitcoin doesn't carry the same fees as credit cards, thereby allowing more of the donation to go directly to the cause.
PayStand enables political candidates to accept next-generation payments and makes online fundraising easier than ever.
As a result of the recent FEC ruling, political candidates are opening up their campaigns to receive Bitcoin donations. New Hampshire is currently leading the currency revolution - ranked as having the most Bitcoin transactions per capita of any state in the US. About a dozen state Senate candidates in New Hampshire are now able to accept Bitcoin donations by incorporating the PayStand platform on their donation web pages, for the first time making it easy for supporters to make a next generation Bitcoin contribution alongside legacy credit card methods. Eileen Landies and Kevin Avard are two candidates on the cutting edge, and have adopted next-generation payments for this election cycle using PayStand.
"The candidates we've endorsed understand that Bitcoin represents the kind of market-driven innovation this state needs to succeed in today's global economy," said Aaron Day, chair of the RLC of New Hampshire. "PayStand offers a comprehensive, turnkey solution for candidates -- and political organizations like ours -- dependent on donations for victory."
Candidates that want to increase donations and accept next-generation payments should follow these tips for a successful campaign:
Ensure donations support your campaign, not the credit card companies.
By accepting Bitcoin or other ecash for political donations, candidates are able to bypass some of the fees that are typically charged with online payments. Credit card companies and banks take a percentage of every transaction that takes place. This is not the case with Bitcoin. By giving supporters the option to pay with Bitcoin, they can rest assured their hard earned money is actually going toward the cause they're passionate about.
Give supporters options.
Supporters that agree with what you stand for want to help move your message forward. They may be chomping at the bit to hand over their funds to you, but you need to make this process easy for them. Giving your supporters an array of payment choices helps set your supporters up for success. Give them an easy way to donate, on a trusted platform, with different payment options to suit their needs. By accepting donations through eCash (Bitcoin), eCheck (ACH), and all major credit cards, PayStand is the first and only payments service to easily allow digital currency and more traditional payments all at the same time.
Be transparent.
When you can easily show your supporters exactly what the fees are that are associated with each payment option, you empower them to make an informed decision. If they prefer the ease of use of a credit card, they can do so, and they understand that part of their donation is on it's way to the bank, not your campaign. If your supporters are on the cutting edge, they can use their Bitcoin wallet to send ecash your way and know 100% of that donation will support your cause.
Be forward-thinking.
The convenient integration and one-click checkout is helping PayStand bring Bitcoin to the mainstream. The seamless Bitcoin donation process makes PayStand a very easy all-inclusive donation platform for candidates. The solution's intuitive payment interface works with any website, social network, or mobile application and eliminates the need for extra programming, additional software, or a separate merchant account.
Empower your supporters to get their funds to you quickly, from anywhere. To increase political donations to your campaign and accept Bitcoin for political fundraising, get started in 5 minutes or give PayStand a call at (800) 708-6413.

UPDATE: This PayStand news was featured in the Wall Street Journal!
BitBeat: Republicans Taking Charge of Bitcoin Donations, July 24, 2014 by Paul Vigna and Michael J. Casey