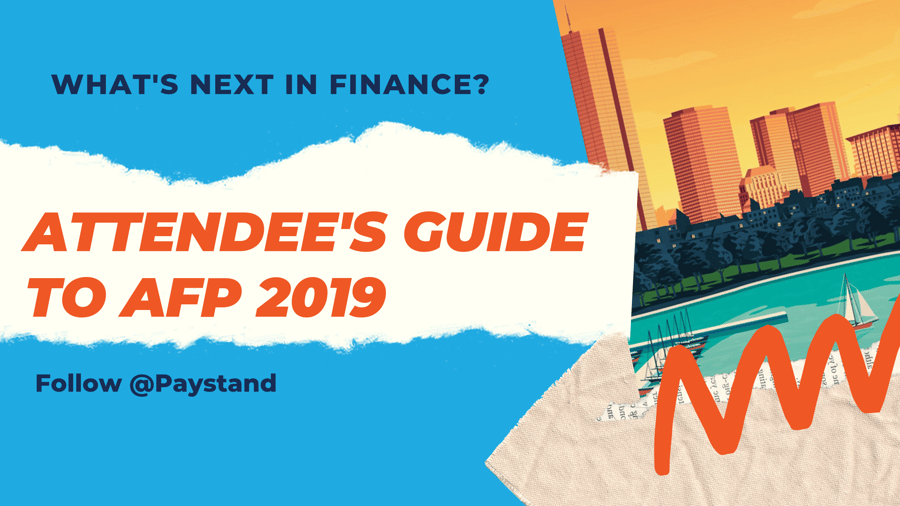 In just over three weeks, over 7,000 finance leaders will meet in Boston for this year's AFP 2019 at the Boston Convention & Exhibition Center.
AFP is one of the most forward-thinking finance events of the year. Speakers from various industries come together to provide actionable advice on the trends and tools you should be focusing on for 2020 and beyond.
Expected speakers this year include:
Rosie Rios: 43rd Treasurer of the United States
Robin Roberts: Co-anchor of Good Morning America
Rana el Kaliouby: Co-founder and CEO of Affectiva
Peter W. Singer: Best-Selling Author & Renowned Futurist
And many more! Take a look at the

complete list of speakers
If you're serious about finance, then you won't want to miss out on this event. Here is our guide for how to get the most out of AFP.
Why Attend the AFP 2019 Conference?
If you've never attended an AFP conference or just need a reminder about why you should buy your ticket, here are five reasons why we believe AFP 2019 is unmissable.
1: Exclusive Conversations with Futurists and Industry Leaders
AFP has built a reputation for bringing together some of the brightest minds from all sectors to share actionable tips, tactics, and strategies with you. No matter what your day-to-day focus is, AFP has a strong lineup of speakers, sessions, and exhibitors presenting on the emerging industry trends and the technologies that have the potential to reshape finance as we know it.
We're especially excited for the session "Reducing Payment Fees Isn't Just a Fad".
"In 2017, U.S. merchants 

paid $7 billion in credit card processing fees with many overpaying for one of three reasons

: they feel helpless in controlling their processing costs due to a lack of internal expertise, they don't have enough time or resources, or they just don't think it will make enough of a difference to justify their time."
2: Today's Use Cases for Tomorrow's Tech at MindShift Row
AFP's MindShift track cuts through the hype. These sessions and speakers offer unbiased advice on the shifts and tools you should pay attention to across emerging technologies. Topics include: Blockchain, Machine Learning, Gig Economy, APIs, Artificial Intelligence, and more.
Pro-tip: Don't miss our session "Beyond Payments: How Blockchain Delivers Supply Chain Efficiency" on MindShift Stage at 1 pm.
3: Access to 7000+ Forward-Thinking Attendees
AFP 2019 will be the biggest event for finance professionals ever. What makes AFP unlike any other finance conference is that meeting a potential employer, vendor, industry legend, or business partner is never more than a few steps away. If you attend AFP, you will have the opportunity to make connections and exchange email addresses with like-minded peers at exclusive practitioner events like the Payments Breakfast or the Payments Mixer.
4: Inside Scoop on Finance, Treasury, and More
Given today's uncertain environment, change is the constant theme of many of this year's sessions. If you have an eye on the future, you definitely won't want to miss AFP 2019. Topics like emerging finance technologies and the shifting role of the finance function dominate multiple sessions.
Sessions we're looking forward to:
Finance's Evolving Role: The Importance of Transformation and Digitization to Finance

Earning a Seat at the 'Big Kids' Table: How Finance Has to Adapt to Stay Relevant & In-Demand

Artificial Intelligence Within the Financial World: How Will it Help You
5: Fun, Food, and Drinks in Boston's Fenway
This year, AFP 2019 is kicking off with a party at Jillian's Lucky Strike and Loretta's Last Call, offering attendees an opportunity to get acquainted with Boston's Fenway neighborhood. The area is home to phenomenal dining options like Eastern Standard, Sweet Cheeks and Tiger Mama, not to mention the recently opened Time Out Market, which features many of Boston's most celebrated contemporary chefs.
And if that wasn't enough, you're always welcome to hang with us at Paystand's booth in MindShift Row (#1340D).
Before: How to Prepare for AFP 2019
Any event with this many people, sessions, and talent can be overwhelming if you don't know how to prepare. But no worries, we have you covered. We gathered some tips from locals, AFP veterans, and the AFP site itself to help you get the most out of AFP 2019.
Don't overpack or overdress. While you don't want to be walking around in flip flops and a tank top, get comfortable, dress casual, and enjoy!


Portable chargers are extremely convenient when you're in back-to-back sessions and taking notes. Wi-Fi is available, but having a personal hotspot are nice if you can afford them.


You never know what kind of opportunity you'll run into at AFP, so make sure you have fresh new business cards on hand to give to potential partners.


Don't carry around your laptop and try to avoid souvenirs unless it's your last event of the night. To keep things light, consider using devices and notebooks compact enough to fit in your pocket or purse.


Coming from far away? Make sure that your hotel or AirBnB is near the conference. This is even more vital if you're not familiar with Boston.


If you're pressed for time, have a cab, Uber, or Lyft waiting for you when you arrive at the airport.


Don't be too quick to dismiss a Boston Pedicab. These three-wheeled rides aren't just entertaining, they're great for skipping traffic too.

During: What to Do at AFP 2019
In our experience, the best conferences tend are customized to each attendee's goals and objectives. AFP might now have a custom track for all of us, but your perfect mix of sessions and speakers at AFP is within reach if you follow these steps:
Write down your conference goals. What do you want to learn at AFP? What challenges are you trying to solve? What technologies or tools are you thinking of using at work? Knowing this can help you pick the sessions that are right for you.


On that note, plan your sessions. The best way to do that is to go through the full AFP 2019 agenda and make a list of the sessions you find interesting. Research each speaker and company in your list, browse their LinkedIn pages, company websites, and reviews from past clients. How credible is their business in the industry? And don't forget to plan in some time for lunch, breaks, and networking!


Don't miss the second breakfast. You might be thinking, "What in the world is a second breakfast?!" Every morning of the event, there are actually two breakfast: one for attendees, and one that gives you exclusive access to executives… lunch and learn style!


Network, Network, Network. One look at speaker roster is enough to realize this event is a potential goldmine for opportunities if you know how to network correctly. Research people you'd like to meet, show up early, and forget the sales pitch.


Repeat after me: I will save enough energy for after-parties. After a full day of sessions you'll probably want to head back to your hotel room, rest, and maybe get some work done, but don't call it a night just yet! The after-parties at AFP hosted by sponsors and vendors are great ways to meet other attendees in a more relaxed setting and make some great connections.


Get comfortable with the OOO autoresponder. This event happens once a year, you don't want to waste it refreshing your email every other minute. Put your phone down and live in the moment.

After: 3 Ways to Take Action After AFP
A little known AFP secret is that the best part actually happens after the event. That's right, although most attendees focus all their attention getting ready for the event and attending the sessions, but there are several steps that you should take after attending AFP in order to leverage everything you learned in the most actionable way possible.
How to take action after AFP:
Identify what sessions were most helpful and why. Simply writing this down can help you wrap your head around what resonated most with you and how you can implement these ideas or learnings in your job or workplace. The idea is to map these back to your original goals for the conference.


Follow up with fellow attendees via social platforms and emails. The faster you do this, the more likely those connections will be maintained after the event. Personally, I like to do this at night on the same day I met the person or as soon as I get on the plane back home so everything is fresh.


Last but not least, engage with the speakers and organizers and offer feedback. Everyone who presents and takes part in making AFP an amazing event loves to hear the opinions of their attendees. This should also be performed as soon as possible, as memories and impressions can get a little hazy after the event (and you might not feel as motivated to give a raving review three months after the event).

If you're wondering what you should write, don't stress out about making it long or analytical. The simple phrase "Thanks for everything" can leave a HUGE impression.
Let's Meet at MindShift Row!
There you have it. With so much value to be had at AFP 2019, we hope you use this guide to get out of it 10 times what you put in.
If you found this advice helpful and come prepared, you'll be in for a great convention that provides real value for what's next in your profession.
Going to AFP 2019? We'd love to see you in Boston. Pass by our booth at MindShift Row and reach out to us to schedule a coffee. See you there!
Tags: Payments, event, Digital Payment, automation, Company