How Ugly Christmas Sweater Broke a December Sales Record Using PayStand with WooCommerce

Zac Cohen at UglyChristmasSweater.com was using PayPal

to accept credit card payments on their WooCommerce-powered site, but he was dealing with dropped orders and high shopping cart abandonment right before the holiday season. They knew they were about to get slammed on Black Friday, when a segment featuring their most outrageous sweater was set to air on the Kelly & Michael Show.
Zac decided to check out PayStand's plug-in for WooCommerce,
which would give them a built-in payment window on their site so that their customers wouldn't be rerouted to PayPal during the transaction. In under 20 minutes, he had a customized payment gateway right on UglyChristmasSweater.com, with no disconnect between checkout and payment. They went live with their PayStand integration the day before Black Friday, and ended up processing a total of 7300 orders in December, breaking a sales record.

The old, highly abandoned checkout...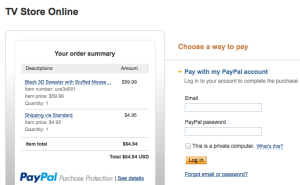 The New, High-Converting and Record-Breaking Checkout...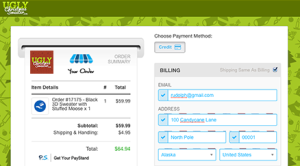 Why Did Adding PayStand to WooCommerce Work for Ugly Christmas Sweater?
1. Shopping Cart Abandonment
"The fact that we could have the checkout right on our website was big for us." PayStand's in-line payment window lets you keep your branding and keep customers on your site to pay. No more abandoned shopping carts and confusion due to PayPal logins etc.
2. Quick and Easy Integration
Integrating PayStand with WooCommerce is as simple as activating the plug-in. No need to bring in developers on this one.
3. More Payment Options
PayStand has options to enable zero-fee options such as eCheck (Direct Debit or even Dwolla) and eCash (Bitcoin) right alongside credit cards.
4. Lowest Possible Credit Card Rates
PayStand's flat-rate subscription model means that for as low as $24 per month, you get all the tools you need to accept any credit card (including Amex!) at only a 2.49% plus $0.30 fee. (Compare our rates with PayPal or Stripe at 2.9% + $0.30!)
5. Responsive, Personal Support
Have you ever tried to get someone on the phone at PayPal or Stripe? "That was definitely one of the reasons we went with PayStand. If I send an email, they will email me back within 30 minutes to an hour. Support is such a huge thing in any type of business". At PayStand, you get a dedicated success officer, no matter how small you are.