The Top 6 Excuses A/R Staff Hear for Late Customer Payments (and what to do about them)
As the fiscal year for many businesses draws to a close at the end of July, a collective "argh!" can be heard from accounts receivable departments as they try to collect on late customer payments and close out their books. Anyone who has worked for a B2B company has experienced the frustration of waiting for a check in the mail for a long-overdue invoice. Often, it's the biggest and most established business customers who draw the process out the longest, optimizing their cash flow because they can (and jeopardizing yours in the process).
Business-to-business payments ought to happen more efficiently than business-to-consumer payments (after all, both parties are presumably solvent and interdependent), but circumstances have conspired to make them fraught with delays and problems. The 2008 financial crisis is partly to blame, because it spooked corporations into hoarding their cash reserves for as long as possible. They extended their payment terms to 90-120 days, and vendors were afraid to balk at the changes for fear of losing their biggest customers. Seven years later, many businesses are still operating under extended payment terms.
The paper check's last stand
B2B payments have also been largely immune to the technical innovation that fuels ecommerce and mobile purchases. Because credit card fees are too high for large B2B transactions, and ACH arrangements are difficult to set up for multiple vendors, the majority of business payments still take place by old-fashioned paper check. Sent by snail mail.
The process in which an invoice is received, approved for payment, paid and mailed is different at every company, and totally opaque to their vendors. To make matters worse, 80% of businesses report that they are adversely affected by late payments. That means extra time spent sending reminders, chasing down the responsible party and juggling your own company's cash flow.
We feel your pain! We've compiled a list of the top 6 excuses B2B companies hear from their customers for late payments. Read on for some suggestions on how to close the collections gap and get paid faster.
"We never received the invoice." If you send your invoices out by email attachment, you've heard this one before. Yes, it's possible the attachment got caught in their firewall, or…your customer is banking on plausible deniability.
"There's no P.O. associated with this invoice." If you've just delivered on a big project, this one is particularly aggravating. Just because your customer point of contact didn't follow his company's internal procedures, you're now going to have to wait weeks for payment.
"You're not in our vendor system." Excuse #2 often leads to excuse #3—they're unable to generate a P.O. because your company was never added to their SAP system in the first place. Get ready to fax over your W9 while you gently bang your head against the wall.
"The person you sent the invoice to doesn't work here anymore." As with excuse #1, this one asks you to believe something that is possible, but unlikely--that emails to your former contact are automatically deleted on receipt by the robot that replaced him.
"We're not going to pay the full amount—you need to change the invoice." Changing payment terms after a product or service has been delivered is unprofessional, but it happens, particularly if anything went wrong along the way. We hope you have a solid contract with this customer!
"It will be in next week's check run." Similar to its close cousin "the check's in the mail," this excuse is painful because these mysterious "check runs" seem to always take place on Fridays at 4:30pm. Will it also get mailed that day? Probably not. Have a nice weekend!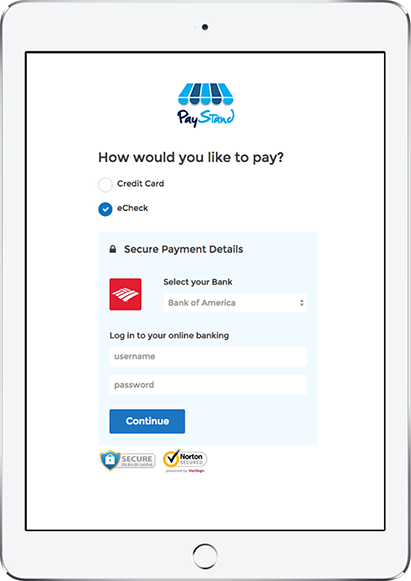 How to get business payments faster

The key to speeding up customer payments is to make it as easy as possible for them to pay you—on their schedule and wherever they happen to be working. Here at PayStand, we've been working with a lot of companies that formerly took payments by paper check, and have now moved the process online.
With PayStand's
eCheck
feature, you can include a secure link with your invoices that will take your customers to a customized payment page on the Web. From there they can authorize a direct bank debit to pay your invoice. They can even set up a
recurring bank payment
, if they've worked out a deal with you to pay over time.