The New, Simple Equation for Home Office Deduction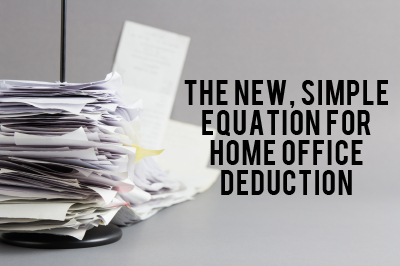 In the past, entrepreneurs found that deducting their home office could be fairly involved. There were two methods to get the write off, and both were followed by a lot of paperwork. Starting in the 2013 tax year, the IRS launched a simplified method. Before we discuss the new, simple equation for home office deduction, make sure you aren't calculating it using one of the old methods.
The first method was considered the simplest of the two. In this method a person counts the number of rooms in their house, then divides the office by the number of rooms. Bathrooms, closets, and garages do not count as rooms in this measurement. For example, if a homeowner has 4 rooms (living room, kitchen, bedroom, and spare room) and the spare room is an office, then 1/4 of all the home's expenses could be counted.
The second method does not use number of rooms, but rather square footage. This was a preferred method to those with large home offices. In this method a person counts the same rooms, but then measures the square feet of each. In the end, a person simply take the total square feet of the home office and divide that by the other rooms.
Using these two methods a taxpayer would then keep track of all their mortgage, utility, and upkeep costs. They would then be able to request deductions for a percentage of these based off one of the two models above.
In 2013, the IRS launched a method that is much simpler. Now a home office can simply be measured by square feet and multiplied by $5 per square foot, up to $1500. Using this method no utility, mortgage, or upkeep costs need to be tracked. Other rooms do not modify this amount. This allows a much easier method to track the deduction. This new method also favors homeowners who have a poor office to home ratio. For example, those with a small office in a larger home or those with homes that have many small rooms.
For all three of these methods, a home office must be used exclusively and regularly for work. A kitchen table will not work as it is not exclusive, while a dusty desk in a small cramped area may not meet the regularity requirement. The latter requirement is less stringent, as work may be occurring away from the home. For example, a plumber may have a home office, but much of his time is spent working with client emergencies.
Furthermore, if the entrepreneur is a part time employee and the employer doesn't have office space for them, a home office may be deducted. If the employer does have an office for the entrepreneur and the entrepreneur is simply taking some work home, that may not apply.As always, if you are not sure if you can deduct a home office, please speak with a tax professional.
Contact Us today to find out how Paystand can help entrepreneurs. Our platform provides everything you need to accept donations anywhere, at anytime, on any device, from your website or social media pages.

Image Photo Credit: patpitchaya