Using Outbound and Inbound Marketing To Grow Your Small Business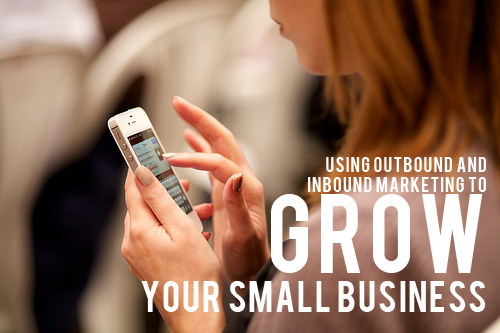 When you're running a small business, having a solid web presence opens up a lot of doors for you. You'll find a whole new set of customers on the internet, some of whom might even live on the other side of the world. When you set up an ecommerce website for your small business, anyone who has access to the internet can buy from you. Armed with a global audience and competitive prices, you can increase sales exponentially. The key here is making sure you reach your target audience in the right way. Getting your small business's name and products in front of the right people is necessary to increasing conversion rates and bolstering sales. You can go about internet marketing in two distinct ways.
Outbound Marketing
Outbound Marketing is very similar to what is traditionally referred to as marketing. In this type of marketing, you reach out to your current and potential customers via emails, advertisements, and calls. With this marketing method, small businesses often cast a large net, and see if they get any "bites" or replies from interested parties. Depending on the call to action set forth in the outbound marketing material, this could include making a purchase or getting on the phone with a sales agent. By contacting people directly using outbound marketing, you can educate them about your offering and entice them to buy.
There are many advantages to outbound marketing. Emails are easy to send out and don't cost anything. Placing advertisements on websites can also yield positive results, especially if the websites are about subjects related to your products and services. For example, if you sell textbooks for students, then a website which provides students resources for getting into colleges would be a good place for you to advertise.
Inbound Marketing
Inbound Marketing is currently all the rage when it comes to internet marketing. With more robust analytics online, inbound marketing is proving more successful now that the results are measurable. Unlike outbound marketing, inbound marketing doesn't involve reaching out to the customer. You instead create a good web presence and valuable content so that when a customer hears about you and tries to find out more about your product or service, they are likely to find all the information they need. Setting up an informative website, helpful social media pages and a blog all support your inbound marketing efforts. Inbound marketing tends to appeal more to customers because they are not overtly being sold anything but are merely given all the information they need to make up their minds about a product or service.
Inbound marketing requires a well-thought-out approach. You have to identify your audience, create materials that speak to them, and track the results of who you attract. The beauty of inbound marketing is that the marketing material you create is evergreen, it can live on and keep attracting customers quarter after quarter, year after year.
Most small businesses use a combination of both inbound and outbound marketing. The optimal marketing mix for your small business depends on your industry, consumer demographic, geographic region, and countless other factors. As you build your small business, you'll be able to find the right blend that works best for you.
PayStand loves small business. We like to help you grow by keeping more money in your pocket with our next-generation payment processing. Get started in 5 minutes:

Photo Credit: Image by Sebastiaan ter Burg