What Makes For a Great B2B Ecommerce Store?
When it comes to ecommerce, you may be surprised to learn that there are many similar requirements between B2B and B2C – such as the need for quality product images, intuitive navigation and a seamless customer journey. But B2B businesses also face their own unique challenges; factors like high sales volumes, long buying cycles and multiple decision makers getting involved along the way. This means they require a slightly different approach to the standard B2C business plan.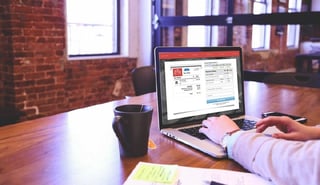 B2B ecommerce often gets less attention than its trendy B2C counterpart, despite the fact that it handles more revenue. The B2B side of things is growing faster than ever due to the shift in B2B buyers who have become accustomed to making B2C purchases online – and who now want the same experience for their B2B purchases.
Here are some tips to ensure that your B2B store is performing as well as it should be.
Make it personal
Perhaps partly due to how large corporations have grown, people still like to feel like they are buying products from a real person or collective, rather than a faceless business front. Often in B2B, sales and communications are often directed by 'the company', when really customers are seeking a more personal experience where they feel a connection to another human – not a robot.
Just because B2B marketing is usually account-based, with buying decisions resting on a team rather than an individual, doesn't mean you can forget that the team itself is made up of individuals. And these individuals will be influenced by the same desires and triggers as a B2C customer.
So what makes for effective personalization on a B2B ecommerce site? Well, a lot of it comes down to tone of voice. A light and informal tone has actually been shown to be much more effective at boosting sales and loyalty than the cliched business jargon so often overused in the B2B sector. In fact, buyers famously hate phrases like "open the kimono", "tiger teams" and "corporate values". Because no-one really talks like that (or should).
Offer a premium user experience
User experience should be treated as one of the most important aspects of your B2B ecommerce business – because it is. User experience is revolutionizing business (Forbes) and those who don't seek to implement a solid approach to optimizing user experience across all channels will fall behind. B2B buyers are actively seeking out premium user experiences online, and those who respond accordingly will enjoy the increased revenue and market share that comes with it.
Start with a modern eCommerce platform like Magento or Woocommerce with integrated B2B payments. Than improve your B2B user experience with user testing and tracking, responsive design and by ensuring a seamless, omnichannel customer journey from start to finish.
Dig down into demographics
This links closely with personalization. To really get to know your target audience and their habits, it's useful to divide them into categories based on their business needs, size, order volume and buying cycles, among other things. Using metrics tools like Kissmetrics or Mixpanel is a great way to get useful insights that you can use to tailor your customer offering and increase conversions.
Prioritize visuals & video
Another thing to prioritize for your B2B store is visual content in the form of product photography and product videos.
Use unique and interesting product photography over bland stock imagery.

Product and service videos are a great thing to share on your website and on external sites like YouTube. You can use them for product demos and tutorials, as well as for product promotion.

Harness your YouTube videos' SEO potential and get you videos out there to generate traffic, leads and potential sales for your services. Fun and quirky videos tend to work well for B2B.
Win your audience's trust
Trust is one of the most important factors for success in B2B. It's what will make your customers hang around when they first visit your site, and what will keep them coming back. When it comes to building trust, it's actually very simple – keep things simple.
First impressions are very important. Your B2B website should be designed with one goal, which is to guide the customer persuasively (but not aggressively) towards buying a product or service. A badly designed website with too much going on is a real turn-off, so the best approach is to keep things simple, clean, clear and relevant. Effective design should minimize distractions.
You can also build trust by including signals that the business is secure and well-reviewed by others, so for example by displaying some endorsements, certifications and case studies, as well as including features like password protection and multiple payment options.
Guarantee satisfaction at the last hurdle
We can easily spend a lot of time analyzing and optimizing the front-end of B2B ecommerce, but just as important as all of that is ensuring that the final hurdle of order fulfillment runs smoothly. If your customer isn't happy with the final product or delivery, then it's unlikely they're going to shop with you again.
Of course, B2B businesses usually operate within the wholesale market. Therefore it is likely that you will use dropshipping or some other external source of order fulfillment, whether local or international. For this reason, finding a shipping company that is both affordable and reliable is very important, as is ensuring that you have all the proper documents for customs, if you are distributing internationally. Outsourcing delivery with the right supplier is a smart and cost-effective way to ensure that your customers receive everything correctly packaged and on time, leaving you to focus on the front end of the business.
Many ecommerce platforms designed to accommodate building an online store are set up to make dropshipping an easy and viable option for successful order fulfillment. Running an ecommerce business off a platform like this is more cost-effective and faster to set up.
Top B2B ecommerce businesses are growing and improving every day, but it's never too late to make improvements to your own ecommerce strategy. It's a good idea to seek out and observe what your competitors are doing, to give you an idea of what works and what doesn't. Optimize the customer journey, make them feel loved and ensure smooth sailing at every touchpoint, and you will be well on your way.
-----
Did you like this article? Read our 5 Smart B2B eCommerce Strategies For 2016 next.
------
If you'd like to learn more about B2B ecommerce for your enterprise, feel free to contact us, We'd love to hear from you..
------
Written by:
Patrick Foster, ecommerce entrepreneur, coach & writer.
I'm currently writing on EcommerceTips.org where I share engaging ecommerce content for entrepreneurs and business owners. You can follow me on Twitter here, or add me on LinkedIn.