Accept Credit/Debit Card Payments on Web and Mobile
We take a different approach to credit and Debit card payments. With our Payments-as-a-Service model, you benefit from low, wholesale transaction rates that continue to go down as we grow .
One low flat rate
With PayStand, your customers can use their debit cards just as we are able to accept Visa, MasterCard, and American Express, Discover, Diners Club or JCB card, regardless of domestic or international, card present or not-present, etc. We don't mark up our wholesale credit/debit card rates*, and even better, we lower our rates every few months as we grow. By joining PayStand you benefit from the combined forces of your fellow businesses to get low rates that are normally reserved for large corporations doing very high transaction volumes.
Pass on transaction fees
Credit/Debit card interchange fees are unavoidable, but you can increase your profit margins by passing those fees onto your customers. By asking your customers to absorb the fees and giving them discounted payment options at checkout, you can make a real dent in your transaction costs and see the difference in your bottom line.
Include Zero-percent Options
PayStand gives you the ability to turn on 0% payment rails in your online checkout, so your customers can choose the best option for them (and save you money in the process!) Turn on the eCheck rail to accept a direct bank account debit, and the eCash rail to accept Bitcoin or branded e-currencies. You can even offer discounts for alternative payment methods that calculate your customer's savings right there in your checkout window.
---
Keep your customers on your site with PayStand's inline checkout.
No redirects or 3rd party logins to distract your customer from completing the sale.
Customize your checkout with your logo and preferred payment methods.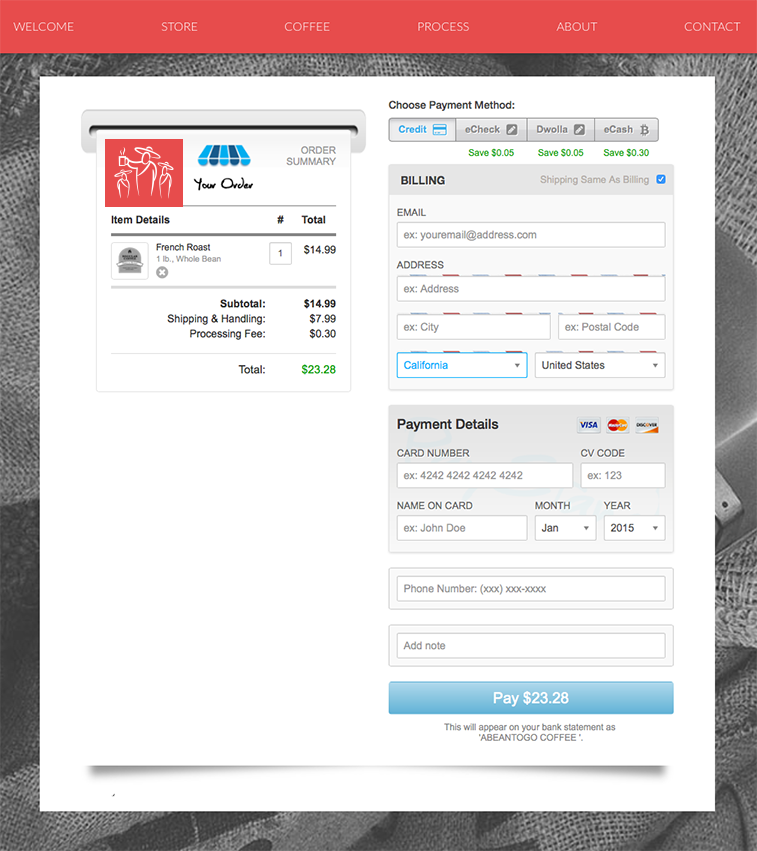 Swipe cards on your smartphone
With PayStand's mobile app and card reader for iPhone, you can accept credit/debit cards at your place of business or on-the-go, for the same low rates. You no longer need two separate systems for your web site and physical store. With PayStand you can manage everything from one simple dashboard.
Set automatic recurring payments
Enable monthly or annual payment options in your checkout so your customers can pay you over time. Recurring payments are a great way to lower the barrier to entry to your products and get paid on time, automatically.
Keep your branding and data
You've worked hard to build a brand and a trust relationship with your customers. As your payment provider, we get out of the way, so your customer can quickly and confidently complete their purchase. Customize your checkout with your logo and keep your customers on your site throughout the payment process. We'll supply you with all contact and shipping data for your customers so you can fulfill their purchase and earn their loyalty.