Accept eCash Payments
The payments of the future are here today


Enable eCash (blockchain) payments as a 0% fee option in your checkout, alongside credit card and eCheck methods.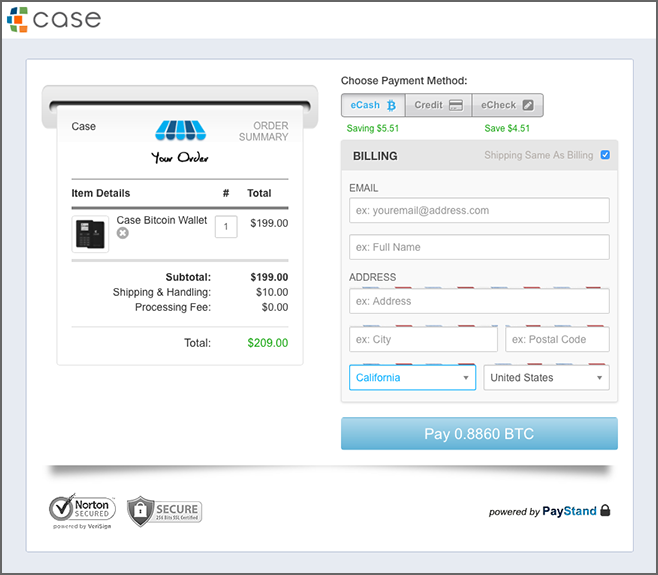 No transaction fee, ever
PayStand eCash payments are a zero-percent payment option you can start using today. You can give your customers the option to pay directly from their BTC wallet as an alternative to credit cards, or as an exclusive option in your checkout. It's your choice.

The cash of the Internet
Blockchain Transactions works like digital cash, so you can trust your transactions are verified and final. Since your customer pushes the payment to you from their BTC wallet, you can be confident that the funds are present.



Easy setup
Adding eCash to your checkout is as easy as checking the eCash option in your PayStand dashboard and supplying your BTC address where we send your funds.




Accept mobile Bitcoin payments
Using PayStand's mobile app for iPhone, you can accept eCash along with credit card and check payments using your smartphone. Your customer can simply point their public address code and the PayStand app will scan and verify the transaction, even sending an email receipt.



Offer discounted eCash payments
Give an incentive for customers to pay with Bitcoin by adding credit card processing fees to their total at checkout. Your PayStand checkout will automatically calculate and display their savings for paying with Bitcoin.



All your payments in one place
Manage your eCash payments along with your credit card and check payments, all from your single PayStand dashboard. You no longer need dedicated devices and systems for different payment methods. It makes bookkeeping that much easier.
---
"PayStand's mission has always been to help merchants avoid paying high card fees"
---
Frequently Asked Questions about eCash
What is the difference between eCash and Bitcoin?
"eCash" is a general term referring to digital currency that be exchanged in lieu of credit cards or checks. Because Blockchain is the most widely used and trusted open ledger, PayStand supports BTC as our eCash method, and we use the terms interchangeably.
What does it cost to accept eCash?
PayStand subscribers at all membership levels can accept eCash for no fees or additional charges. Accepting eCash is a great way to drive down your overall merchant costs.
Do you provide a BTC wallet?
No, you and your customer can use the 3rd party wallet of your choice to manage your BTC payments. PayStand generates a unique address to receive your BTC payment, and then routes the funds to your BTC wallet address.
Are Blockchain transactions secure?
Yes. Your wallet's private key is never exposed to us or your customer. We instantly verify fund availability so you can confidently supply your product or service. Unlike credit cards or bank account information, Blockchain addresses are much less susceptible to fraud, so you are protected from reversals and chargebacks.
Can I accept international payments with eCash?
Yes, you can accept eCash payments from around the world for no fee. Accepting BTC is a hassle-free way to open up your business to the global marketplace.

How can I request an eCash payment?
PayStand gives you several options to guide your customer to an eCash payment. You can send your customer a secure link to pay you for a specific invoice, or include eCash as an option in your online checkout process. You can include eCash next to the credit card option, or offer eCash exclusively.

Can I discount eCash transactions?
Yes. You can offer an incentive to your customers to pay with eCash as opposed to credit cards by adding the credit card fees to their transaction totals. The PayStand checkout will automatically calculate and display the amount they will save by paying with eCash.
Can I integrate PayStand's Blockchain functionality?
Yes, PayStand offers enterprise-level solutions to allow developers to integrate our eCash Blockchain solution with their platforms. PayStand offers a rich
API
so you can customize our implementation to suit your business. We also offer quickly deployable plug-ins for popular eCommerce and web development environments.
Contact us
to request our API documentation.