Paystand Careers
Are you interested in creating a fairer system in the financial industry? Are you curious about how digital currency could disrupt how we move money? Are you passionate about making the world a better place and believe the economic system plays a big part in it? If so, you've found the right place. Paystand is revolutionizing the world of online payments & digital commerce, and we want you to join us.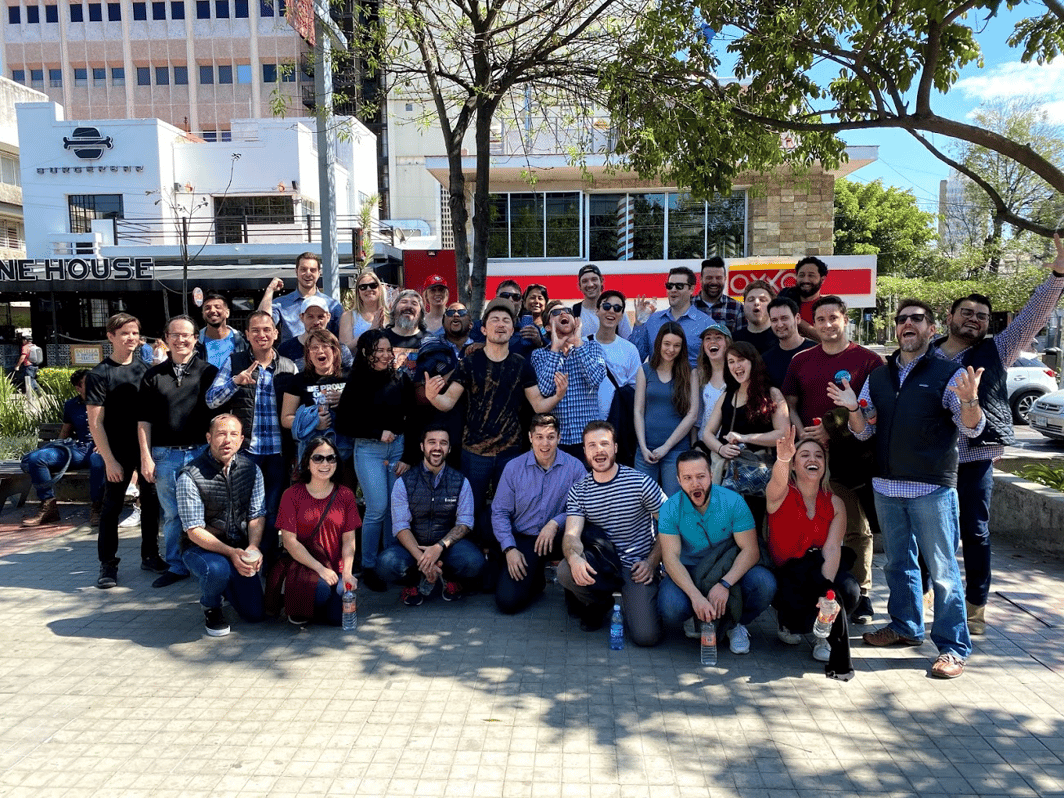 Why work at Paystand?
Paystand is looking for the best talent to join us in creating the future of commercial payments infrastructure. You can be part of a growing team that is fundamentally re-architecting global payments in the digital era with core blockchain technology. This isn't just any job. We are a team of like-minded people, who are paving the way for a new financial system and are changing the status quo of legacy banking.
Actually Make a Difference. Each member of the team has the opportunity to have a game changing impact in our growing company. We are working on hard problems, that solve a very broken financial system. It's literally the beginning of the digital money revolution and you can be a part of democratizing the economy.
An Incredible Location. We are located in one of the most amazing places on the planet. This "Coastal Bay Area" is just a short drive to San Francisco and Silicon Valley, the tech mecca of the universe. But we get to live at the beach, hike in the redwood trees and enjoy a place everyday that most people wait all year to visit on vacation.
Enjoy an Awesome Culture. We work hard together and play hard together. Team lunches, afternoon ping pong games, happy hour and more. Twice a year, we spend a few days in a beautiful offsite location to regroup and plan the future.
Competitive Compensation. Of course, you are working at a startup for more than just money, but we know it helps. We offer competitive salaries, great equity packages, full benefits, and amazing perks to all our employees.
Build a Real Business. This is not another mobile photo social network app. We have customers, revenue, and are growing fast. You'll see what it's like to build a lasting business that is in it for the long haul.
Open Positions
We're actively recruiting for the following positions:
Engineering
DevOps Engineer (US/Mexico)

Fullstack Engineer (US/Mexico)
Product
Sales
Sales Development Representative (US/Mexico)

Account Executive (US only)

Sales Ops Manager (US/Mexico)
Marketing
Content Marketer (Mexico)
Business Development
Platform Partnerships Lead (US only)
---
Open Job Descriptions
DevOps Engineer (Mexico)
Role & Responsibilities:
Build out all Paystand's system and network infrastructure using best practices regarding resilience (high availability) and scalability.
Implement infrastructure and procedures to support a 24/7 business.
Help define and implement Paystand's Business Continuity and Disaster Recovery Plan.
Champion automated system testing as well as implement stress testing infrastructure.
Qualifications & Requirements:
BS in CS, Electrical engineer or equivalent through experience.
Can do attitude with a strong sense of ownership and responsibility.
Minimum of 3 years of experience in a growing DevOps role.
Experience managing AWS infrastructure using a variety of services.
Deep understanding of networking, DNS, proxies, load balancing and caching.
Experience setting up and deploying LAMP based server farms.
Experience implementing deployment automation with Ansible, Chef or Puppet.
Experience with containers and container orchestration systems such as Docker Swarm, Kubernetes, Mesos, Marathon, etc.
Experience writing scripted DevOps solutions.
Experience with one or more of the following languages: Bash, Ruby or Python.
Experience analyzing system performance and defining metrics.
Experience setting up 24/7 monitoring systems.
Bonus:
Experience with financial and regulatory compliance such as PCI, SEC, SOX, HIPAA.
Experience running mid to large scale SaaS systems.
Experience using AWS auto-scaling clusters.
Experience with CDNs.
Experience with micro and lambda services.
Geographically dispersed datacenters deployments.
Experience with Nginx, ElasticSearch, HTProxy.
Experience building out a DevOps team.
Experience with Vagrant.
Active interest in Bitcoin, Ethereum or other digital currencies.
Ownership of one or more digital currencies.
Familiarity with the workings of one or more cryptocurrencies.
Programmed smart contracts.
Deployed 1 or more Bitcoin, Ethereum or other crypto network nodes.
Fullstack Engineer (US/Mexico)
Role & Responsibilities:
Architecture and implementation of user facing parts of Paystand's Systems.
Build reusable libraries and frameworks that support complex web applications.
Collaborate with product owners, designers, other engineers and customer success to build the best user experience.
Qualifications & Requirements:
BS degree or equivalent by experience in Computer Science or Electrical Engineering.
Can-do attitude with a strong sense of ownership and responsibility.
Minimum of 3 years of experience in building web, mobile-web or hybrid mobile applications with increasing levels of responsibility and independence.
Solid Computer Science and Software Engineering background.
Experience building highly scalable REST web services and APIs.
Experience with HTML and JavaScript (ES5 and higher).
Experience with front-end frameworks such as Angular.js (1-4), React, Vue.js, etc.
Exposure to CSS3, Sass, Less, etc.
Opinionated but willing to compromise.
Bonus:
HTML5, JavaScript and CSS expert.
CSS3, Sass or Less experience.
Experience with mobile hybrid application frameworks such as Ionic, React Native, Cordova or Phonegap.
Knowledge of other web libraries and frameworks such as Polymer, React, etc.
Understanding of front-end performance issues and optimization strategies (i.e. Caching, CDNs, concatenation and minification, sprites, SVGs, fonts, etc.).
Understanding of what constitutes and ability to apply good UI and UX practices.
Experience with front-end build environment (Grunt, Gulp, etc.).
Experience building Node.js scripts.
Experience with other programming languages than JavaScript.
Experience with front-end build environment (Grunt, Gulp, etc.).
Active interest in Bitcoin, Ethereum or other digital currencies.
Ownership of one or more digital currencies.
Familiarity with the workings of one or more cryptocurrencies.
Programmed smart contracts

or Distributed Apps.

Deployed 1 or more Bitcoin, Ethereum or other crypto network nodes.
Sales Development Representative (US/Mexico)
Role & Responsibilities:
Performs outbound sales activities such as cold calling, lead follow-up, and opportunity qualifications in a specified territory.
Meets or exceeds activity metrics for outbound calls, appointments set, opportunities added, and prospecting time.
Researches accounts to understand need, enable effective follow up, and generate interest.
Successfully manages and overcomes prospect objections.
Provides opportunities to the sales team, working closely with sales reps as necessary about the opportunity.
Builds relationships and effectively communicates with territory sales team and management.
Proactively looks for opportunities to improve, optimize outbound lead management.
Qualifications & Requirements:
6-12 months experience as SDR for SaaS company desired, not essential.
Recent/prospective graduates of SDR programs, tech sales bootcamps welcome.
History of delivering extraordinary customer relationships.
Strong written and verbal communication skills.
Professional, determined, and results oriented.
Positive attitude, team oriented, and a self-starter.
Ability to learn key software applications.
Respect and expect accountability.
Desire to learn and grow quickly.
Account Executive (US only)
Roles & Responsibilities:
Manage prospects from lead to close.
Clearly articulate and demonstrate our value proposition, creating excitement and enthusiasm among prospects.
Cultivate lasting relationships with customers.
Crush your quota.
Qualifications & Requirements:
2-5 years experience as an Account Executive at a high-velocity SaaS company (preferably in Fintech industry).
Outbound and cold calling experience in past software sales environment.
Clear history of meeting & beating quota.
Associate degree required; B.A. or B.S. preferred.
Proficient computer skills and experience with CRM (HubSpot, Google Docs, and Slack).
Negotiation and closing proficiency.
Strong problem-solving skills with attention to detail.
Excellent written and verbal communication skills; proficient in English-language business writing.
Highly organized multi-tasker who works well in a fast-paced environment.
Excellent time management skills.
Preference for candidates with experience selling ERP or other financial software.
Familiarity with the accounts receivable/payable cycle or general accounting practice a plus.
Sales Ops Manager (US/Mexico)
Roles & Responsibilities:
At least 3 years of sales operations, business operations, or similar role in SaaS company (ideal)
2+ years of experience as CRM admin, ideally Hubspot
Strong time management, planning, and prioritization
Excellent verbal and written communication skills
The desire to work and thrive in a fast-paced, evolving environment
Must have a sense of urgency and self-motivation
Extensive quantitative skills
Qualifications & Requirements:
Create and maintain reporting to monitor health and performance of the sales team, and ensures the efficient distribution of data and analytics to the sales organization
Administers and optimizes enabling technologies, including Hubspot
Implement and continually optimize sales processes
Worked with sales management on territory planning and the development of quotas and commission rates
Own sales on-boarding program to improve sales team retention
Support sales leadership with ad hoc projects and initiatives
Converting raw data and qualitative feedback into meaningful and actionable business idea
Analyse sales actual won/lose deals and communicate efficiently and constantly to leadership
Works closely with sales & other key stakeholders to document, implement, and optimize sales processes
Co-lead the sales forecasting, planning, and budgeting processes
Coordinates training delivery to sales, sales management, and sales support personnel
Content Marketer (Mexico)
Roles & Responsibilities:
Create compelling content to meet goals for increased awareness, traffic growth, and lead generation.
With help of Marketing team, identify compelling industry topics and produce eBooks, white papers, blog posts, infographics, landing pages, slideshows, and web copy, as well as exploring new mediums to spread the content net.
Promote created content through various channels including the Paystand blog, social media, web, and more.
Track and report on content marketing campaigns and brainstorm ways to increase engagement.
Create and manage an editorial calendar and organization workflows.
Research specific market segments and verticals and help our message stick with prospects by providing them with content that speaks to their needs.
Qualifications & Requirements:
2+ years experience in content marketing, journalism or related role.
Strong knowledge of inbound marketing and SEO tactics and strategies.
Ability to manage multiple projects on aggressive timelines.
Multi-tasker comfortable working in a fast-paced environment where strategies or campaigns can quickly shift as business needs warrant.
Excellent written and verbal communication skills; fluent in English-language business writing.
B.A. or B.S. required; concentration in Marketing / Journalism / English preferred.
Platform Partnerships Lead (US Only)
Roles & Responsibilities:
Identifying and pursuing new partnership opportunities
Conducting deep discovery discussions with potential partners
Effectively communicating with CEOs, CROs, CTOs, and product managers
Developing business case models to determine the ROI of a partnership
Presenting contracts and negotiating commercials
Qualifications & Requirements:
3+ years working in an emerging tech/startup environment, preferably in FinTech
Ninja-level relationship/rapport building skills with all levels of clients (Tech, C-level, etc)
Entrepreneurial experience
Exceptional writing abilities across mediums (social, technical, prose)
Excellent verbal communication, presentation, and negotiation
Familiarity of developments in FinTech and blockchain
Fundamental business financials, revenue management knowledge
Preference for candidates with experience developing to, reading, and/or communicating APIs
Don't See Your Perfect Job?
If you're interested in working at Paystand, but don't yet see an open job that matches your skills and interests, send an email to jobs@paystand.com. Include some information about yourself – resume, LinkedIn profile, why you want to work Paystand, etc. – and links to things you've worked on. We'll review your information and reach out if there's a fit!