#04: Virtual Cards and Expense Management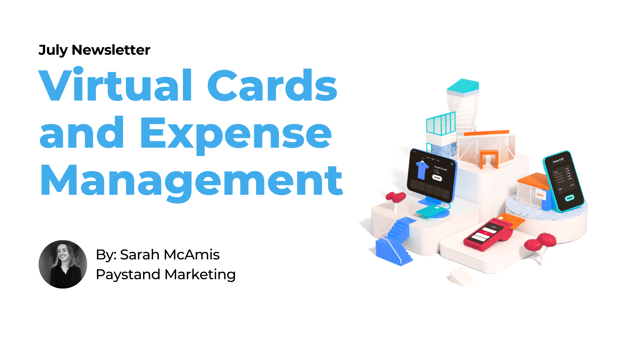 Editor's note: Hey there, Sarah here! This is the fourth edition of the Paystand newsletter, a monthly roundup of helpful resources to make sense of what's happening in finance. Subscribe here.

With the continued reckoning of COVID-19 and the economy, many companies have had to make significant changes to their finance and operations in order to navigate the new businesses landscape.
Given how quickly these economic shifts occurred, survey and research data has shown the majority of companies were not fully prepared to ramp up or down spending to match adjusted expectations and forecasts. This is no surprise, but combined with the shift to remote work, these new conditions pose challenges to both employers and employees when it comes to expenses, planning, and cash management.
So, this month, we're exploring a topic that's on every CFO and Controller's mind: expense management. From virtual cards to new expense management solutions, businesses can address these these new challenges while improving the finance tech stack to get faster access to working capital and reduce expenses. Let's take a look.
PS: Our CEO was interviewed this morning about B2B's roadmap for fully digital payments. Check out the video below.
Skip to section ⬇️:
Virtual cards are on the rise 💳
Cashless and contactless payments are undoubtably on the rise across the globe, with 4.1 Trillion dollars in digital transactions in 2019 alone. In less than 5 years, half of the word's population will be armed with a digital wallet. Combined with the continued push to digitize B2B payments and the affects of COVID-19, virtual cards have become an attractive option for businesses. In fact, virtual card spend is projected to grow to $355 billion by 2022, up from $136 billion in 2017.
With virtual cards, finance teams get greater control over how spending is managed across the organization, AP processes become simpler and more efficient, and all parties are better protected against fraud. Unlike traditional credit cards, virtual cards won't expose your personal information because data is tokenized to make these credentials unreadable to fraudsters.
Check out our most recent blog to learn more about how virtual cards work: What is a virtual expense card?
Zero Card is here: access the beta today
We're excited to offer you a sneak peak at our newest product: Zero Card — a no-fee, touchless alternative to corporate expense cards with a few industry-first features.
The Zero Card from Paystand is a prepaid virtual card built for today's businesses, meaning it's flexible and fits a variety of uses cases. Whether it's expense management, fund disbursement, or bulk card creation, the Zero Card from Paystand lets businesses control even more of the payments process.
Zero Card makes it easy for your teams to own and manage spend across the entire organization and gives you the flexibility to instantly provision cards for internal and external fund disbursement. And we're just getting started...new features are being added regularly, so give it a spin. We'd love to hear your feedback. Visit our website and sign up to get access today.
Product updates: integrations and payer enhancements
Magento: Our Magento payment extension is now compatible with the latest version of Magento and has more robust handling of webhook notifications.


NetSuite: The new version of our SuiteApp bundle includes two key enhancements.



Partial Payments: a new feature that allows customers to choose the exact amount of an open invoice they'd like to pay. Customers can pay invoices with multiple payment options. Note: the feature doesn't require a bundle update, but it does need to be enabled. Contact us for help activating this feature.


Convenience Fees: In this latest update, merchants can customize convenience fees to be lower than the typical payment fees required of a transaction, giving customers a more personalized experience with additional payment options at their disposal.

Payer Portal: Any payer can now sign up for a Paystand account to maintain portal access and view payment history. It's free, easy and comes with a bonus! Note: if you sign up for a payer account, you'll get access to the Zero Card immediately.
What we're reading 📚
Noteworthy Tweets 💬
Fintech: Ashley Paston, an investor at Bain Capital Ventures, highlights an important read about the influence of the Wirecard fraud scandal on the payments space.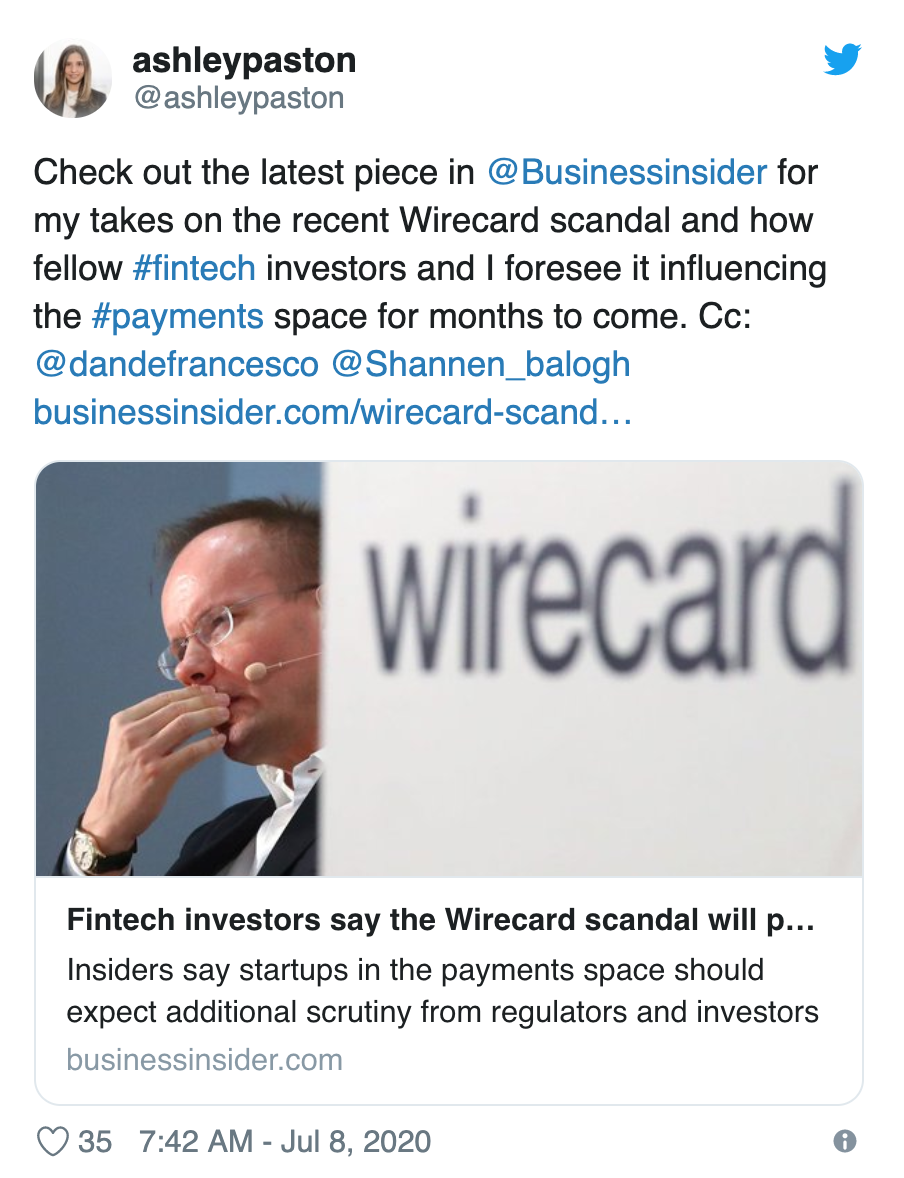 Digital Payments: Anish Acharya, General Partner at Andreessen Horowitz, gives his contrarian take on recovery prospects for COVID-19, explaining why there are a number of reasons to be hopeful!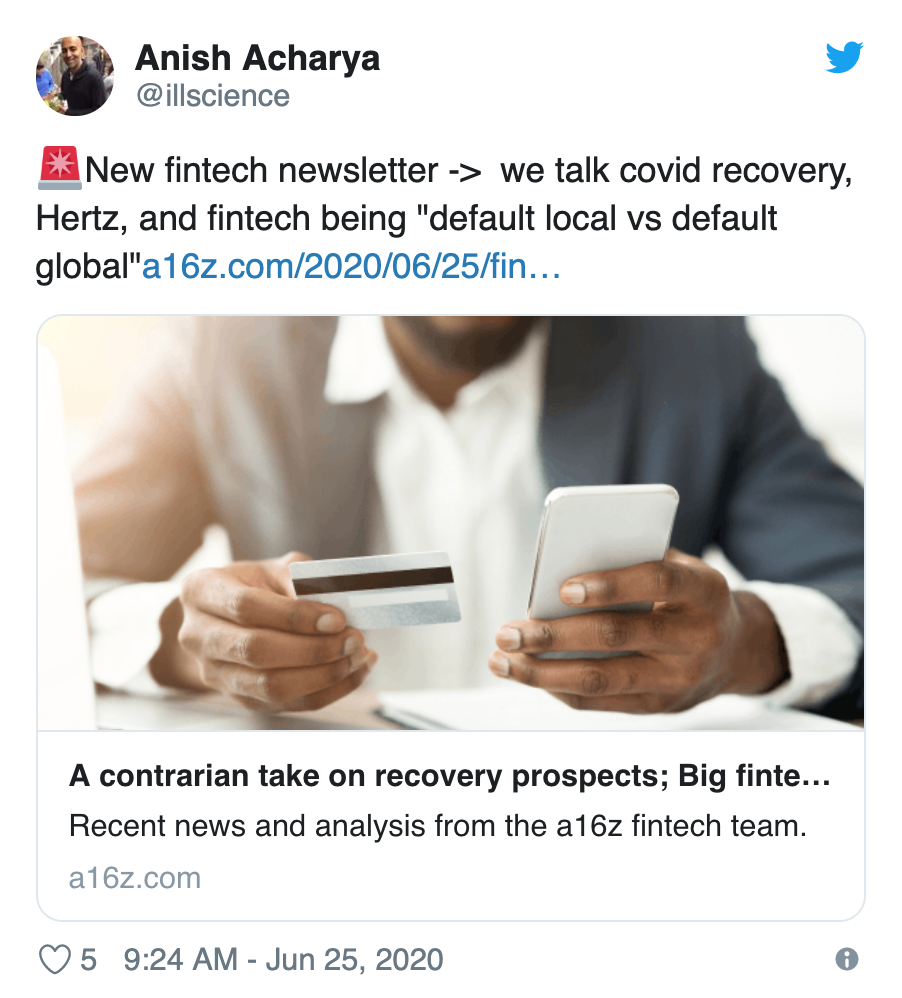 Automation: Fintech: 2020 is a turning point for financial institutions' usage of intelligent automation, particularly in advancing anti-money laundering operations, according to a paper shared by Paystand investor, Wildcat Ventures.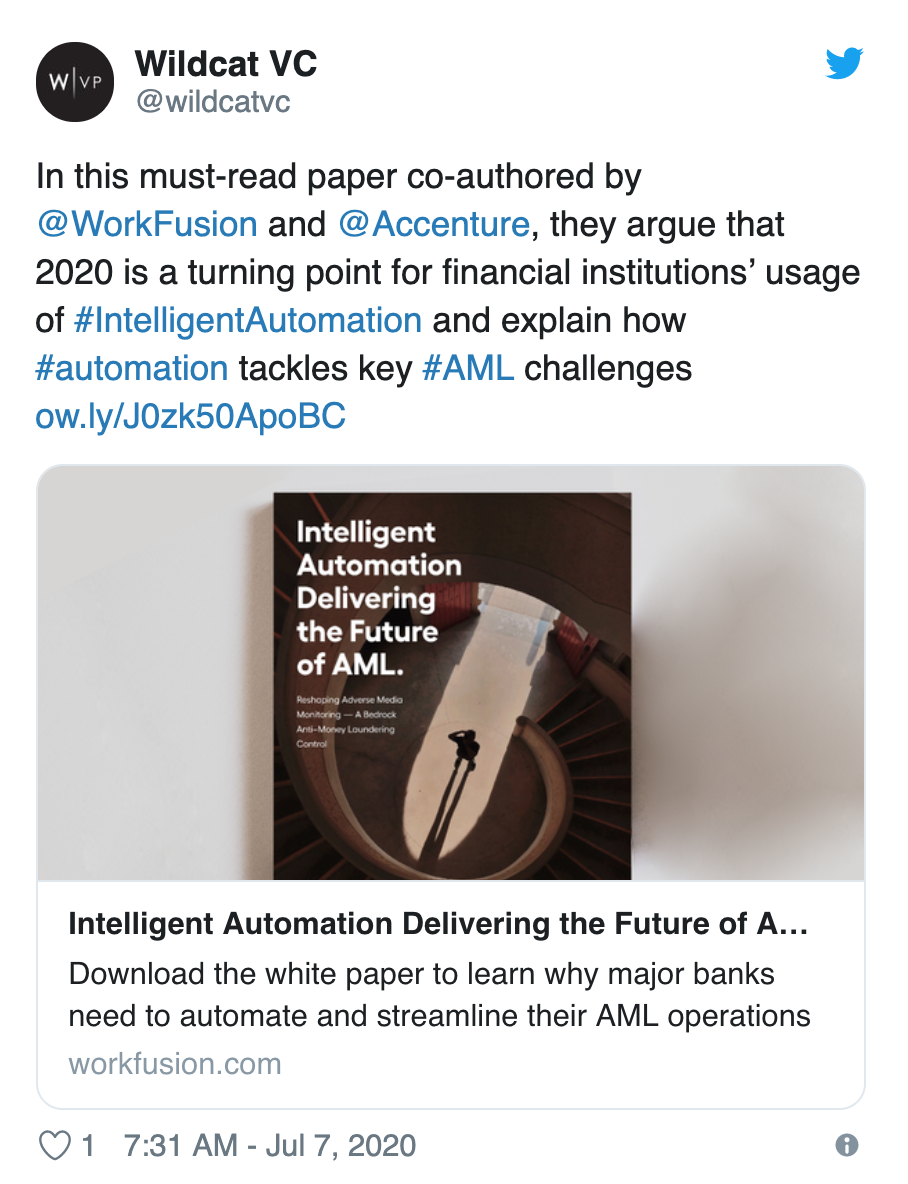 Fintech: Fintech is eating the world according to Tech VC firm Andreessen Horowitz. We couldn't agree more. Here's why: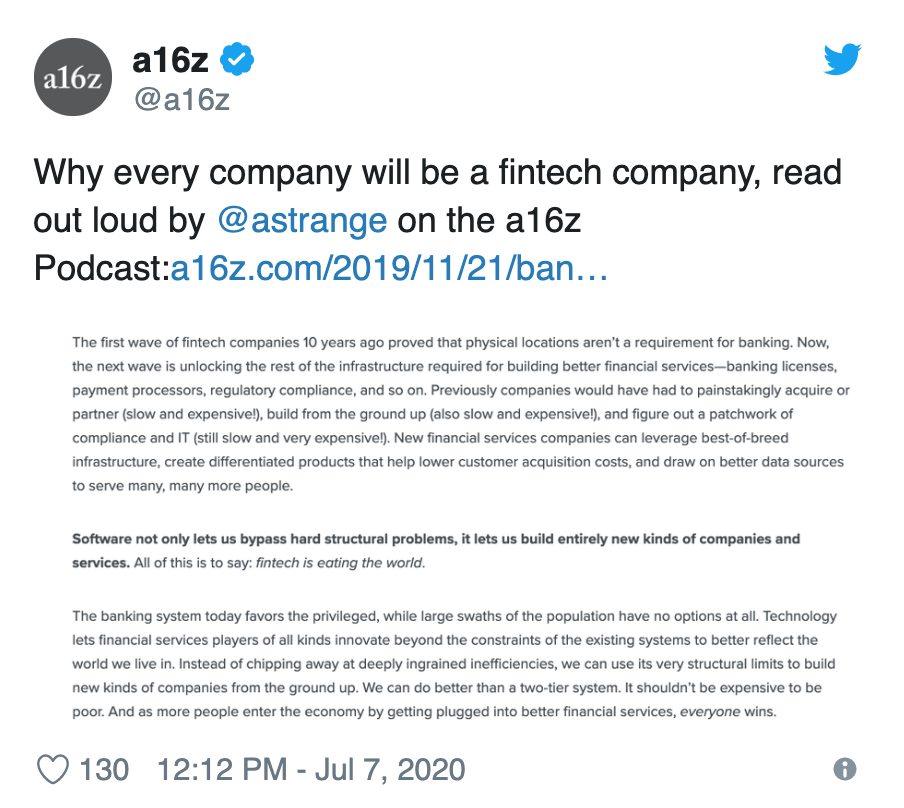 Upcoming webinar 📺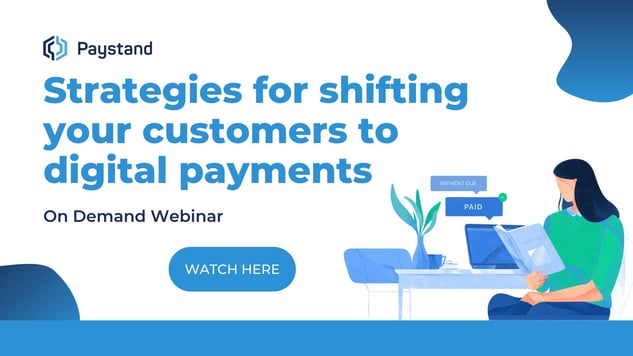 In case you missed it, we a detailed look yesterday on best practices for transitioning your customers to digital payments. Watch the webinar on demand here.