Issue #05: What Top CFOs Are Doing in 2H 2020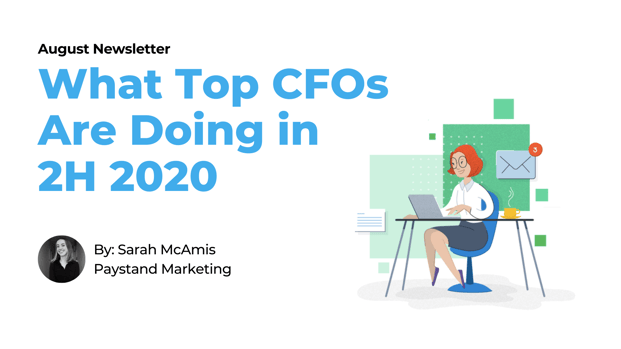 Editor's note: Hey there, Sarah here! This is the fifth edition of the Paystand newsletter, a monthly roundup of helpful resources to make sense of what's happening in finance. Subscribe here.


We're almost 6 months into navigating the impact of COVID-19: the economic uncertainty, business closures, and remote work. Earlier this year, finance leaders expected revenue and productivity loss because of a lack of remote work capabilities. In the face of this reality, CFOs shifted their focus to adopting new tools and strategies for better cost savings, cash flow management, and operational efficiency.
Many companies have now weathered the immediate crisis -- implementing touchless payment options, transitioning to remote AR management and other new ways of managing spending, and are now thinking about what they need to thrive moving forward.
Today's newsletter covers the strategies and actions CFOs are taking to mitigate risk and get a secure financial footing in the second half of 2020 👇🏽.
PS: Paystand hit 2 major milestones this month we're excited to share with you:
At 1007% growth, Inc. 5000 ranked us #9 fastest-growing private company in Silicon Valley!


Launched the The Paystand Virtual Card: the only corporate card with unlimited 0% fee payments.
Skip to section ⬇️:
CFO Outlook: Costs, Cash, and Operations
This year has had a lasting impact on finance operations and how businesses think about cash flow. While some companies have posted record-breaking growth, others have lost up to 75% of their revenues in a single quarter. In this climate, cash isn't just king—it's critical for survival.
Here's how CFOs are refactoring their strategy for 2H 2020:

Cost savings:

89% of CFOs are focused on company-wide cost reduction. With more money on hand, here are the areas most CFOs are investing in to put their cash to work.


Cash Management: The average US business has 24% of its monthly revenue held up in accounts receivable. Here's a strategy for better cash flow management.


Operations: 50% of CFOs plan to accelerate their automation plans in 2H 2020. Managing these projects can be tricky, so read this guide before you start automating your cash cycle.
Product updates:
We're always working hard to improve our payment network and platform. Check out some of our recent updates. We've taken our best ideas and layered in your customer insights and feedback to give you a flexible payment solution catered to your needs.
Payment Portal: Merchants now have the ability to display custom dropdown fields in the checkout experience in order to collect additional remittance data from each transaction. Contact support for help using this feature.


Checkout: Customizing the checkout experience just got easier. In addition to color and background graphics, merchants can now remove background images in one click for a minimalist look.


API: We've added new API documentation content to make it easier to navigate and get you up and running faster with the Paystand API from your application. Also new in our API:



Support for collections automation and collection plans.


Ability to upload customer verification documents to streamline the onboarding flow within your own software.

Platforms: We've launched Roll-up View to give users the ability to track all aggregate payment data for their entire platform in real-time. Toggle the view on the Overview and Payments pages of the AR dashboard to see an aggregated view of child account data.


NetSuite: Users can now process refunds against paid Sales Orders, as well as execute refunds done through a Customer Refund or a Payment Refund.
What we're reading 📚
CFO round table: Managing uncertainty

.

It's hard to believe it's been 8 years since this article was written, yet the points ring truer today than they did in 2012. Most notably, the CFOs in this piece all mention tackling problems that Paystand solves today with automation and predictability.
Noteworthy Tweets 💬
CFO Finance: This tweet only says what we've all been thinking for the past 10 years: everyone knew the future was digital, but finserv and banks were moving too slowly. It took a pandemic and economic recession, but it looks like our industry is finally on track to deliver the solutions that modern businesses need today.
Resiliency: Y Combinator partner Dalton Caldwell tells Bloomberg what type of startups founders thrive the most during the COVID-19 era: very flexible, able to deal with change, and can quickly react to market conditions quickly. These are exactly the characteristics needed from CFOs today.
Fintech: Angela Strange, General Partner at Andreessen Horowitz, started a great thread on the opportunity for SaaS companies to embed Fintech alongside their core products.
Fintech: To wrap up this month's newsletter, let's keep it light by throwing it allllllllll the way back to the 70s with a look at the first record of fintech being used. Oh how far we've come...
140,000 businesses are paying Zero fees on payments.
Paystand was selected to this year's Inc. 5000 List, ranking as the # 9 fastest-growing private company in Silicon Valley. Our team's hard work and dedication to rebooting commercial finance has made it possible for us to grow 1007% and earn a spot at the top of the list.
But this is about more than fancy awards and shiny numbers; it's about creating the finance system that businesses deserve in 2020 and beyond. As far as Paystand is concerned, the industry is speaking LOUD when 140,000 businesses opt-out of the broken fee-based infrastructure that leeches their revenue and growth.
If you want to manage payments effectively and get paid faster, Paystand can help. Our software includes every feature needed to maximize cash flow plus unlimited transactions, unlimited customers, and absolutely no fees on payments over our network.
Everything finance should be and more — that's how we do it at Paystand.