Issue #07: A Sound of Digital Payment Thunder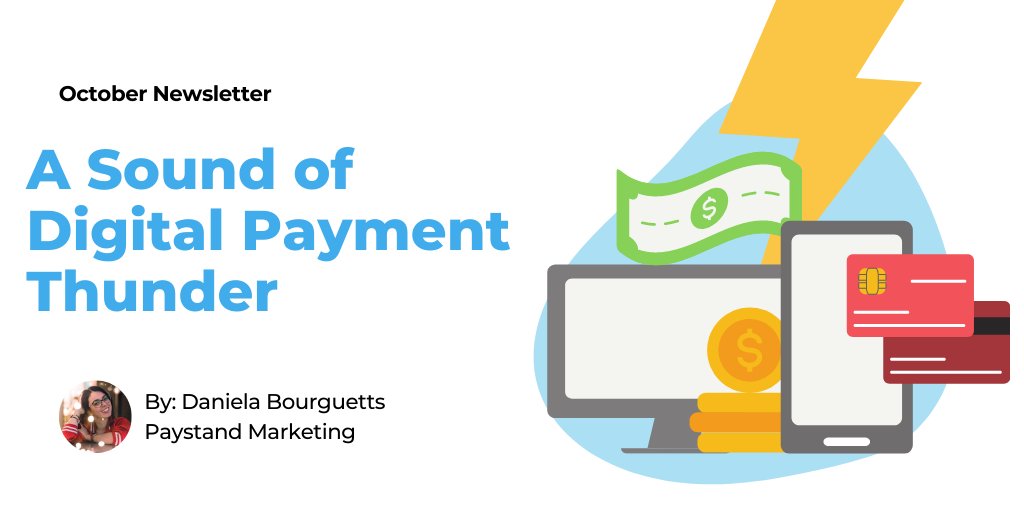 Editor's note: Hey there, my name is Daniela and I'm the editor of Paystand's monthly newsletter. Each month, I send a roundup of the best payments and finance content from Paystand and around the web, direct to your inbox. Don't miss the next issue. Subscribe now.

---
A lot of us have moved past paper checks in our personal lives, but most CFOs and businesses haven't.
Businesses make half of all their payments via paper checks, which amounts to a whopping $22 trillion in payment volume each year. By comparison, businesses only spend $523 billion on cards (as of 2018).
Handling the sheer volume of these paper-based payments is a huge drain on the economy and comes with its fair share of challenges. Bank of America estimates it costs businesses between $4 and $20 to process a single check payment, and that it takes nearly 14 days to process paper-based invoices and payments. Issuing and depositing all those business checks is estimated to cost between $26 and $54 billion.
All things considered, sending and receiving paper-based payments costs over $200 billion annually. Companies can save tens of billions by shifting to digital payment systems.
In today's newsletter, we break down how businesses are replacing paper-based accounts receivable with new digital payment methods and online processes.
Shifting away from paper-based methods
The average B2B payment cycle takes about 35 days to complete and 47% of invoices are paid late. This is in large part due to paper-based payment methods and processes that are mired in inefficiency.
In recent months, we've seen the cost of that inefficiency on full display as a result of the pandemic. Even before the pandemic, 82% of businesses failed due to poor cash flow but now the stress on businesses has become even more acute.
In numerous recent CFO surveys, digital transformation across finance went from "somewhere on the long-term roadmap" to "immediate priority" as businesses face the reality that paying and receiving via paper can cripple operations, stagnate growth, and deteriorate AR health.
This is especially true if your business is operating remotely and no one is in the office to collect paper checks arriving by mail. By contrast, digital payments are safe, easy, and less expensive. When you collect payments digitally, that money goes straight into your business' account with little to no delay at a fraction of the cost.

As businesses continue to shift to digital payment tools that allow them to get paid faster and manage the process remotely, their cash flow will become more resilient and easier to control.
Replacing paper-based accounts receivable
In many ways, deciding to move away from paper-based accounts receivable is the easy part. The hard part is determining how to do it and what accepting checks means for your business. Consider these resources as you shift to digital accounts receivable.
Product updates
Our latest product upgrades are all about making invoices, payments, and accounts receivable as a whole easier to manage digitally. Here are some of the latest updates to our platform:
✨
What's New
🚀
Early access to Smart Lockbox beta: Over the past few months, we've helped our customers move more of their payment volume to digital channels. And we're excited to announce we've taken another big step forward in freeing businesses from the inefficiency of legacy, paper-based payments. Introducing Paystand Smart Lockbox: our hassle-free Checks-as-a-Service solution.

Paystand Smart Lockbox gives businesses a way to manage and track paper checks from any device with an internet connection. Now you can automate the check collection process and see all your payments in one place without ever dealing with another paper check again. It's B2B payments reimagined. Sign up for early access today!




✨ Polishes & Fixes 🚀
We've also added several new fixes so it's possible to:
✅ Track incoming check payments from the dashboard
✅ Present invoices for "subcustomers" in NetSuite
✅ Earn rewards for making virtual card payments
✅ Download PDF reports of monthly statements
Industry Articles 📚
Is it time from distance from paper checks?

Transitioning from paper checks to making and receiving digital payments has a been a huge change for many businesses during the pandemic. In this blog, Nacha president and CEO Jane Larimer explains why it's time for paper checks to disappear once and for all from the payment ecosystem.




How to measure the true cost of paper checks. Despite evidence to the contrary, many businesses still see checks as a virtually free payment option. It's hard to make the case for change until you quantify the problem and evaluate how much better you could be doing with other payment options. This CPA Practice Advisor article is a great start.


Balancing paper-based AR payments in a digital world. While we believe that payments is clearly moving to a digital workflow, the reality is we can't just fast forward to the future. Many businesses cannot just jump from established AR and AP systems to digital solutions due to budgetary concerns, infrastructure issues, or security worries. This Deep Dive examines what exactly businesses are doing as they transition their systems to the cloud.



Social Media 💬
Paper Disbursements: Accepting paper checks is a recipe for disaster for any business focused on managing cash flow right now. According to PYMNTS' latest Disbursement Tracker, it takes 15 days for a paper check to clear (and that's just from the moment a check is in the mail). Factor in any floats or mail delays and you could easily find yourself waiting a month for payment.
Electronic payments: Electronic ACH and direct debit payments are finally getting their time in the sun. According to Nacha's second quarter numbers, businesses across every industry are making more payments digitally and shifting from paper checks.
Payment networks: The recent digital transformation wave in the B2B payment space has finally pushed networks like Visa to find ways to move money more efficiently. It appears the walls are finally coming down between AR and AP, and the demise of checks will soon boil down to two things: speed and safety.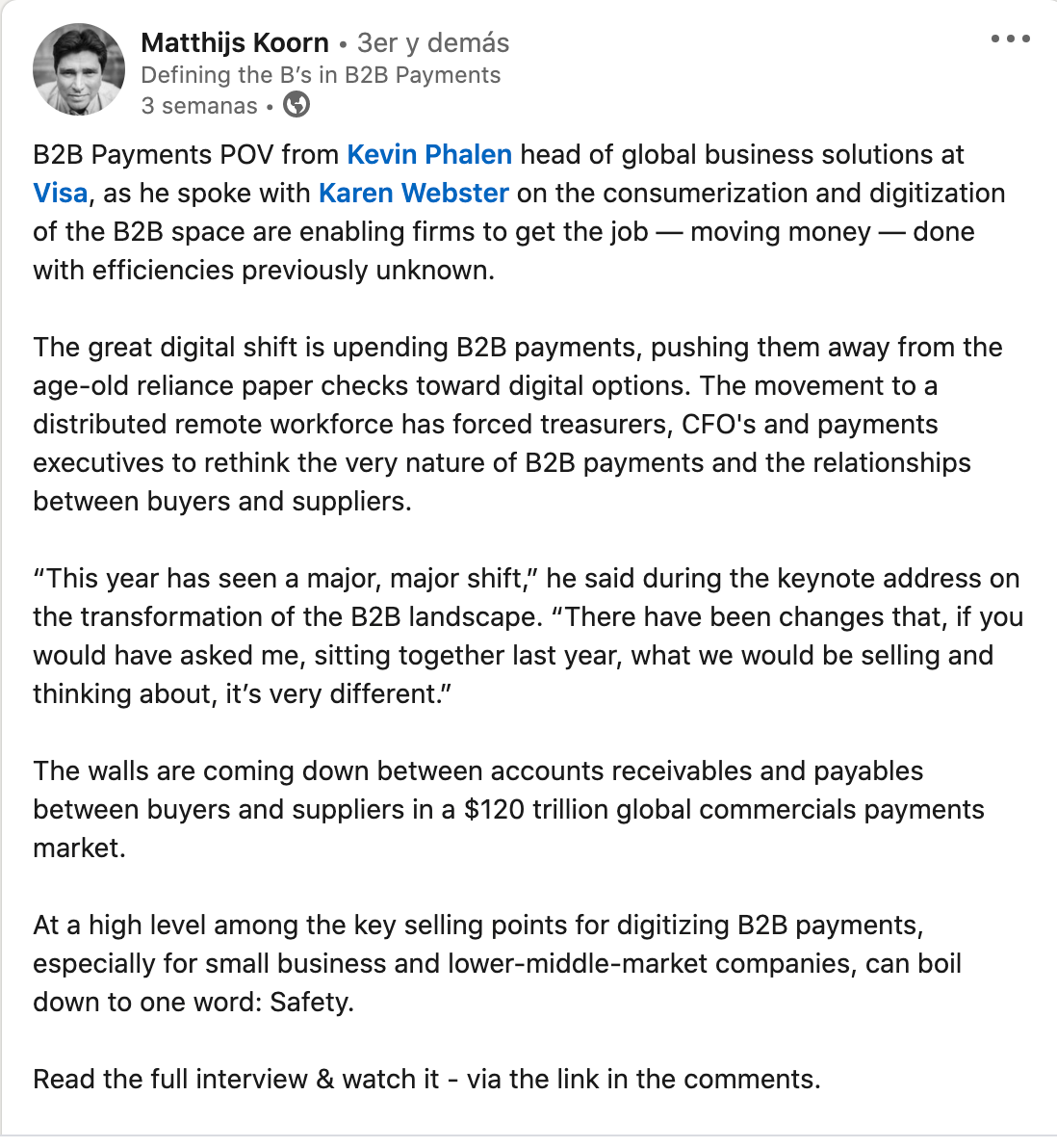 Payment security: There's a high risk of fraud and errors associated with paper check acceptance. In this post, Commerce Bank treasury services officer Joey Timmer points out that there are many options that can speed up payment times while also protecting your business and customers.

New webinar! How to digitize your paper check payments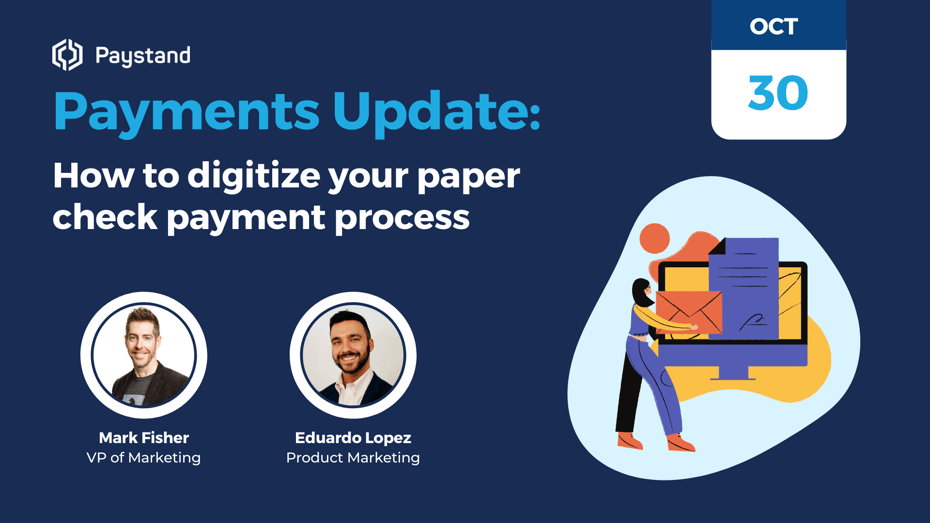 In recent months, disruptions to physical business operations and the challenges of a remote workforce have fueled many businesses to shift away from checks and other paper-based accounts receivable.
Companies reliant on checks have experienced cash flow challenges due to payment delays, insufficient funds, or because it's difficult to get to the office and manually process payments. On the other hand, companies with digital payment processes have had a smoother experience, collecting payments virtually and managing the accounts receivable process remotely.
In this webinar, we break down how you can digitize your paper check payment process. Join us as we discuss common challenges and how to overcome them.