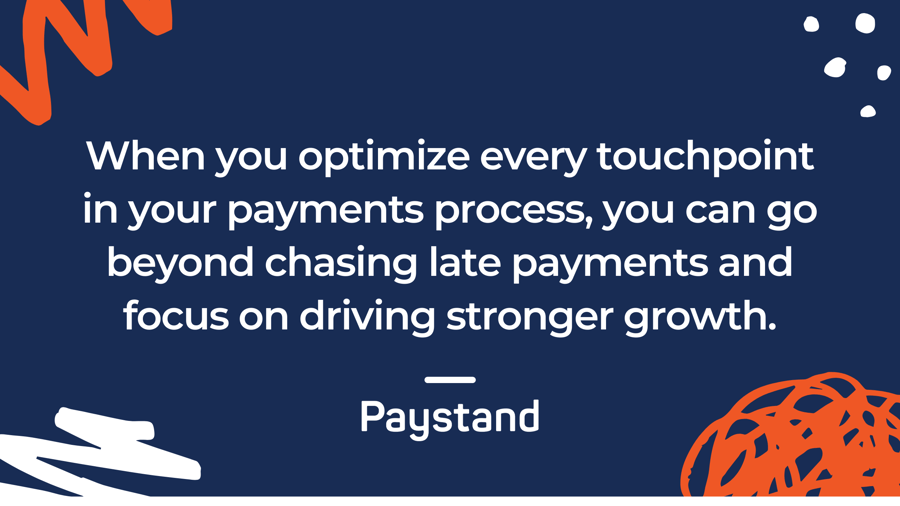 The end of year close is approaching and that means it's time to catch up on those late receivables. Whether your company sells handcrafted boots, digital advertising technology, or outdoor products, now is the time to follow up on any overdue invoices and get those accounts current.
But chasing down late payments can be frustrating, especially if it happens often. That's why it's so important to have a collection plan in place before a payment ever becomes delinquent, especially for customers that tend to fall behind.
Thankfully, there are some simple ways to get invoices paid faster. We compiled a list of tips that have helped our customers so you can do the same.
1. The bare minimum: send out electronic invoices.
Sending invoices by snail mail will almost never lead to faster payment times because it takes longer, runs the risk of getting lost, and adds extra costs to your collections process. You can easily solve all these challenges by invoicing your customers electronically. In fact, switching to electronic invoices can lower your processing costs by 81% and help you get paid up to 77% faster.

2. Set customers on automated collection plans.
Many of the financial teams we work with respond to unpaid invoices with a variety of reminders to motivate customers to pay. Our power users approach late payments very differently. Instead of waiting for accounts to turn delinquent, they proactively put all their customers on automated collection plans that clearly outline what steps to take when there is the slightest sign that a customer may pay later than usual.
When do you send the invoice? When does a reminder get sent? How often should you follow up by email or phone? This is why automated collection plans are effective, because they ensure that you'll never need to review an account and question, "What should I do next?"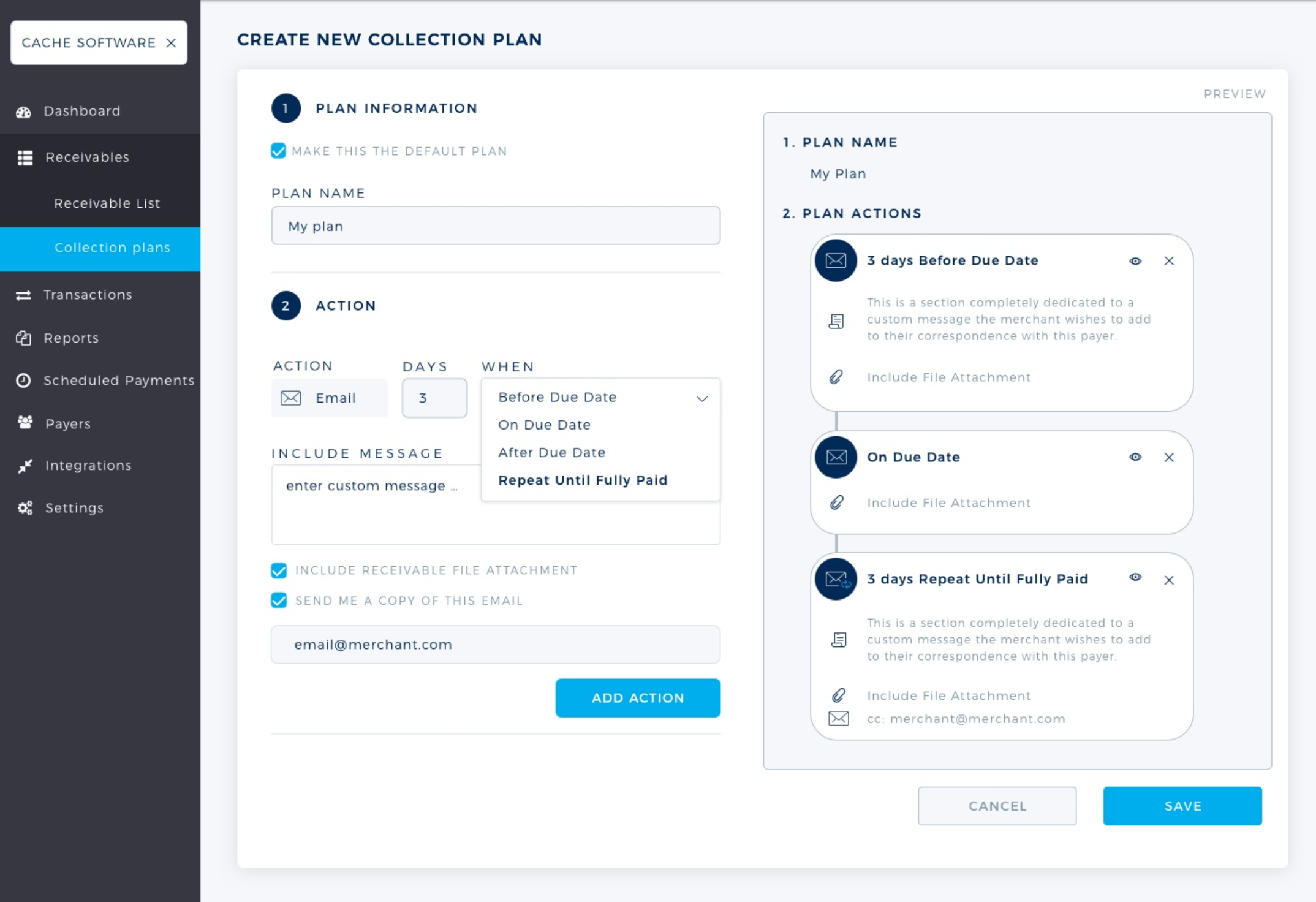 3. Digitize your receivables as soon as possible.
When it comes to faster payment times, digital A/R software is key. With it, you can create and edit receivables and easily capture critical data within the receivable itself. Your team can then track it and see any associated payment events or communications that have happened, all in one place. This enhanced view is critical for spotting issues that can cause your invoices to go unseen, unprocessed, or unpaid.
4. Set up early payment incentives.
A fairly common way to get invoices paid faster is to offer customers discounts for paying early. This works especially well if you use net-30 terms. Our customers typically do this by offering a 2-5% discount if the invoices is paid upon receipt, but a 5% discount may not be the best route if you're trying to collect larger sums of money. Luckily, discounts aren't the only way to influence early payments, you might just have to get a little creative:
Give exclusive benefits or perks to customers who enroll in features like auto-pay or recurring billing, which help you streamline and cut costs.

Tap your sales team to help you collect the money by offering them bonuses or delaying commission until a receivable is fully paid. This makes your sales team a collections partner, not an adversary.


Extend your payment terms and instead set the bar at current DSO, offering customers incentives in exchange for DSO reduction levels.


Give your collections personnel individual bonuses for improving their assigned accounts and offer to increase the incentive if the entire team meets their goals.

5. Talk to your customers often.
Regularly keeping in touch with customers is an underrated shortcut to faster collections. After helping more than 120,000 business make payments, we have found that often when a customer has not paid an invoice, they just forgot about it. A simple gesture can be the gentle nudge people need to get a payment on its way.
The easiest way to have your invoices go unnoticed is to fall short of your customer's expectations, even if those expectations are not explicitly mentioned in an agreement. The more consistent you are in how you communicate with your customers, the more interested customers become in paying you in a timely manner. Best of all, you can automate these communications using cloud solutions like Paystand.
6. Send out pre-invoice reminders.
Another easy way to start getting paid faster is to send customers a friendly reminder email a few days before you even send them an invoice. This gives them time to prepare their payments if they're prone to forgetfulness or tend to fall behind schedule. Ideally, you want to send this about a week before you send them an invoice. In this note, I recommend giving them a courtesy heads up rather than following up on an unpaid invoice. If it makes the process easier for you, consider asking them if they're satisfied with the product/service or whether everything is on track for payment.

Here is an email template you can use to get started:
Hello [insert customer's first name],
How is everything going with [your product/service]? I wanted to give you a courtesy reminder that your most recent invoice is due on [date invoice is due].
If you'd like to pay that in advance, you can view the invoice here.
Let us know if you have any questions or concerns, we're here to help you if you need anything.
Best regards,
[Your Name]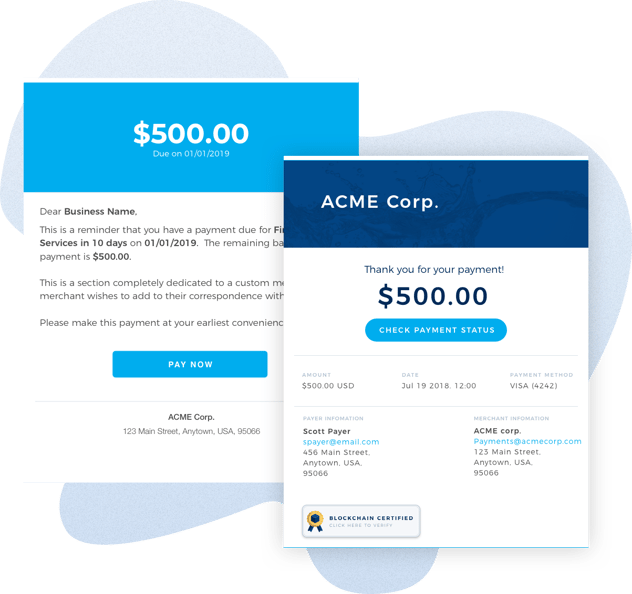 7. Use alerts and triggers to make collections automatic.
Alerts and triggers are powerful features that can streamline your A/R processes and remove hours of repetitive, manual tasks from your workload. Set up "if/then" scenarios for a variety of tasks like following up on late receivables, reconciling your payments, or transferring funds across accounts, so you can free up time to focus on more important tasks than simply moving work through your pipeline.
Handoffs:

The process of manually approving one task and starting the next can add delays and bottlenecks to the A/R process. How many hours you could save every month if your approvals were managed by a form field that automatically triggers the handoff?


Status Updates: Once payment has been received, there's no reason you should have to update the invoice status in your ERP system. How much time would you save, or better yet, how much faster could your monthly close happen if approved or completed tasks were automatically updated in your system and communicated to stakeholders?



Reminders:

If you're a business with a handful of high-playing customers, sending communications or updates is extremely fast. However, if you're like most businesses, simply automating the process to remind customers when due dates are approaching or have passed can shave enormous time off of your workload.
Here is just a sample list of tasks you can quickly automate using triggers:
Preparing and sending invoices

Adding payment links to invoices and emails

Writing and sending pre-invoice reminders

Accepting payments from customers

Tracking payment settlement

Verifying customers have made a payment

Sending late payment reminders

Setting routinely late customers on collection plans

Reconciling payments

Sending payment receipts

Running financial reports
It's important that your software can send the invoice and accept payment from your client automatically. This lets both you and your customer focus on work instead of sending and paying invoices.

Investing in Invoicing Pays Off
Collections is a key part of your larger A/R management strategy. Instead of approaching invoicing as a task, imagine it as the entry point into faster payment and healthier cash flow. Overall, investing in A/R automation software will almost immediately improve your ROI. When you optimize every touchpoint in your payments process, you can go beyond chasing late payments and focus on driving stronger growth.
To get started implementing some of these learnings, read our free eBook The Controller's Guide to B2B Payment Optimization. If you found this advice helpful, this short read will help you accelerate collections and save 30+ hours per month.
. . .
Do you want to reduce overhead costs, eliminate transaction fees, and streamline collections? Schedule a free demo with one of our experts or call us anytime at 1-800-708-6413.
Tags: Payments, e-invoicing, automation, collections