9 Key Benefits of an ERP System
Enterprise resource planning (ERP) systems help businesses track and manage what is happening within their organization. Here are 9 of the biggest business benefits an ERP system can provide that you may be missing.
1. Automation
A primary benefit of an ERP system is to automate repetitive tasks. The ERP makes it possible to automatically generate and distribute reports, deal with inventory management, and cover basic finance and accounting duties.
Automation removes human error while streamlining processes, so your business can do more with less.
2. Leverage Data to Make Business Decisions
Rather than working off messy or non-standardized data, a modern ERP system provides you with accurate and up-to-date information about key figures within your business.
Organized structured data makes the process of making year-over-year comparisons easier and even helps provide accurate forecasting. Most ERPs provide a dashboard that will put key performance indicators and financial information in a single, easy-to-read location.
Accurate information provides your company with what they need to know to make decisions based on facts instead of feelings.
Standardized, accurate data gives you accurate forecasting.
3. Integration
Integration unifies your business. An integrated ERP can collect, store, and analyze data across all departments and provides a central view of the financial operations that can be shared across the organization.
Integration helps reduce data errors and duplications of records while increasing communication and teamwork.
4. Take Your Business with You
With cloud-based and mobile-enabled ERP systems, you can access your ERP no matter where you are, giving you the power to always stay informed about key figures like sales, revenue, or customer acquisitions. For businesses, this is an invaluable advantage because even when you are on a business trip or working remotely, you can stay informed about the status of your company.
5. Empower Your Employees
You hired your employees because they are amazing at what they do. An ERP system gives them room to let them shine. The ERP replaces repetitive manual tasks with automation, which empowers your employees to focus on their strengths rather than tedious tasks anyone could do.
6. Get Help with Regulatory Compliance
It doesn't matter how great a company you are running if you are not compliant with federal, state, and local regulations because you won't be in business for long.
Depending on which industry your business is in, there can be a wide range of legal requirements you have to meet. An ERP can help improve compliance by reducing errors in your data, safeguarding sensitive information, and making your data audit-friendly.
7. Financial Management
You can't manage your company's finances if you don't completely understand where the money is coming from and where it is going. ERP systems can give you a complete overview of your business along with the tools you need to assist with planning, organizing, and determining the best use of funds for a business.
8. Meet Customer Expectations
Customers have increasingly high expectations for companies. They expect a seamless multichannel experience and personalized customer service. CRM software can help with some of that demand. With an integrated ERP system, you can design and implement unique customer care solutions and gauge customer satisfaction. Once you can measure customer satisfaction, it is easier to track it and make decisions to improve long-term customer retention.
9. Improved Transparency
ERP solutions provide comprehensive visibility throughout your business. One of the most obvious times you can see this is with your supply chain. ERP systems can track finished products and materials from manufacturing to delivery. Transparency helps you understand and foresee issues within the supply chain like delays of service or stock outages.
Paystand Can Help
If you are just starting to decide on which ERP is right for you, or if you're looking to get the most out of your existing ERP, Paystand can help.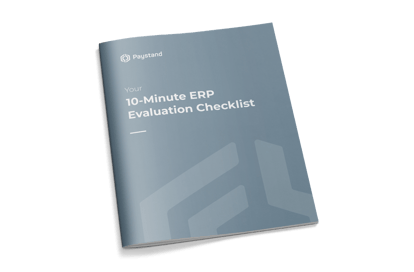 Download our ERP evaluation checklist and get a straightforward list to help you find the best ERP for your business. The checklist breaks down what you should be looking for in an ERP into a manageable list of criteria so you can prioritize as you weigh the pros and cons of each software.
If you're already using NetSuite as your ERP, download our Best Practices Kit that will help guide you from the basics of using NetSuite ERP to advanced shortcuts and automation. We walk you through choosing the right payment application for NetSuite, creating e-invoices with embedded payment links, and integrating and automating payments in NetSuite directly with PayStand.