What are eChecks and How Do You Accept Them?
Credit cards are the default payment method for online businesses, but a new alternative is emerging to give them a run for their money. eChecks enable your customers to pay you directly from their bank account, using their secure online banking login. Your customer can authorize a one-time or recurring payment as quickly as a credit card transaction.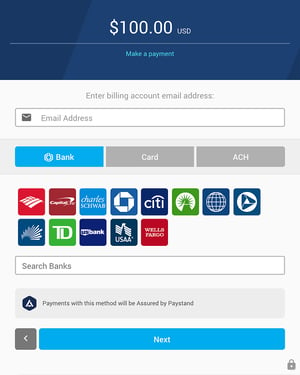 Benefits of eChecks
eChecks are gaining in popularity, in large part because they're an update of a system that's very secure and dependable--regular paper checks.
1. Lower Cost
Unlike the credit card networks which charge a percentage fee per transaction, eChecks are usually fixed cost transactions. While credit card processing across the industry usually costs between 2% and 5% of the transaction, eCheck processing usually are just a micro fixed cost. Imagine how crazy it is for a typical $10,000 B2B invoice to be charged a standard 3% from a credit card company. That would be $300 just to get paid a single invoice! An eCheck would be a tiny fraction of that cost.
2. Ease-of-Use
As universal as credit cards are, almost everyone has a checking account.
An eCheck is just like a paper check, in that it enables a direct transaction between two parties, without all of the middlemen and processing overhead involved with credit cards. eChecks bring that simplicity to the Internet, and improves upon paper checks with convenience and added security. Instead of the hassle of writing and mailing a paper check, waiting for it to arrive, endorsing it and depositing it at the bank, eChecks let your customers pay you from the convenience of their home or office, and the funds are automatically credited to your bank account. eChecks can also be automated for "set it and forget it" recurring payments.
3. Built-in Security
eChecks are the most secure form of online payment, according to eCheck.org, more so than credit cards, which can easily be lost or stolen. eChecks are the result of 20 years of research and collaboration between banks, tech companies and the U.S. government to optimize the well-established checking system for the modern Internet. The eCheck system uses state-of-the-art public key cryptography, digital signatures and more to ensure that payments are sent securely. Because eChecks are based on the same legal framework as regular checks, both merchants and consumers are well protected when they transact via eChecks.
Paystands eCheck Gateway
Accepting eChecks with PayStand is as easy as one click. Simply turn on the eCheck payment rail in your PayStand dashboard. You can offer eChecks alongside credit cards (check out our low credit card rates), or as an exclusive payment option. You can even discount eCheck transactions and the PayStand checkout will display the savings for your customer.
Interested in how accepting eChecks can help your business? Request a Demo
Related article: