What payment methods should B2B businesses accept?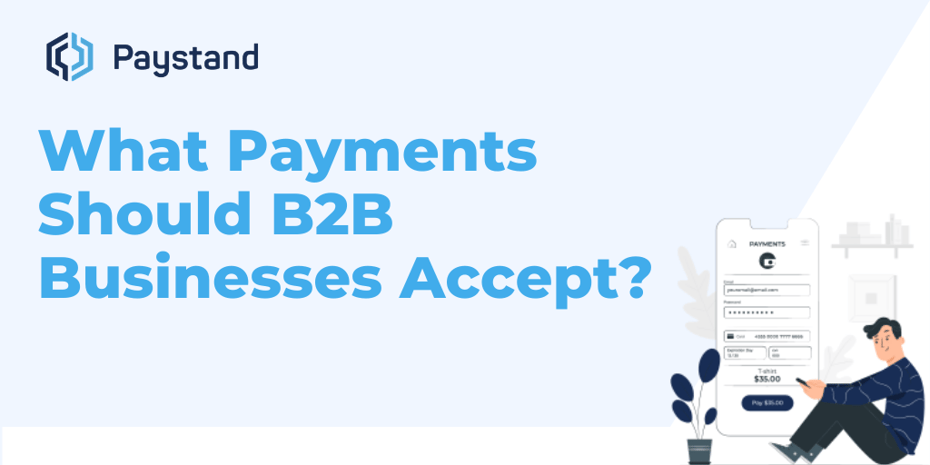 Over the past decade, payment methods have evolved to support different consumer and business needs.
Think about your everyday shopping experiences. When you head out the door (or into a browser), you know you have multiple ways to make payments. Some of these options make it simpler and more seamless to pay, like virtual cards, mobile wallets, and buttons that complete transactions in one-click.
Which payment option you ultimately end up choosing can depend on wide range of factors, such as transaction costs, speed, convenience, reliability, and security. By offering the right payment methods, you can reduce outstanding invoices, collect payments faster and more efficiently, and optimize your transaction costs.
In this blog, we'll help you understand the importance of payment methods and how to decide the best options to offer based on your business needs and customer preferences.
Why it's important to offer B2B customers
multiple payment methods
The average B2B payment cycle takes about 35 days to complete, and 47% of invoices are paid late. In today's climate, businesses need better ways to collect payments quickly, efficiently, and more affordably.
A major factor slowing down payments is the huge volume processed through paper-based methods like checks, which account for 42% of all business transactions. These options aren't just slow to process, but also very expensive. According to PYMNTS, paper-based invoices cost businesses about $16-22 per invoice.
One of the best ways to solve these challenges is by offering payment options that make it easy for customers to pay invoices and sales orders. Doing so allows greater control over payment costs and incentivizes your customers to pay on time.
That's why being smart about which payment methods you accept usually has a direct positive impact on your cash flow and revenue:
Research shows that you're more likely to get paid on time if you offer more ways to pay an invoice, not only that, but it also improves customer loyalty.


Different payment methods have different cost structures. Depending on your business model and where your customers are located, it may be better to leverage options that are fast, secure, and come with no transaction fees.


Offering multiple payment methods also translates to a higher volume of transactions and better bottom-line results.


Businesses that offer customers multiple ways to pay invoices are able to increase revenues by as much as 30%.


Some AP teams will delay payments on bills if their standard payment option isn't available. Offering the right mix of payment options can significantly improve the chances that customers will pay invoices on time.
Take a look at this chart on the percentage of merchants using multiple payment methods.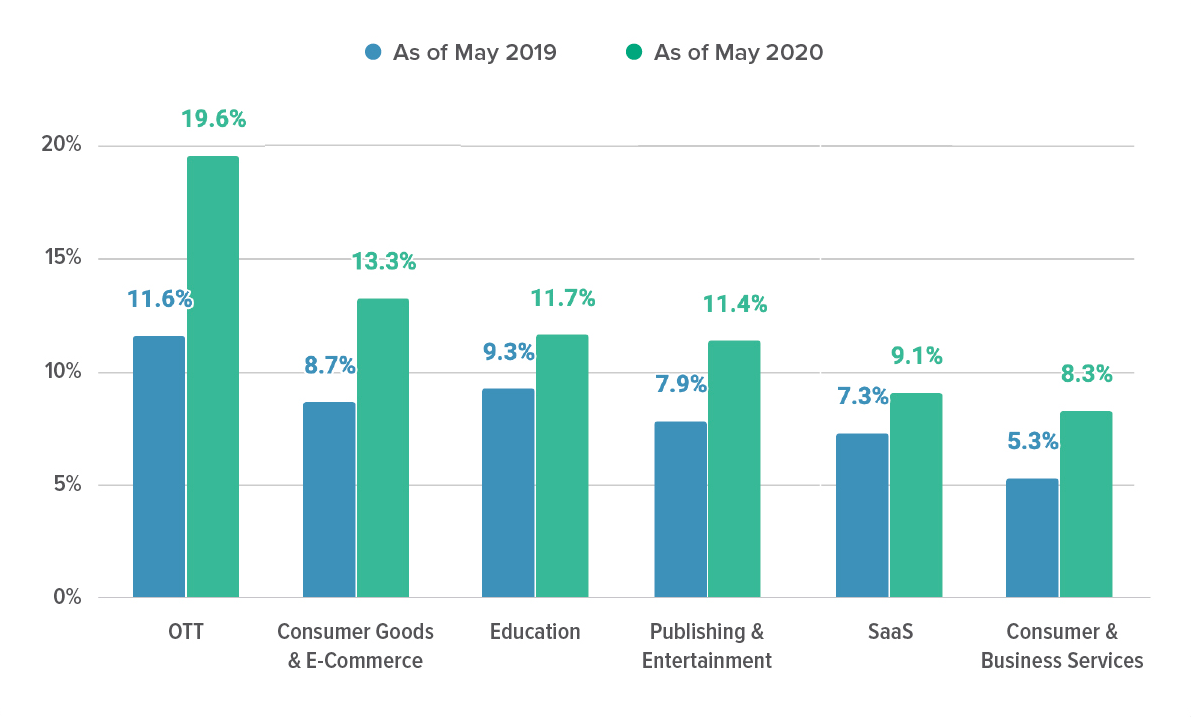 Aside from wanting to improve payment costs and collection times, there are other important reasons why businesses are choosing to offer more payment methods.
In the last year, several industries have started focusing on digital and touchless options as a way to stabilize revenue and expand their business during COVID-19. This is likely due to the fact that 87% of customers now prefer using contactless payment options.
Ranking B2B payment methods by cost, speed, and customer experience
Whether you need to improve your accounts receivable or meet changing customer needs, offering relevant payment methods to clients can help. The following section covers six popular payment methods and specific considerations based on cost, speed, and experience.
Direct Bank Payments (Best Option)
Direct payments are a convenient, safe, and reliable way for businesses to send and receive payments. It's a form of digital bill payment that allows customers to login to their bank account and make payments over the internet. Modern payment applications allow you to login right from your invoice or billing portal and make a payment.
Cost: $0.00 - $0.20 per transaction
Speed: 1-2 days
Experience: Easy, frictionless
Credit Cards
Credit is the most commonly accepted online payment method due to speed and convenience. To complete a payment online, customers only need to enter their card information or click a "Pay Now" button.
But imagine paying the 2-3% fees on a $50,000 invoice. For this reason, credit cards can be an extremely expensive option for B2B companies. Consider there are over 300 fees to process a card payment via the interchange network alone.
Cost: 2% - 4.35% per transaction + payment processor costs
Speed: 2-3 days
Experience: Easiest to use, can be done in 1-click
Automated Clearing House (ACH)
Transfers made on the Automated Clearing House (ACH) network enable customers to send and receive money between US bank accounts. To collect an ACH payment, customers must provide you with a routing and account number so you can initiate payment from their account.
ACH payments are often cheaper to accept because they are not routed through the card networks, but they're also slower than direct payments and debit cards. While some processors do offer same-day ACH transfers, funds usually take a few days before they're deposited into your account.
Cost: $0.20 - $1.50 + 0.0% to 1.5% per transaction
Speed: 2-5 days
Experience: Reliable, but requires multiple steps and paperwork
Debit Cards
Debit cards are a fairly reliable payment method that helps businesses access faster approval times than checks or ACH. They act like a faster version of ACH and offer the convenience of card payments, but often carry fees associated with processing transactions. And because you don't get an immediate approved response with debit cards, there is always the risk a payment may be reversed due to non-sufficient funds.

One thing to know about debit cards is that while they are faster to process, it could take you longer to recognize the revenue from these transactions due to poor reconciliation. Some processors send separate statements for debit cards, and you'll need to compare them with bank statements to see if any differences exist.
Depending on your operations and transaction volume, this process can really cut into your time and resources.
Cost: 0.05% - 0.3% + $0.15 - $0.21 per transaction
Speed: 1-3 days
Experience: As easy to use as credit cards, but not supported by all processors. Cash application and reconciliations can be difficult.
Paper Checks
Many businesses still prefer checks because they're comfortable paying by check and it helps them avoid transaction fees, but those small conveniences come with a steep price on the back end. Bank of America estimates that it costs between $4 and $20 to process each check, based on the price of the check and shipping, plus the time employees spend writing, mailing, collecting and reconciling the check.
Additionally, checks lack security, are error-prone, and are highly manual to process.

Cost: $1.22 per paper check + payment processor/lockbox fees
Speed: 2 days + 5 - 7 days mailing process
Experience: Extremely slow, prone to error and fraud, declining in use
Cash Payments (Worst Option)
Cash handling is not free or cheap. If you think a 3% fee on credit cards is high, consider that many businesses lose $5-15 per every $100 in cash sales. And while cash gives you instant access to funds, this can be a double-edged sword because keeping a large sum of money puts your business at increased risk for theft and fraud.
Keeping track of cash also gets more complicated when it comes to accounting. If money is lost or there's an error, there's a limited paper trail.
Cost: 4.7% - 15% of cash*
Speed: 1-3 days
Experience: Easy to do in-person, but falling out of favor and carries risks
*Cash processing fees are based on the number of bills you deposit. There are several costs that factor into this, such as surcharges for bills that are not presented in orderly manner and money for courier services.
Faster, cheaper, more efficient payments
In summary, many payment methods carry hidden costs, additional fees, and require some level of manual labor. That's why choosing the right payment options to offer customers should depend on your business model and customer needs.
Our recommendation: find a payment solution that supports several payment methods and is compatible with your accounting software or system of record. The best payment options will help your business reach more customers while making your accounts receivable process easier to manage and scale.
If you're looking to accept new payment methods or need help finding ways to get paid faster and more efficiently, our payment specialists can help you identify ways to quickly reduce fees, streamline collections, and shift customers to zero fee options.
Request a demo today.