What's the Difference between eCheck and ACH?
We all know it's possible to transfer funds directly between bank accounts—that's the way most of us get our paychecks via direct deposit and allow our loan payments to be deducted. Traditionally these types of funds transfers are for large sums and take place between banks and large corporations with preexisting authorizations to transact electronically, using the
ACH
network. But a new kind of electronic bank debit method,
eCheck,
has emerged in recent years that enables small businesses and even individuals to take payments directly from bank accounts, with a one-off authorization.
Why should business owners care about direct bank payments?
For decades, credit cards have been the only game in town for online transactions, particularly ecommerce. But as every merchant knows, credit card fees can really add up and cut into your profits, particularly when you're selling a large volume of widgets for a low cost. The industry standard percentage-cut of 3% plus a fixed 30 cent fee on every transaction translates into profits for credit card issuing banks and processors, and a high cost of doing business for you.
Direct bank debit methods like ACH and
eCheck
, by contrast, generally carry only a small fixed fee of 25 cents per transaction, or a 1% fee across the board, but not both. Until recently, direct bank debit hasn't been practical for accepting online payments, but today it's possible to offer that option to your customers either alongside or exclusively of credit cards.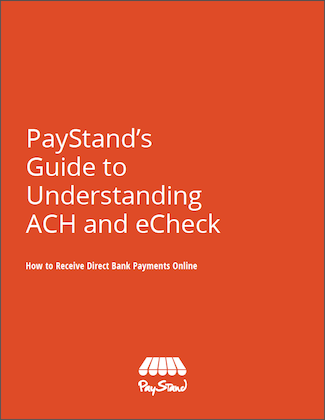 This definitive guide will help you choose whether accepting ACH or
eCheck
makes sense for your business or nonprofit, and break down the costs of these new payment methods against credit card fees. You'll also learn about exciting new features enabled by
eCheck
technology, such as recurring automated bank debits, and smartphone photo check capture.
Download the guide
today--it's free!
Remember, you can
get started accepting eChecks
with PayStand right away simply by turning on the
eCheck
rail in your PayStand dashboard. PayStand's
eCheck
rates are 0% plus a flat 25 cents per transaction.