How to Digitize the Enterprise Cash Cycle, Part 3: Reconciliation
Does anyone really look forward to the month-end accounting close process? Given how long it takes, it's really hard to imagine that the answer is "yes." Estimates on how long month-end close takes range from barely manageable to incredibly arduous:
CFO magazine reports that of 2,300 organizations polled, the least efficient bottom quarter takes an average of 10 or more calendar days to close the books.
A case study on Griffin Technology found that manual closing took 30 days prior to launching automating reconciliation processes.
A quick Google search for "How to reduce time spent on month-end close" yields a whopping 204 million results. Houston, we clearly have a problem.
This last post in our series on digitizing the enterprise cash cycle is dedicated to reconciliation. The way incoming payments are reconciled can drastically impact A/R staff and the business as a whole.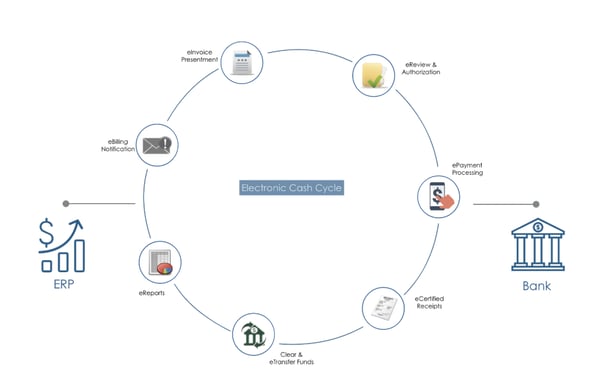 Consider the difference between manually keying in thousands of payments and automated workflows that take online payment information and tie it directly to the business's enterprise resource planning (ERP) tool.
In the first scenario, the ability to keep up with manual payments rests on manpower and there's lots of room for manual error. Any staff interruptions can throw off the delicate balance of closing the books each month. In the second scenario, payments are automatically verified against ERP records. Human interaction is required to deal only with exceptions.
So, how do you get from a manual, time-consuming process to automated workflows that shave time off of month-end close? Revisit the exercise from our previous posts on what's happening today.
Start by enumerating all payment types and how they are currently reconciled.
| | | | |
| --- | --- | --- | --- |
| Payment method | Total volume / qtr | % of Total | Reconciliation Method |
| Checks | $5.0 MM | 20% | Manual |
| Wire transfers | $1.25 MM | 5% | Semi-manual |
| ACH deposits | $9.0 MM | 40% | Semi-manual |
| Credit card payments | $8.75 MM | 35% | Digital / manual |

What you learn might surprise you. Paper check reconciliation will likely be manual - unless your business has invested in hardware that will scan checks, look for key pieces of information, and send that data to pre-mapped fields in your ERP. But even these processes require manual intervention and are time-intensive. Moreover, electronic payments in the form of wire transfers, ACH deposits, and credit cards may seem like they *should* integrate seamlessly - but don't. Why?
If you've read and mapped out the inputs from our previous post on digitizing B2B payments, pull up your list of payment options and their associated inputs. Add a new input for how reconciliation is completed.
Certain initiating banks may have a direct connection with your ERP while others may not. Transactions processed over the phone or in person may be considered manual transactions that also lack a connection. Or maybe the credit card processor you use doesn't integrate with your ERP.
Whatever the case, it's important to know where manual vs. automated reconciliation is happening. If there are distinct payment types within each payment option, make sure to separate them.
Having this breakdown makes it easy to create a plan of attack. Start with the highest percentage of transactions per quarter where reconciliation is manual and put the rest in order accordingly.
Get granular with the time your team is actually spending on each task
The next few inputs you need will come straight from your accounts receivable (A/R) staff. If you're lucky, you might be capturing this data already. If not, asking your staff to track their work for a handful of applicable transactions will do the trick.
How long does it take to key in each payment type?
What error-checking steps are performed for each payment type?
How long does the error-checking process take for each payment type?
With the answers to these questions, you can calculate the time A/R staff spend on manual reconciliation for each transaction type:
Transactions/quarter X minutes per keyed transaction = total time to reconcile payment type A
Transactions/quarter X minutes per error-checked transaction = total time to verify payment type A
The calculations above will give you a ballpark idea of how much time you could save with automation. That means shaving big chunks of time off of month-end close processes that could be reallocated to strategic activities that support the financial health of the business.
Now it's important to take a look back at the payment options that worked best in your payment processing exercise. Do those payment options connect directly with your ERP? If not, could you centralize payments into one platform that integrates with your ERP?
For your highest transaction volume, seek to reduce manual reconciliation with automated connections. You'll be paid back with a faster, more seamless month-end close process. Remember Griffin Technology? They were able to reduce their month-end close from 30 days to 5 days by automating reconciliation workflows.
Are you interested in automating reconciliation workflows and wondering which payment options are the best fit? Contact PayStand to discuss your current setup and how our digital B2B payment network can support your goals.