How to Automate Your Accounts Receivable Process
Why are some finance teams slower to adopt AR automation than others?
Over the years, there has been a prominent fear that automation could cost AR teams their jobs. But that anxiety is becoming increasingly unfounded.
Billing software is generally smart enough to capture information, process invoices, register late payments, and forecast cash flow. But the technology works only when it supports people, since highly complex and contextual problem-solving skills aren't realistic (yet).
However, accounts receivable management can no longer be a purely manual process. It's unsustainable. Take a look at this staggering insight from CapGemini: CFOs spend 90% of their time on financial closing duties and a mere 10% on analysis.
Who wants to spend 90% of their time on repetitive, tedious tasks and only 10% on the fun stuff?
Not a single CFO or AR professional, that's for sure.
That's not even considering all of the issues linked to a lack of AR workflow automation. A few significant problems that finance professionals link to manual processing are lost documents, compliance breaches, and lost productivity. Yikes.
But AR automation can turn the tide. While robots do the number-crunching, finance staff can focus on providing the high-level insights that drive business decisions and enable growth.
Keep reading to learn how to turn today's manual accounts receivable process into an automated, well-oiled machine.
First, Do This Before Automating Your AR Process
When moving from a manual to an automated accounts receivable process, it's critical to start the journey in an all-encompassing, collaborative way.
Imagine a pilot landing a plane in a busy airport. Before descending the plane, the pilot will consider any conditions that could affect the landing. Then, they will communicate with an air traffic controller to confirm expectations.
Wherever possible, pilots take in all the inputs at their disposal and collaborate with others to ensure a safe landing. Finance leaders should aim to do the same with AR automation.
That's because implementing a successful accounts receivable automation involves several moving parts. You aren't strictly migrating your manual process into a digital format. That's an ERP.
Instead, you're reorientating your payment processing method for efficiency. And you're working together with your AR team, IT department, third-party vendors, and management team to do it.
Read our eBook to learn more about the benefits of an AR platform: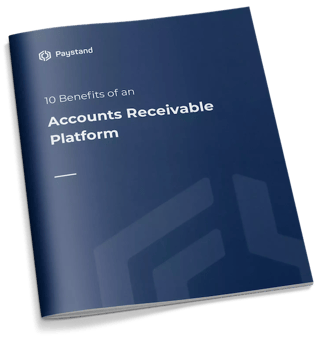 Here are 4 best practices to keep in mind:
Start with a clear goal in mind for AR management. For example, do you want to simplify processes, automate tasks, or gain insight with enhanced analytics? The answer will determine your next steps.
Build a team of omnivores. Look for people from varied backgrounds that are comfortable trying new tools and approaches. They should be open to smart action steps rather than mired in analysis and legacy systems.
Make cross-collaboration a norm. When people work together, they better understand each other's challenges and capabilities, which improves collaboration.
Encourage experiments. You might not find the AR automation tool that works for your team on the first try, and that's okay. Instead, identify small projects for quick experiments and shorter feedback cycles.
Mapping Your End-to-End AR Process
To improve any AR management process, it's imperative to understand how it currently works. Otherwise, you might slap uninformed "solutions" on a problem — and miss opportunities to truly enhance the AR process.
The first step in any digital transformation project is to map out the entire workflow, key objectives, and urgent bottlenecks. This may be the most time-consuming part of the exercise, especially if your business has layers of invoicing complexity.
However, comprehensively mapping your AR workflow is essential to understanding what features you need from an accounts receivable automation software. Furthermore, it will make determining which manual process can be automated and which should remain hands-on easier.
11 questions to help you document your AR process:
How does the AR team receive information on customers and invoices?
What are the data inputs we capture for customers and invoices?
How many different billing configurations do we offer?
What are our ideal payment terms, and how does our process facilitate those terms?
How do we send invoices to customers?
How do we process customer payments?
How do we know when a payment is late?
What do we do with late payment alerts?
Do we charge a late fee?
Do we charge a convenience fee for credit card payments?
What payment types would our customers prefer?
Involve Staff in the Decision-Making Process
Your accounts receivable team is already extremely familiar with AR operations and their challenges. Take advantage of their knowledge and have them walk you through the current AR process. Not only will this provide insight into the current accounts receivable management procedures, but it can also improve the chance of employee buy-in when you choose an AR workflow automation solution.
There are some trends that most, if not all, AR departments face:
48% of firms consider AR processing speeds a top concern.
US businesses end up waiting 33 days on average for cross-border B2B payments.
15% of B2B receivables are overdue.
It's also important to ask the AR team what their dream workflow would look like, outside of listing AR challenges such as overdue accounts, debt collection, and manual processing. For example, if they could design a process that would really simplify their work, what would it be? And even if their vision isn't 100% possible, their feedback can help when reviewing billing software features later on.
But more importantly, ensuring that your accounts receivable team plays a part in choosing your AR automation tool makes it likely that they will use it. This translates into a more successful transition, happier employees, and an accounting system that makes sense for everyone.
Communicate Goals and Requirements Clearly
By walking through current AR processes with your staff and creating a workflow, you've got a running start on the path to receivables automation. Now it's time to articulate the overarching goals and requirements.
You might already know about some considerable inefficiencies in accounts receivable management at the outset. However, reviewing them after understanding the entire workflow will allow you to add anything that was missed.
Try on these common goals for size:
Reduce inefficiency
Decrease transaction fees
Remove doubtful accounts
Speed up payment processing
Improve the customer satisfaction
Maintain healthy cash flow with attainable payment terms
Increase organization-wide visibility
Connect to critical business systems
Specific requirements and benchmarks will vary greatly depending on your business's unique AR functions. Here are a couple of examples from Paystand customers:
Choozle wanted to maintain its user experience relative to payments while transitioning to NetSuite.
Elenteny Imports needed to replace their manual same-day payment processing workflow with an online option.
Having goals and conditions clearly defined makes the evaluation process much easier in the long run.
Evaluate Your AR Software Options
Now that you know what you want and need in accounts receivable automation, it's time to review potential software options.
Start by looking at reviews of AR automation software, best-of lists, and talking to peers in the industry about their preferences.
Make a shortlist of AR platforms and reach out, asking them to either vet your list or provide an RFP. Then request a demo of the functionality you need and pricing based on your requirements for those who make the cut. If possible, ask some of your AR professionals to join you in the call. Some organizations can even take it a step further by providing a customized data test.
And don't forget to mention your existing systems so they can give you an estimate of the transition time, development work, and associated costs. These inputs will help you better compare AR automation platforms and quantify future costs.
Get Buy-in from Decision-Makers
If you're not the only one who signs on the dotted line for sweeping changes, it's crucial to gain buy-in from those who do - like peers and superiors. The key piece of this puzzle is contextualizing your request to fit in with the goals of both the organization and individual decision-makers.
Let's say your company aims to decrease operational costs by 10% in the next year.
The CMO wants to create a unified brand presence, the CTO wants to ensure PCI Level 1 compliance, and the CCO wants to improve NetPromoter scores by 1 point. It's up to you to demonstrate how automated AR will support these goals.
Making sure you address the "what's in it for me?" question will help persuade peers and superiors, but that's not all:
Timing is everything. Consider when the best time to present your case would be — for example, linking AR automation to a new corporate goal or to a change in the company's financial status.
Involve others in your pitch. Demonstrating that superiors are already on board with your recommendations will help lend weight to your cause.
Always offer solutions. One of the best ways to drive change is demonstrating that you've found a solution. All your audience has to do is say "yes."
Provide hard numbers. If possible, give estimations of cost savings due to reduced transaction fees or fewer overdue accounts.
Since accounts receivable workflow automation is intrinsically linked to cash flow, it should be possible to get a ballpark estimate of long-term savings. We know, for example, that the right automation software can drop invoice processing costs by 80%. And businesses that invest in accounts receivable automation software get paid faster, too. Paystand customers can see up to a 60% decrease in Days Sales Outstanding (DSO). This means you can improve cash flow bottlenecks and your AP processes, too.
Your Automation Approach Influences Your Results
Know that the time and effort you put into automating AR will deliver big returns. Just ask these Paystand customers:
Choozle decreased Days Sales Outstanding by ⅓ in 6 months
Elenteny Imports doubled invoice volume in a year with no new headcount
Covetrus dropped transaction fees by a whopping 98%
Are you ready to join these innovative companies in reducing overhead costs, eliminating transaction fees, and streamlining collections? Schedule a free demo with one of our experts today.