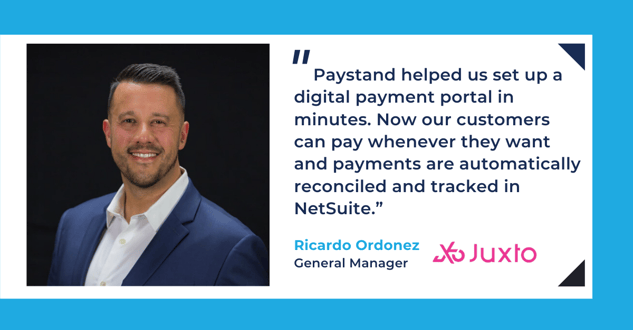 Juxto needed a payment solution that could connect directly to NetSuite, accept payments in the US and Canada, and help customers self-service. Read on to see how Paystand helped Juxto unify and simplify their payment process in NetSuite (PDF).

Who is Juxto?
Juxto is a pioneer in cloud communications. It has been leading the Real-Time Communication market in both network design and user programs since 2001.
"We've been talking about secure real-time communication for years," said Ricardo Ordonez, Juxto's General Manager. "People think it's just phones, but it also includes chat, video conferencing screen sharing, even devices. Each scenario is custom, even departments within the same organization require varied sets of tools."
Unifying multiple payment solutions to reduce friction
Ricardo found Paystand while looking for a way to simplify its payment collection process.
"We needed to find a solution that could help us accept payments in the U.S. and Canada. Before Paystand, we were using two payment processors to do that. My team would prepare invoices in both USD and CAD, process hundreds of payments individually, and then manually reconcile our bank accounts."
Efficiency was obviously a major concern. "Because we wanted to replace our current systems with a solution that connected directly to NetSuite, we had a number of requirements. Paystand delivered very quickly on what we needed and helped us close gaps in our payment process."
A look at Juxto's 90-Day implementation:
Configured both U.S. and Canadian payment processing
Integrated with Juxto's QuickBooks invoicing setup
Connected U.S. payments to the NetSuite implementation
Enhanced NetSuite with receivables automation module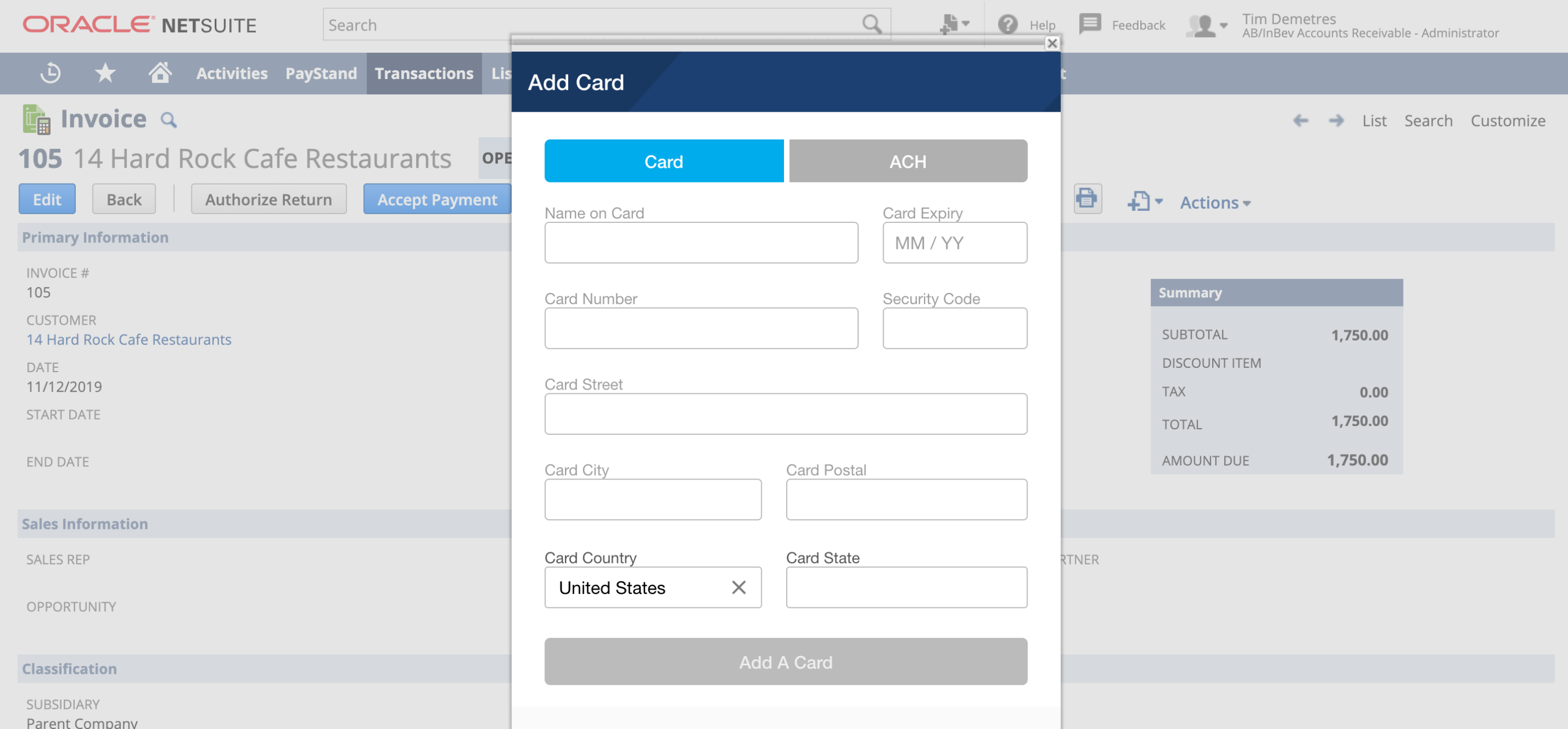 Offer self-service payments with a secure payment portal
The team at Juxto had also been exploring ways to offer customers self-service options and make it possible to pay invoices without his team's involvement.
"Paystand helped us set up a digital payment portal in minutes. Now customers can pay invoices whenever they want and our payments are automatically reconciled and tracked right in the NetSuite dashboard.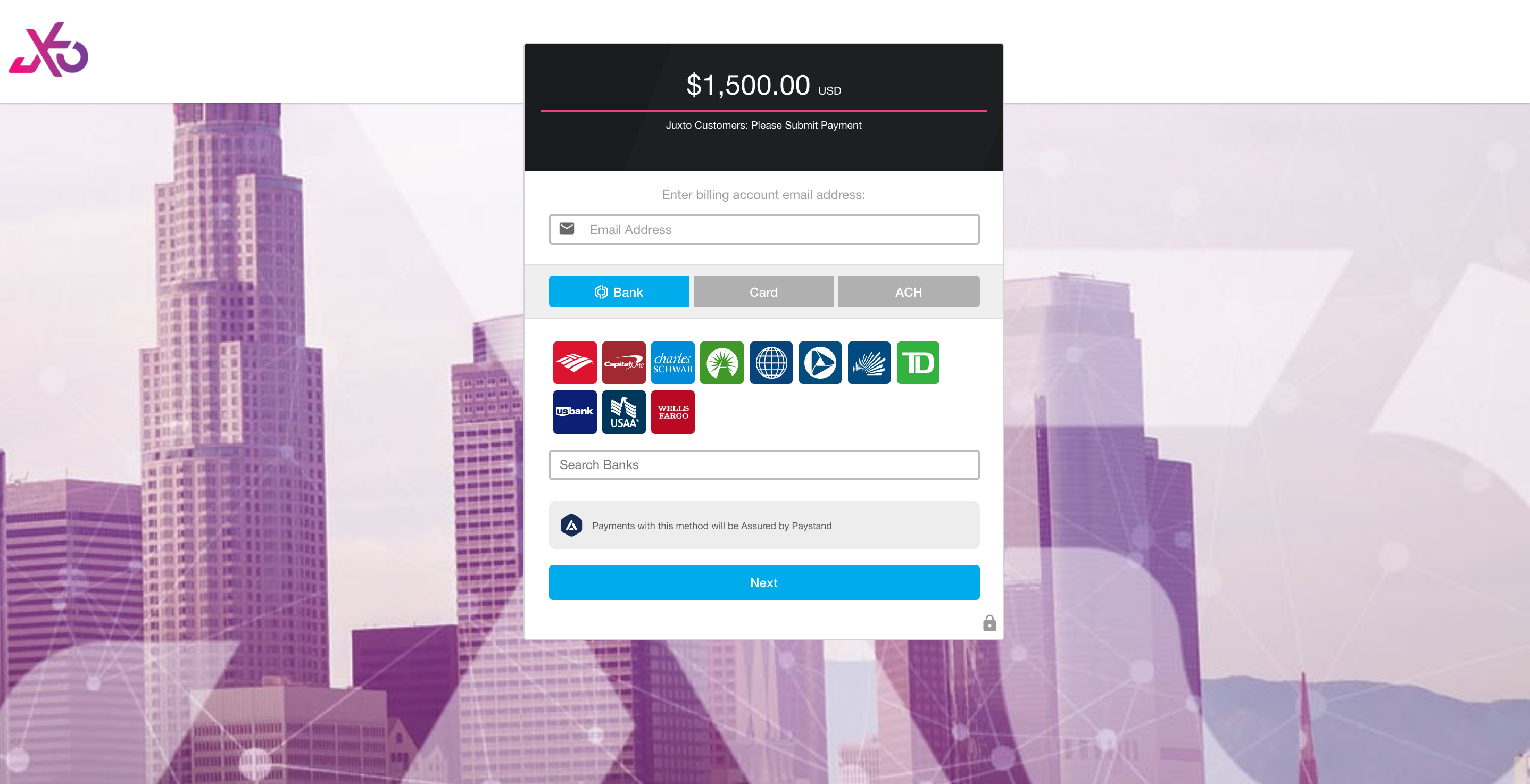 Reduce payment costs with fee management controls
Paystand also introduced Ricardo to the idea of reducing payment costs by offsetting transaction fees. Businesses previously had few tools to manage these credit card fees, which increase twice yearly and are among the fastest-growing costs of doing business.
"I always thought I had to pay the transaction fees. With Paystand, we've given the customer the ability to pay on their own and absorb the fee. There was some dissent at first, but now our customers prefer to have it processed automatically so they don't have to think about it again - and neither do we."
💡 Ricardo's new payment process saves Juxto about 52 hours per quarter and eliminates the security risk associated with manual credit card transactions. 

Juxto has also seen a decrease in operational costs by shifting transaction fees to customers.
Juxto's new payment process:
Invoices are scheduled with payment links in the body of each email message
The link takes them to a secure digital payment portal with the pre-filled invoice amount
Customers can pay one or multiple invoices using direct bank payment, credit card, debit card, or ACH
Collected payments are instantly applied against open invoices within NetSuite
Payments are automatically reconciled
Ricardo's team receives automatic transfer reports with details of a deposit, its transactions, and any invoices and sales orders a deposit affects
Want to learn the full story on how Juxto's dual launch of NetSuite and Paystand scored big in time and cash savings? Download the case study for more.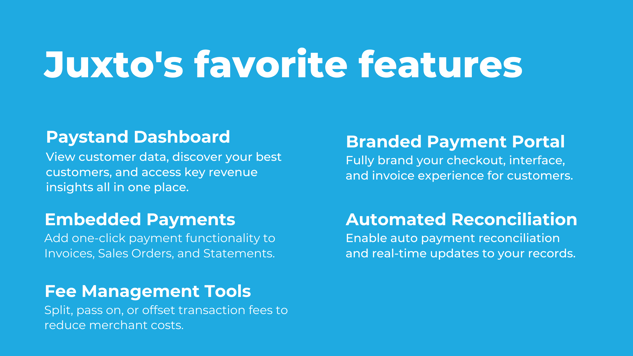 Tags: Customer Success, Company