Choosing a Magento Payment Gateway Extension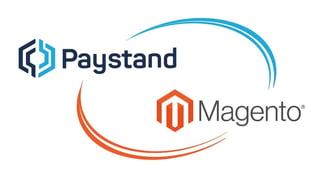 Choosing a payment gateway is an important decision for new and existing Magento stores. When you're operating an ecommerce business, you need a payment gateway that can handle purchases with speed, security, and convenience.
Discover how Paystand's Magento payment extension can help you create a seamless payment experience no matter how quickly your company grows.
What is Magento? Open Source vs. Commerce
Magento is an open-source ecommerce platform that's been around since 2008 and is used by over 100,000 online stores. The platform makes it easy for businesses to set up a shopping cart system as well as control the functionality, content, and design of their online store.
Magento currently provides two versions of its platform:
Magento Open Source: Formerly known as Magento Community, this is a free version of Magento that can be downloaded, customized, and self-hosted. It is a cost-effective platform that's a great choice for small businesses and startups.

Not only is it free and customizable, but it's regularly updated to improve usability and security. However, because it's free it requires more hands-on development and maintenance, and it lacks the long list of features of Magento Commerce.


Magento Commerce: Previously Magento Enterprise, this is the premium version that includes cloud-hosting as part of the subscription fee. Magento Commerce is often a better fit for bigger online stores and established merchants that need advanced features and more customizable options. It comes out of the box with advanced marketing tools, expanded sales functionality, and enhanced security, which makes it well worth the additional investment.
Both Magento versions support a wide range of third-party apps called extensions that can be found in the Magento Marketplace.
Resource: Magento Commerce vs. Open Source
What is a Payment Gateway Extension?
A payment gateway extension makes it possible for you to accept payments directly from your store. Some payment gateway extensions are available out-of-the-box, while others can be enabled through the Magento Marketplace.
Here's how a payment gateway extension works:
Once a customer hits the checkout button, they are redirected to a payment page.



After the payment information is submitted, the gateway securely moves it to the issuing bank for authorization.

If confirmed, the gateway sends the approved transaction back to the Magento store.



Finally, the customer is informed that the purchase has been completed successfully.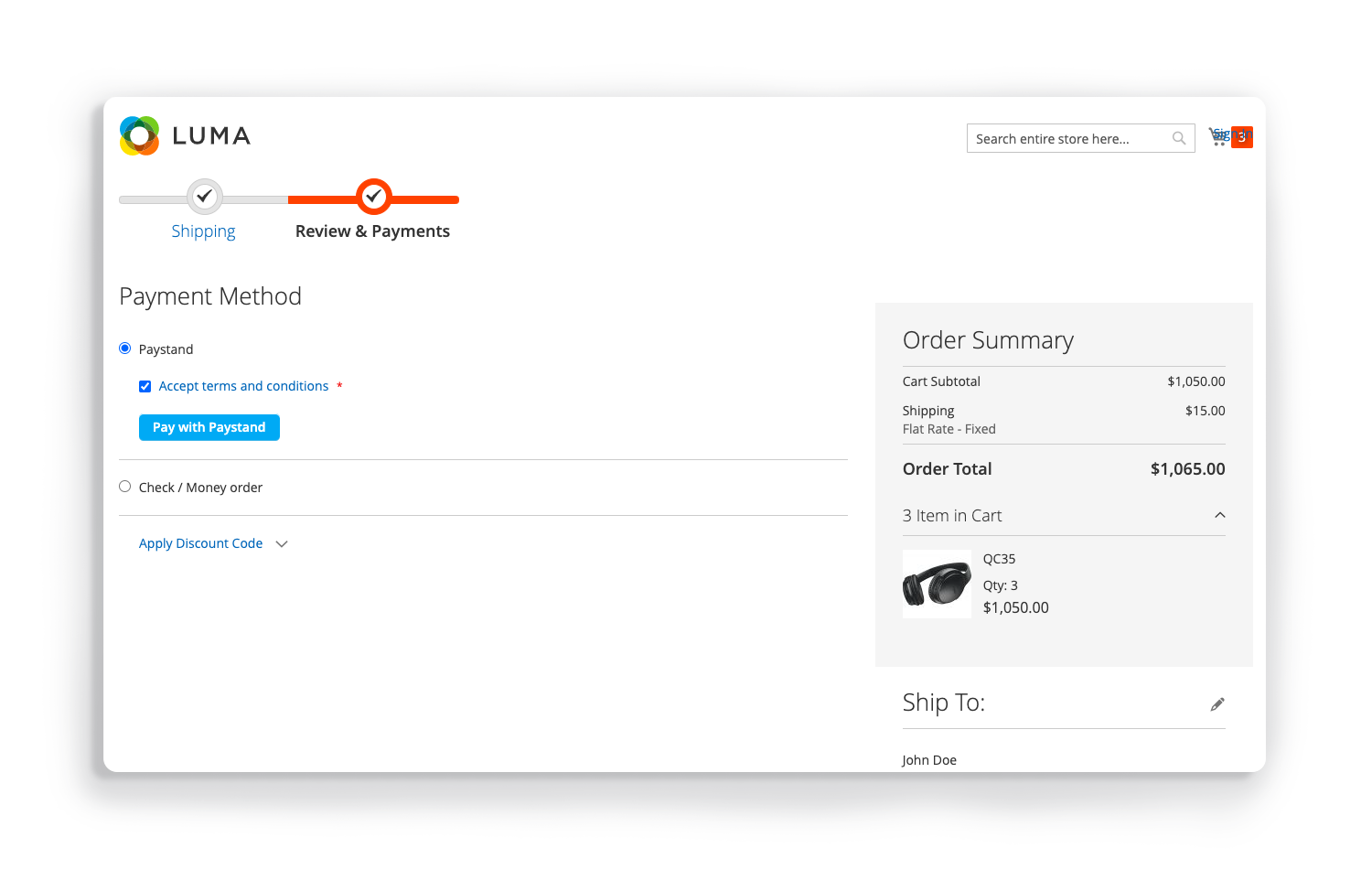 Resource: Payment alternatives to cash and paper check
The Paystand Magento Extension
The Paystand Magento extension offers the most flexible payment experience for Magento. It's built to give you full control over the payment process and provides advanced merchant services like recurring billing for subscriptions and built-in fee management tools.
Being a flexible payments platform, Paystand takes all of your business needs into account, from virtual terminal support and PCI Compliance to scalability and automation.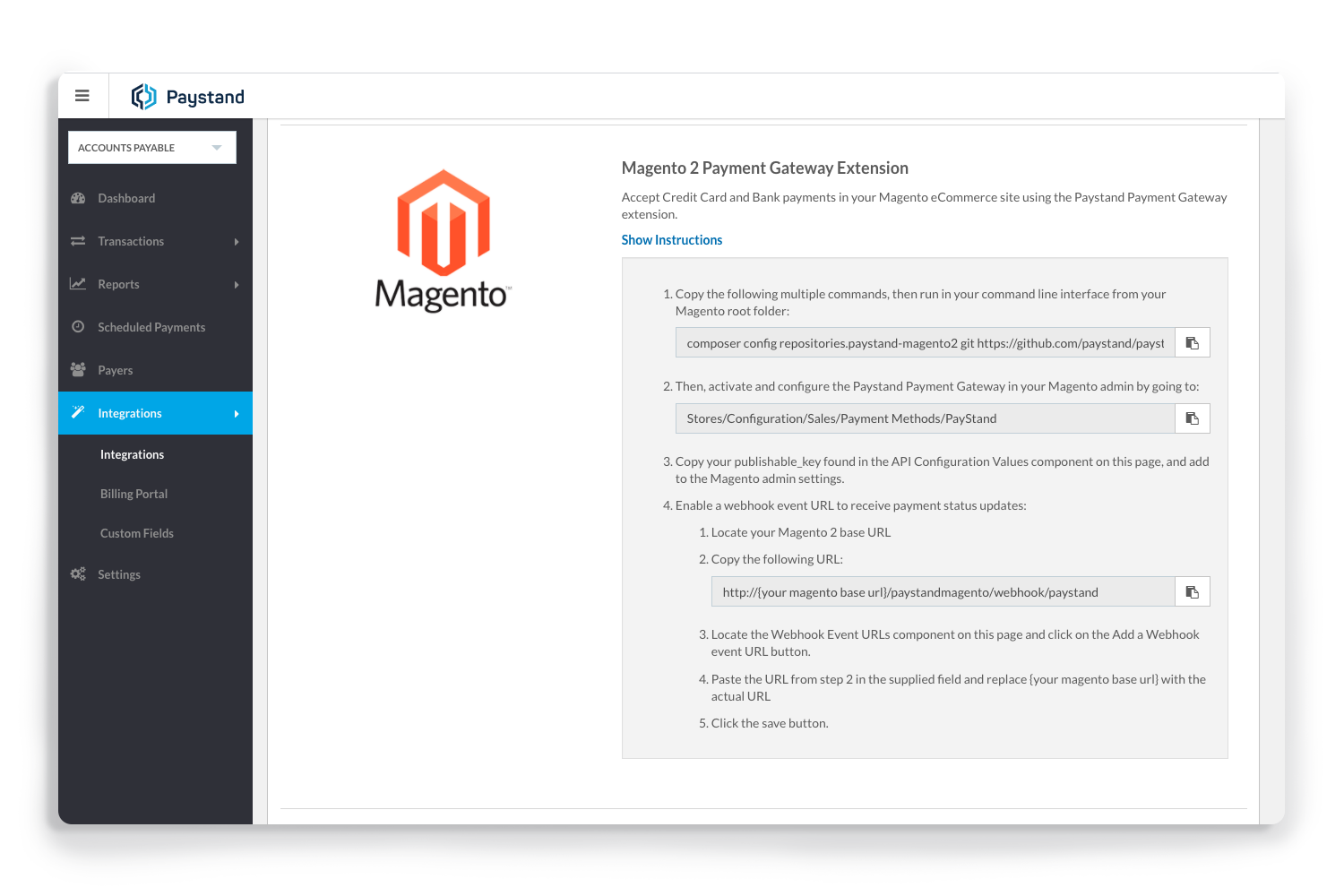 Let's take a look at some of Paystand's features and capabilities.
With Paystand, merchants can accept all major credit and debit cards, as well as ACH and direct bank payments with one unified integration. This is crucial because data shows that providing multiple payment options increases the perceived security of a web store.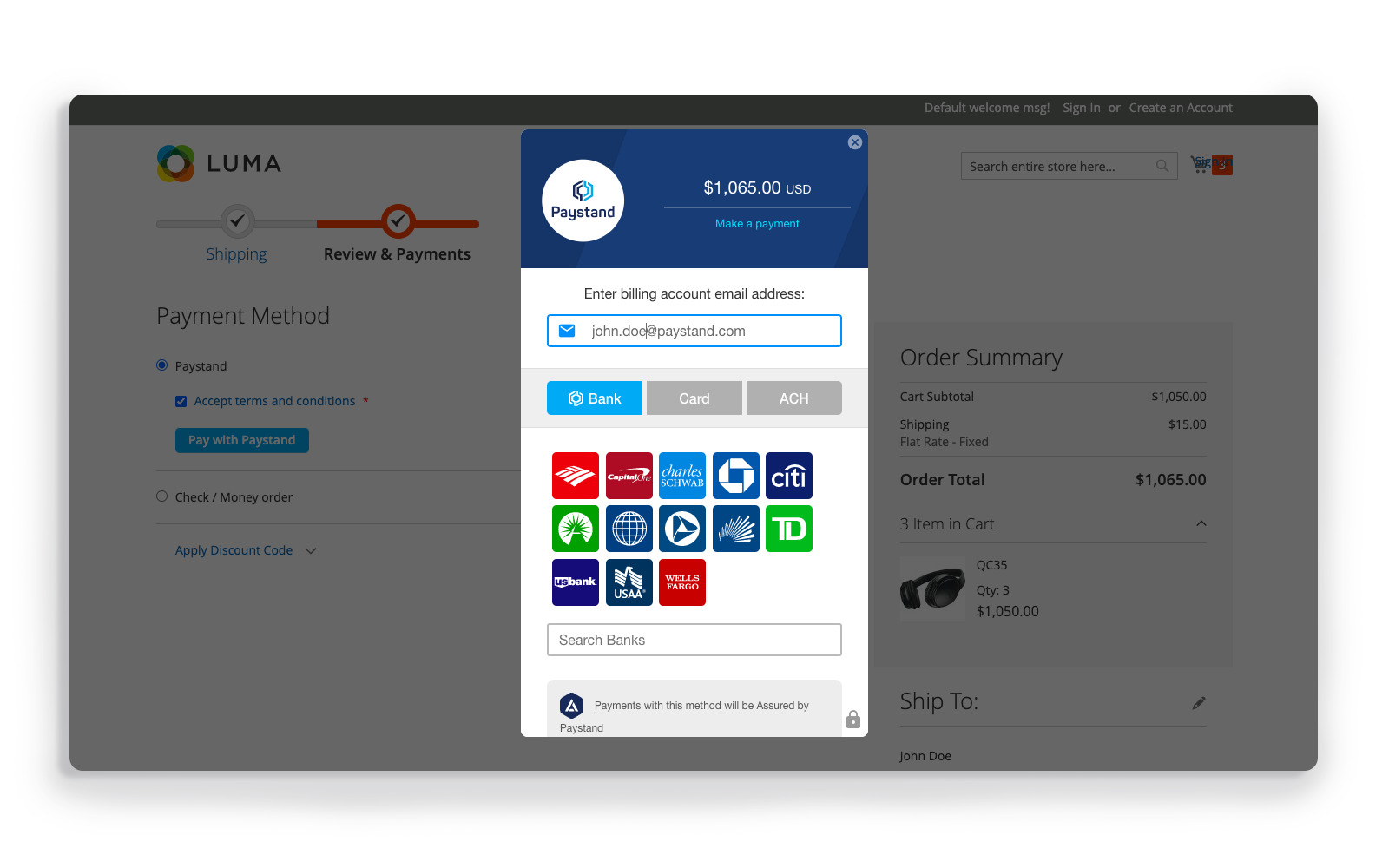 Operating on a SaaS model, Paystand negotiates card rates on your behalf and passes on wholesale processing rates with no added costs or markups.
Paystand also offers Least-Cost-Routing, which helps reduce payment processing costs by making it possible to steer customers to the payment rail that will result in the lowest cost to the merchant.

Create flexible subscription plans for products using scheduled payments. Merchants can set up price, billing intervals, and the number of repeat payments. These payments settings can be managed using Paystand's dashboard.
Payment Links
Payment links allow you to capture payments outside of your Magento store. It's essentially a "Pay Now" button you can embed into emails, invoices, or sales orders. Once those customers click the link they're taken to a payment portal showing the amount due.
Securely accept payments over the phone, in-person, or by mail using a virtual terminal. No equipment is needed — no card terminals, separate phone lines, or special printers — and information is vaulted to protect your data.
The Paystand Bank Network allows merchants to avoid paying transaction fees on direct bank payments. It's used by over 140,000 businesses (as of the time of this writing) and covers 98% of all commercial bank accounts in the United States.
Paystand uses tokenization to encrypt and securely vault payment information entered via the virtual terminal. Tokenization allows you to save a customer's preferred payment method so you will not have to re-input payment information each time they make a purchase by phone or mail.
Paystand is a PCI DSS certified payment processor, which means we handle all complexity involved with payment processing on your behalf: PCI compliance, AML laws, MTL rules, fraud monitoring, KYC underwriting requirements, and 1099K's.
Resource: Paystand Magento Extension Overview
Key Factors to Consider When Choosing a Magento Payment Gateway
It's important to consider all the advantages, drawbacks, and differences between providers when choosing a payment gateway for your Magento store.
Here are a few factors to consider:
Every transaction that is completed through a Magento payment gateway comes with a cost. While some businesses charge hefty fees based on transaction volume, Paystand offers low flat monthly pricing, wholesale card rates, and advanced modules that let you control your payment costs.

It's important to pick a payment gateway that supports your business model and the capabilities that you need to operate your online store. Do you need subscription billing? Support for invoices? The ability to connect to an accounting ERP software?
Keep in mind, not all payment gateways support these functionalities so it's important to ask these questions upfront (even if it's something you may only incorporate in the future).
Customer Preferences
It may seem obvious, but it's important to keep your customers' preferences in mind when choosing a payment gateway. Some prefer credit cards while others still like paying with a paper check. The last thing you want as an ecommerce business is low customer satisfaction or high abandoned cart rates because you didn't offer the payment options your customers prefer.
Interested in Learning More About Paystand's Magento Extension?
If you're looking for a Magento payment gateway for your online store, Paystand offers powerfully flexible payment modules that can be customized to your business needs. Our software is packed with features to help you manage, optimize and automate the payments experience in and outside of Magento.
Whether you are looking for a one-stop-shop for all things payments, or simply need answers to your questions, our payment experts are here to make your business better. Schedule a free demo or call us anytime at 1-800-708-6413.