Payer Incentives: How Paystand Turned B2B Payments into a Win-Win
Paystand was founded with a core mission to reboot commercial finance. We believe the infrastructure that supports B2B payments and commercial transactions needs a complete overhaul.
Why? Because in its current incarnation commercial payment infrastructure is mired by inefficiency, high fees, and a cartel-like monopoly of gatekeepers and middlemen who leech value from the B2B payment lifecycle.
Paystand believes there is a better way. Specifically, we are building a commercial payment model that has at its foundation three core principles: No Fees, No Paper, and an Open Industry.
Today, we're excited to announce an industry-first that builds upon our belief in No Fees. It's called Payer Incentives and it's how we turned B2B payments into a win-win scenario for both merchants and payers.
Flipping the script on the zero-sum fee game
B2B Payment, and merchants need to present a variety of payment methods for the customer to choose from. That's a headache. What's worse: merchants have no power over the fees or rates they get charged by payment processors -- and there is not much a business can do about that either.
Sure, businesses can pass on card fees to payers (this is what's known as convenience fees) but many merchants choose not to do so in order to maintain customer relationships. It's a zero-sum game where either the merchant or the payer loses -- usually the merchant. And it's been this way for decades.
Even as consumer payment innovation has made peer-to-peer payments free and easy, businesses remain at the mercy of the same expensive transaction model that reigns over the B2B payment landscape, with credit card companies holding the power to raise rates and adjust interchange fees to their discretion, on some occasions raising fees 400% overnight. Whatever convenience credit cards provided has now been trumped by the fees incurred, as merchants routinely pay 3% on high-ticket invoices to simply receive money from a payer. It has become the norm.
But it shouldn't be. So we decided to flip the script on fees and give power back to the merchants.
Payer Incentives is a win-win for merchants and payers
After a year where businesses were forced to deal with overnight changes to the economy and their operations, finance professionals are putting cash management and process optimization at the top of their list. The zeitgeist is pushing us to create alternatives that allow businesses to grow sustainably, without compromising their needs or those of their customers. Every dollar counts for survival.
With this in mind, we created the Payer Incentives feature in the Paystand Bank Network as part of a larger goal of transforming the payment industry. Here's how it works:
Let's say a merchant is paying 3% of the invoice amount as fees for receiving payment via credit cards. This cost is a direct hit to the merchant's margins. And what options does the merchant have to recoup those fees? As noted above, merchants can choose to pass the fees on to the payer, but for many businesses this is not tenable, so they swallow that fee retaining only 97% of the original invoice amount.
Payer Incentives allows the merchant to incentivize their payers to move away from credit cards to a zero-fee, bank-to-bank payment method. Merchants choose to set a discount price on the invoice when paid over the zero-fee bank network to incentivize that payment method. By giving a little nudge to use the Paystand Bank Network offering a direct discount on their invoice or giving cash back, the merchant forgoes the fees associated with accepting payment via card networks and the customers get a better deal on their invoice.
For example, a merchant can offer a 1% discount to the payer for paying via the Paystand Bank Network, which is a zero-fee payment method. The merchant saves 2% that would otherwise be lost in credit card fees. That 2% is a direct gain to the merchant's bottom line. And the payer receives a 1% discount on the invoice. It is that simple; it is that powerful.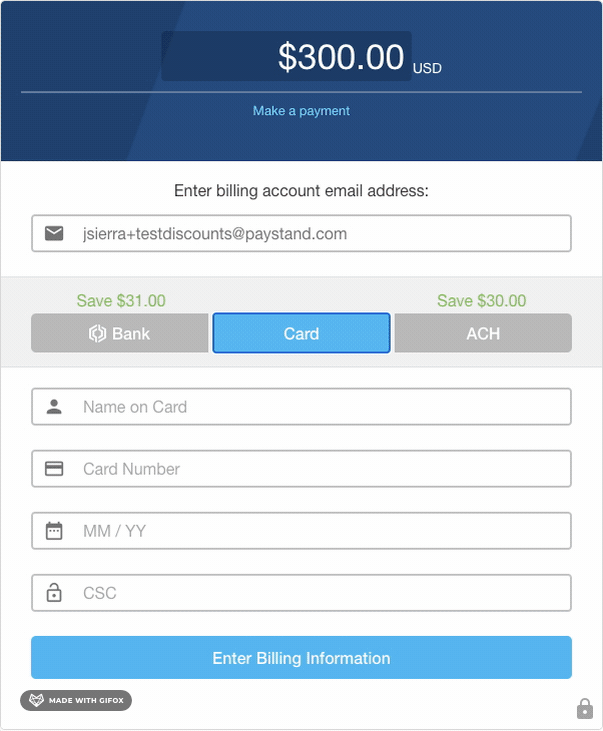 Payer Incentives also offers extreme flexibility in configuring discounts. The discounts can be modified any time; they can be a flat dollar amount, percentage of invoice due, or combination of the two. It's also loaded with plenty of other features that allow merchants to easily integrate the discounting into their ERP system without separate line items and journal entries. And It's all seamlessly integrated and reconciled with the company's ledger without extra hops or manual work.
Best of all, Payer Incentives is built into our core payment platform and is available to all Paystand customers for free. We believe in building a better, more open industry for commercial finance and it's only right to make this feature available without fees. Early feedback from our beta customers has been fantastic and businesses are loving it because everybody wins.
What's next for Payer Incentives
But that's just the beginning. When a business starts transacting vía the Paystand Bank Network, they quickly see the value of shifting as much of their transaction volume as they can to the network, because it's real-time fund verified, secure, and fast, which speeds up time to cash and improves margins. The Payer Incentives feature is especially beneficial for merchants with high credit card transaction volume and high cost of payments.
Paystand is rolling out new features every week that get us closer to our mission of rebooting commercial finance. Our products are packed with industry-first features that help us lead the way to a new B2B payment ecosystem for the new era of digital payments.
If you want to join us in our journey, just contact one of our payment specialists and find out how Paystand can help you move past processing fees.