Solutions for Slim Margins in the Solar Industry
Solar Power & Renewable energy is one of the most promising new technologies of this century to sweep the nation. A positive change to the legacy energy sector, solar aims to improve the environmental impact, lower cost for customers, and provide a new source to the aging grids. With this growth, over the last decade solar has turned into a highly competitive industry, with each company eager to outbid the next to establish brand and become the dominant player as the nascent industry grows. With this competition, the key question as a solar operator becomes how can you adopt a competitive advantage to improve efficiency and lower your costs.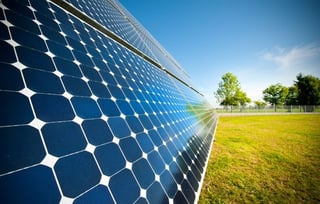 The reality is, within the standard business model of the solar industry, margin has not been a player on your team. In an ideal scenario, you land a turnkey project, you purchase the equipment at wholesale value, and you man your own crew for installation; by the time you pay out your operations team and overhead, you are left with razor thin ROI. Many times because of the competitive market, you may be only profiting from the installation. In fact the average operating margins for the PV industry hovers around 8-10%.
(1)
And while commercial projects, have much more lucrative contracts than residential, you have a much longer sales process and a more significant turn-around time in receiving funds for your services.
So where do you find that financial edge to give your PV company a leg up, without sacrificing competitive pricing for your customer or durability in your business model? Well that's where a surprising ally in billing & payment software can make a major contribution to your ROI. A next generation payment solution to lower your transaction costs, speed up your time to cash, and create margin efficiency is not likely something that first comes to mind, but it may be a game changer for the solar industry.
Most solar companies receive their money in two ways, checks or credit cards. These options are a perfect financial storm for a few reasons; Checks are often the standard with commercial clients, but it extends your DSO, increases risks of bounced & late payments, and adds time and overhead with your accounting team to manually reconcile the payments with your financial software. As a result, more solar companies have begun excepting credit cards, to increase convenience for customers, and improve efficiency, but this comes at a significantly added cost. But the banks and card networks are taking advantage of these large transactions and often charge 3-3.5% of the sale just for the money to exchange hands.
Consider that for an average solar installation of $20,000.00 it's not uncommon to see the credit card cost to be upwards of $600 just to get paid. In fact it's not uncommon to see annual processing bills in the hundreds of thousands of dollars for a mid market solar company. With industry averages of 8-10% this hardly seems fair - nor is it in line with the initial goal to remain effectual and eats away at your objective for longevity in your business model.
Wouldn't it be great to have the digital payment advantages & efficiencies of cards but with much lower costs? This is where PayStand's unique payments as a service model comes in. PayStand offers significant savings for solar businesses leveraging our eCheck & ACH technology, as well as powerful wholesale card rates all designed to lower your total cost. Further, PayStand can digitize your receivable process with an eLockbox & billing portal, recurring payment capabilities, virtual terminal for the back-office, invoice & accounting software integration and more, designed to speed up your time to cash and increase your business efficiency. In partnering with PayStand, you will receive a powerful custom solution to your finance needs, derive tangible efficiencies in your payment flow, reduce DSO and cost, and finally increase your margins. We think that's great news for the Solar Industry.
---
Want to know if our digital billing & payments platform is right for your firm?
Drop us a line
and we'd be happy to show you examples of how we've helped other solar & energy firms just like you.
(1) https://cleantechnica.com/2011/11/19/solar-profit-margins-compared-to-other-industries/