Paystand was born in 2013 from one singular, seemingly crazy idea: to rebuild the commercial finance system from the ground up. After witnessing the worst of the Great Recession between 2007 and 2009, co-founder and CEO Jeremy Almond set out on his mission to reboot our legacy payment system. Why? It's simple — he didn't want anyone to experience what his family and millions of other Americans went through in those tumultuous two years. So, together with his friend Scott Campbell — our other co-founder and Head of Solutions & Services — the two of them set out to build a better commercial financial system with no fees, no paper, and an open industry. Who says you shouldn't start a business with your friends?
---
Since then, Paystand has become the leader in blockchain-enabled B2B payments. When the unthinkable happened, and Covid hit, companies had no choice but to replace essential, human-driven functions with digital alternatives practically overnight in order to survive. Paystand's ability to automate accounts receivable processes and digitize B2B payments became something of a lifeline for businesses, and we supported and helped vital companies not only survive but thrive during the worst of times.
In 2020, our team grew by over 100%, and the volume of transactions being processed over our network grew by 200%. Last year, we made even more progress by expanding our NetSuite integration, releasing our Sage Intacct integration, and creating a smart LockBox to replace analog services, just to name a few of our achievements. So what's next for the future of Paystand?
At the end of March, we released our DeFi Corporate Card, the first corporate card to offer native Bitcoin rewards on every dollar you spend — and this is only the beginning. Paystand continues to grow exponentially, and we just opened our sixth office in Hermosillo.
The Dreamers Behind the Dream
We talked to some of our people at the core of Paystand to get the inside scoop on the determination and drive behind our company, what we're most passionate about, and the direction we're heading.
Bindu Gakhar, our Head of Product, let us know exactly what she loves most about her job: "The people and the environment, that's what makes me get up and go to work every day," she said. At Paystand, the people are the driving force; our customers, partners, and especially our coworkers. We're dynamic and collaborative, and there's always someone willing and eager to help you problem solve and make things happen.
We're committed to an open and equitable financial future, as well as an open and equitable workplace. We're conscious of diversity and have those hard conversations here at Paystand. While we recognize that we are pretty diverse for a fintech company, with people of all ages, backgrounds, and cultures, diversity, equity, and inclusion is a journey, not something that will ever be "done." The importance of knowing you are not only accepted but celebrated by your colleagues and employers cannot be understated.
A look behind the scenes
Teamwork makes the dream work; here at Paystand, we know that better than most. Our supportive environment is what keeps the wheels turning day-to-day. Our daily team lunches are fantastic, but what really stands out to many of us is how supportive our executive team is. Aliyah Nance, our VP of People, was recently named a Women of Influence 2022 by Silicon Valley Business Journal. At the event, Paystand had a table of ten — nine women and our CEO, Jeremy Almond, who was thrilled to be there supporting Aliyah.
This kind of support is what is crucial to running a successful company, startup, or otherwise. Knowing we are all working together toward a common goal — rebooting the commercial finance industry — is why our work ethic is so outstanding, and we have hundreds of happy employees.
With offices all over North America, we like to get the whole team together whenever possible at various team- and company-wide offsites in our cities. Far from all work and no play, our offsites are filled with team dinners, soccer games, cooking classes, and even ax throwing!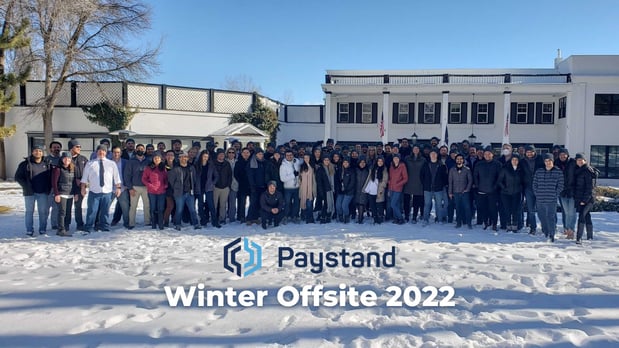 Where do we go from here?
Paystand will continue scaling our feeless, cashless, open-infrastructure commercial payment network, leveraging decentralized finance to create a radically improved CFO stack, and enabling DeFi services that eliminate gatekeepers and foster equality.