Upgrade Your Team with a Digital Accounts Receivable Process
Is your accounts receivable process slowing you down?
Today, finance teams of all sizes are drowning in paperwork, manual tasks, and disparate data sources. These broken processes hold your team back by limiting capital efficiency and liquidity, and decrease your time, revenue, and efficiency. In fact, businesses can lose up to 25% of revenue from new sales due to poor billing and A/R processes.
Taking your A/R process digital can streamline your operations and solve a number of these challenges. Many of the finance teams we've worked with have doubled their team's output while reducing overhead costs by 33% using a digital approach. Executives should be laying the groundwork now for a digital A/R strategy in 2020 that leverages digital payments and automation.
Read below to learn how to upgrade your team with a digital accounts receivable process.
3 Signs You Should Switch to a Digital A/R Process
Digitizing your A/R process can save you money, but it can also speed up your collections, reduce late payments, and reduce 70% of the repetitive tasks taking up your team's time and resources. The more you can do to streamline your operations, the better it is for your cash flow (and bottom line).
And yet, most companies have back-end accounting operations that don't keep up with their growth:
37% of organizations spend between 41 and 160 hours per month handling unpaid invoices
41% have over 5 people focused on managing receivables
Nearly 100% of invoices needed at least one extra touch in order to get paid
If you can identify with any of the following challenges, it's time to consider a digital approach.
1. Friction is Causing Late Payments
Do your customers ever ask you to resend an invoice because they "didn't receive the invoice" or "didn't notice that the bill was due"? Companies often come to us to improve A/R metrics like DSO without even thinking about their collections activities. You would be surprised to find out how much money is lost in the time it takes an invoice to be delivered by mail or for a customer to realize that an invoice mistakenly landed in their spam folder.
These hiccups can be easily solved with an A/R automation solution, which allows you to tie all your data together so you can easily track and report on data at the account level. This gives your team a birds-eye view of your collected and pending receivables so an invoice never goes unprocessed, unapproved, or unpaid. All of this removes friction from your payments process to help you get paid faster.
2. DSO is Suffering (And Not Improving)
Reducing DSO or past due invoices is a standard goal for any A/R team. It's in your best interest to collect outstanding receivables as fast as possible, but how do you balance the time it takes to chase down delinquent accounts with all of your other responsibilities?
By automating your collections process, you can eliminate this manual effort and refocus your efforts on high-level tasks like forecasting and strengthening relationships with customer contacts. One benefit of taking this process digital is the analytics and reporting, which helps you get hyper-specific and run analyses, drilling into individual accounts assigning risk profiles to those who are routinely late to pay you.
3. Manual Tasks Are Taking Up Your Time.
About 86% of all organizations submit invoices by paper, and surprisingly some still send invoices via fax. That is so much paper handling, envelope stuffing, scanning, and shipping work just to knock out one small, yet important aspect of your job. A digital A/R process can cut your processing costs by up to 70% by simply eliminating the repetitive manual tasks taking up most of your time and money.
Labor costs are heavy on financial teams, but they can easily be reduced through digital tools. We've helped our customers reduce processing costs by up to 98% simply by digitizing their payments process. When you consider that a company processing 1,000 checks per month can easily leave over $500,000 on the table, it's a no-brainer. That's why automation is a game-changer for businesses with tight margins.
How a Digital A/R Process Upgrades Your Team
Without an efficient and accurate invoicing process, your cash flow can decrease, stunting your growth, increasing risk, and ultimately hurting your business' overall health. If you're manually creating, reviewing, and sending invoices, there are severals ways you can benefit from switching to a digital process:
Free up your team's time for important initiatives, such as forecasting, analyzing cash flow, improving business productivity, optimizing your working capital, and helping your company scale efficiently.
Make timely and accurate collections effortless. Automated systems can help you avoid late payment problems by ensuring customers receive invoices and reminders on schedule. You process their payments the same way, regardless of payment method, and payers can even choose to opt-out of transaction fees using a zero-fee payment rail.
Use workflows to improve your customer's payment experience. Automatically notify payers when payments have been processed, send completed transaction details, billing reminders (with an embedded link to may payments), and more.
Manage your entire cash life cycle through one central platform. Using a comprehensive payment platform helps you avoid investing in multiple applications. Instead, your dashboard becomes the headquarters for your payment lifecycle, allowing you to access key revenue insights and keep a close watch on customer lifetime value, average revenue per customer, and active recurring revenue.
Turn your accounts receivable process into a profit center. Not only do digital platforms help you eliminate manual tasks, but they also give you greater control over all aspects of a transaction, including how you manage fees. Using a zero-fee payment rail, you can eliminate your transaction cost and apply your own convenience fee to a transaction, unlocking a new revenue stream for your business.
Speed up your financial close with instant reconciliation. Digital A/R tools can help you automate your financial close with instant three-way reconciliation. All your payments are automatically verified against ERP records and reports are instantly integrated with your ERP system to provide the finance team with a consolidated view of all your accounts.
Reduce your regulatory risks through enhanced security. Another benefit of managing your receivables digitally is that many tools come with built-in security features to protect your business from fraudulent activity. Aside from being a PCI Level 1-certified payment processor, Paystand's platform also stores electronic records of all payment activity on our enterprise blockchain, giving you a tamper-proof record trail that is secure, notarized, and digital auditable.
3 Keys to Digital A/R, According to the Experts
As powerful as a digital accounts receivable process can be, your success depends on how you integrate this into your day-to-day accounting operations. By taking the right steps, you can set yourself up for a smoother transition and a more effective implementation.
These three keys contribute to the best possible outcomes for your team:
Digitize As Many of Your A/R Records As Possible
Let's say your current process is completely manual and paper-based. Each month, an A/R clerk reviews each customer record and prints a paper invoice based on products or services purchased. She pops each one into an envelope and puts it in the mail. Each day, she checks the mail for invoice payments and manually records them in a spreadsheet. She handles inbound phone inquiries regarding invoice errors and makes outbound calls to delinquent payers.
Now, imagine that your company sticks with this manual process and has to hire one person for every X number of invoices the company sends. You can easily see how that kind of headcount strategy doesn't scale, and there's a good deal of room for error with all those manual steps.
Digitizing Accounts Receivable takes a big chunk of work off the plate of A/R clerks, reduces paper processing costs, decreases the margin for error, and speeds up payments. Consider the digitized process:
Customer records and purchase orders are stored in an online platform that's accessible anywhere.
Invoices are generated online in a format that can be emailed directly to the customer.
Customers can pay using a variety of online payment processors (no more mailing checks).
Invoice errors and delinquent payers can be managed quickly online (without phone follow-ups).
As a business grows, the incremental time savings, reduced processing costs, more fluid cash flow, and decreased possibilities for error contribute greatly to the financial health of the business. This can mean the difference between a new funding infusion or business expansion - or none at all.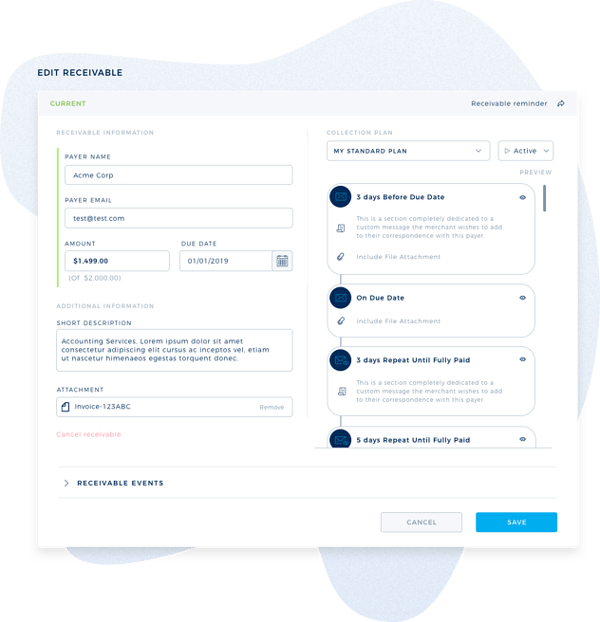 Automate the Processes Around Your Digital A/R Records
Don't get me wrong: digitizing all the inputs associated with A/R is your best first step - but it isn't the only step. Here are a few examples of what it would be like to digitize without automation:
Customers receive invoices via email in PDF attachments. In order to make an online payment, they have to find a payment processor you accept - totally disconnected from your invoicing process.
Customers make online payments but they're not connected to your receivables data. For every payment a customer makes, an A/R clerk has to check the payment provider and reconcile it in the system.
A/R clerks have online data about delinquent invoices, but they have to send individual emails to customers.
Automation is the next step on the journey to digital transformation. It takes all the disparate online inputs and ties them together, removing yet another layer of manual work.
In the case of Paystand customer Elenteny Imports, that means invoices are auto-generated and sent to customers with a link to pay now using a variety of online payment processors. Customer payments are tied directly to invoices, and incoming payments are immediately reconciled. Human intervention is the exception, not the rule.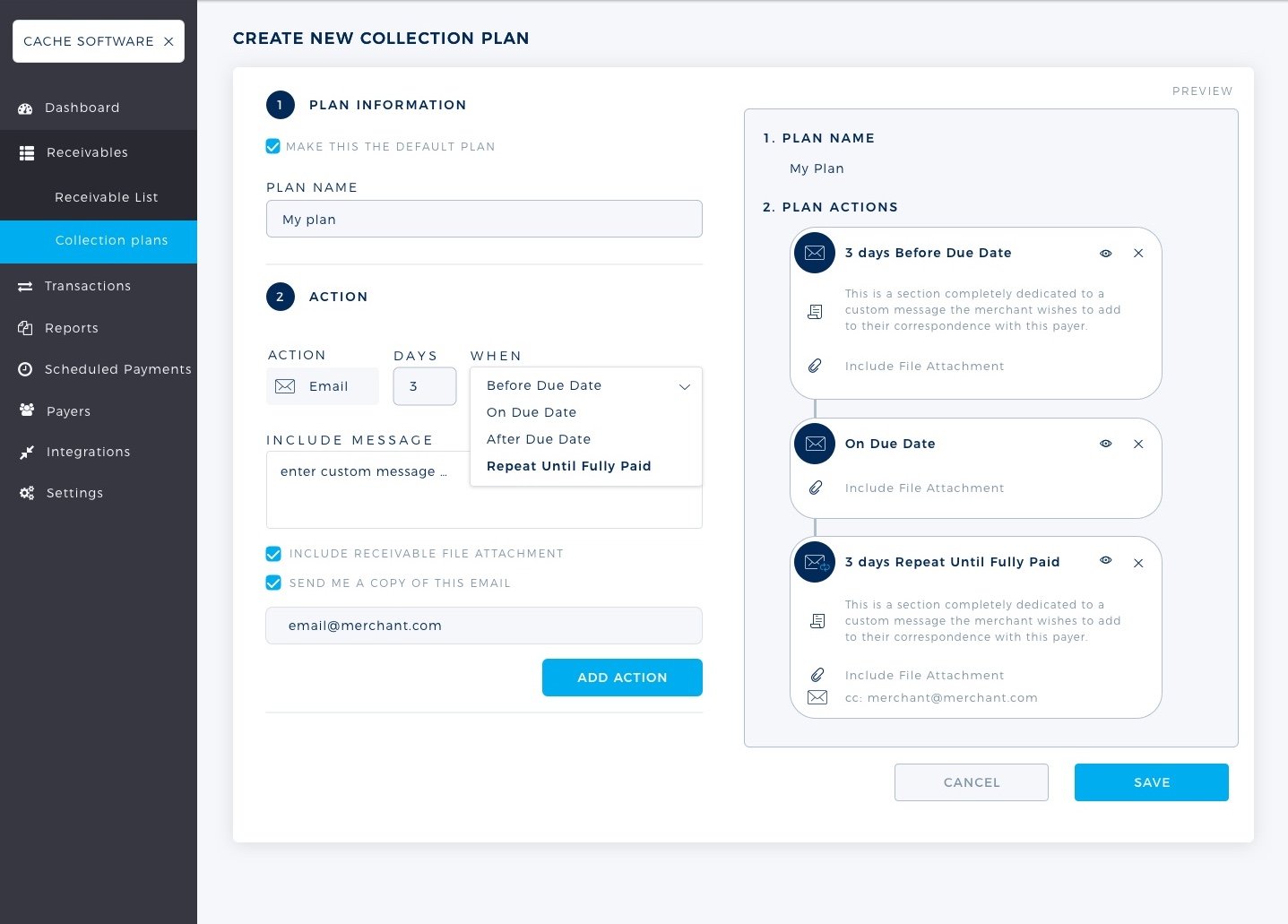 Use Data From Your Automated A/R Process to Drive Growth
After digitizing A/R records and automating processes, it might seem like finance leaders can let A/R run on auto-pilot. While this is partially true, the drastic reduction of manual, low-value A/R work also represents a huge opportunity: the ability to drive positive change throughout the business using actionable receivables data.
Reviewing available A/R data in online reports can help answer the following questions:
What percentage of receivables are late each month?
Are there any similarities between late payers?
What strategies could we experiment with to reduce late payments?
What about speeding up payments in general?
What could we do to eliminate more friction points in the payment process?
The answers to all of these questions can help the business become even more healthy from a financial standpoint - an attractive attribute for investors, board members, and potential employees. And, finance leaders can take the data they already have and circulate it to other stakeholders. What impact would it have on sales, marketing, customer service, or business development if the A/R team could unlock new revenue sources, improve cash flow, and reduce Days Sales Outstanding (DSO)?
Working cross-functionally to support different departments can improve outcomes company-wide. Just ask Paystand customer Choozle: their digital transformation led to a 50% drop in receivables over 90 days and a one-third reduction in DSO. And they cut their closing time in half - a big win for board members who want financial documents fast.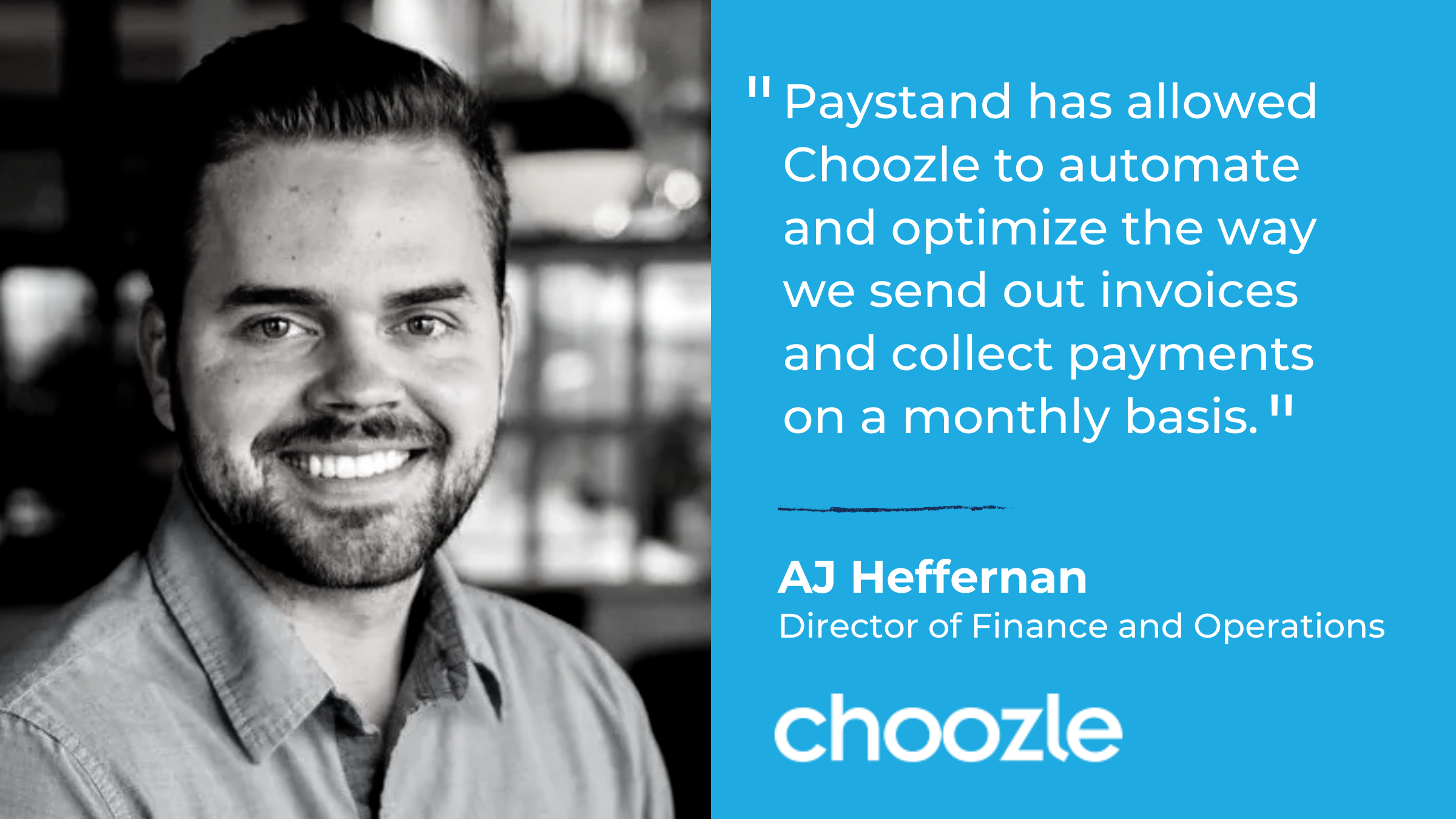 Ready for Digital A/R?
The wide-ranging benefits of having a digital Accounts Receivable process is clear. However, it's not as simple as just flipping a switch - otherwise we'd all have done it already. There's a lot of research, goal-setting, planning, and executing that needs to take place in order to have a successful transition.
If you'd like to start mapping out your current processes and developing your digital A/R strategy, check out our Free guide: The Controller's Guide to B2B Payment Optimization. Using this guide, you'll gain a better understanding of what's working (or not working) and what you'd like to change. To learn how the Paystand platform can uniquely benefit your company, contact us today for a free demo.
. . .
Do you want to reduce overhead costs, eliminate transaction fees, and streamline collections? Schedule a free demo with one of our experts or call us anytime at 1-800-708-6413.