Welcoming Yaydoo to the Paystand Team, and why this Fusion of Companies Offers Businesses Optimism Amid Economic Uncertainty
(hint: by enabling faster and cheaper access to much-needed working capital across US and LATAM, this deal unifies AP, AR, and Payments across all of the Americas, over the largest commercial blockchain network, bringing radically better economics and efficiencies to more businesses around the globe)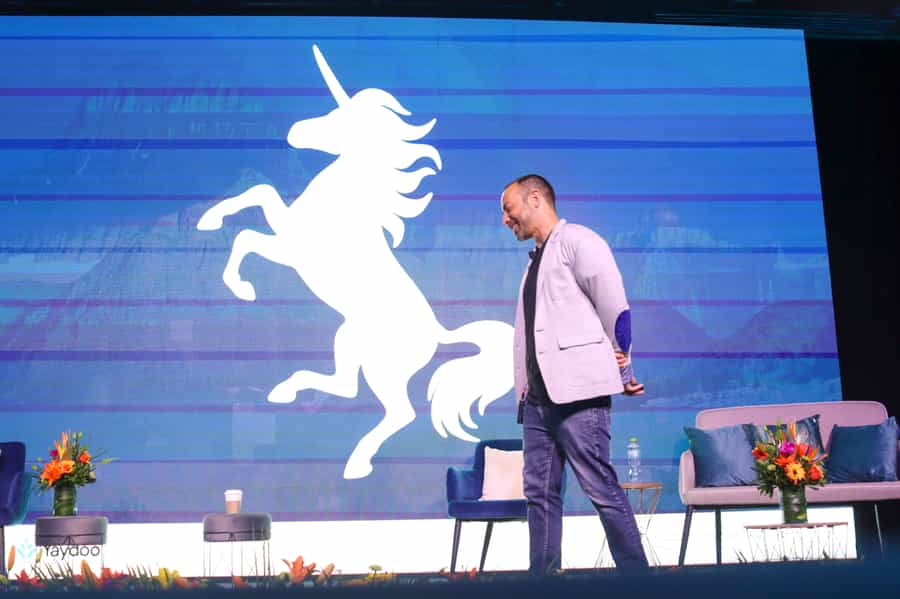 On Wednesday, we announced our acquisition of Yaydoo. We're thrilled to add one of Mexico's 100 fastest-growing startups and the Mexican and LATAM leader in accounts payable, cash flow management, and liquidity solutions. Sergio, Yaydoo's CEO and 155 Yaydooers will be joining us on our mission to reboot commercial finance, starting with B2B payments. This acquisition comes in the midst of general economic uncertainty and a downcast Fintech environment, opening up a horizon of hope and opportunity, not only for other tech startups but also for Latin American businesses.
Both PayStand and Yaydoo offer a wide range of technology-enabled B2B solutions for automating transactions, payment, and bill collection processes. The two companies have built best-in-class AR / AP solutions designed for the needs of both US and LATAM businesses of all sizes. Both are succeeding in creating B2B payment networks in both the US and Mexico and have set their sights on connecting their platforms through a single, open, instant, and secure global DeFi-enabled payment network. The acquisition represents one of the biggest technology unions in Mexico and LATAM and makes commercial blockchain-based solutions more accessible across the Americas.
I wanted to take a moment to share what this means not only for Paystand but for the vision behind our commitment to building an open commercial finance industry.
Traditional Payment Sector Slowing the Economy
In the US, persistent inflation and higher interest rates have made working capital more important, even as it becomes more difficult to come by. As CFOs hunt for more cash, they increasingly look to technology to achieve greater economies in the mission-critical cash cycle. Today the U.S. largely runs on a legacy, centralized financial infrastructure burdened by inefficiency and unfair cost. We believe that system needs to be disrupted and ultimately re-imagined by Fintechs using more modern and open decentralized blockchain technology.
According to Deloitte, nearly 50% of the $18 Trillion in commercial payments in the US are still paper checks, and the vast majority of the rest are still performed through a manual or pre-internet process. Automation using web3 technologies across AR, AP, Expense, Procurement, and Payments in a unified platform offers huge cash advantages to enterprises, helping the US B2B Payment market to hit a projected CAGR of more than 8% over the next 5 years.
Meanwhile, the global B2B payments market reached a value of $940 billion in 2021, according to Goldman Sachs, and AR/AP Software accounted for $130 billion of the total market size. Though this current market size is significant, it only accounts for the companies that are already using Software or Digital AR/AP solutions.
In LATAM, less than 5% percent of companies are digitized, implying the B2B Payments opportunity in places like Mexico and other emerging markets offers a much larger green field. In emerging markets like LATAM, the basic financial infrastructure for B2B payments is either missing or not accessible by businesses of all sizes. The payments tech ecosystem in LATAM is generally 10-15 years behind that in the US.
Fintechs like Paystand + Yaydoo have a huge opportunity to build next-gen payments tech infrastructure from the ground up, leap-frogging the status quo by skipping legacy technologies prevalent in the US. This is why LATAM countries like El Salvador and Venezuela are ground zero for Blockchain, first on the consumer blockchain side, and now B2B is following suit. Further, due to geopolitical tensions with China and Russia, companies in the US are near-shoring their supply chains, making US-LATAM trade and payments a high-growth area for tech to address.
By combining forces, Paystand and Yaydoo can bring the best of US scale and technology innovation, together with the local market knowledge and relationships, to transform payments in LATAM.
Staying Focused on the Mission
Back in July 2021, when we raised our Series C of $50M, I told you, "With this capital, we'll be putting our money where our mission is. That means we're not only going to continue to invest in our core product, customers, and employees — we're going to look towards the horizon of a much bigger platform." That is exactly what we have done!
The fusion of Paystand and Yaydoo forms the world's largest B2B Receivables, Payables, and Payments Network running on a commercial blockchain. It will provide AP, AR, and Payments synergy and unleash unprecedented working capital efficiency for US and LATAM businesses in an inflationary environment. The Combined entity forms 2022's first and fastest growing DeFi Fintech Unicorn.
Together, PayStand and Yaydoo will redefine the boundaries of B2B Fintech across the continent. The combined company will be one of the first global B2B blockchain platforms at a significant scale. The resulting company will have processed over $5 billion in payments, added 155 additional employees, and built a network of over 500k connected businesses, the largest of any commercial B2B blockchains in the world. DeFi-enabled B2B payment networks that are on-chain, can unlock transformative working capital efficiencies and make financial services more fair and open, especially in developing markets like LATAM. And we believe this industry disruption across borders and using DeFi blockchain can shift the balance of power from traditional financial institutions and governments to buyers, and sellers, benefiting businesses and society.
Expanding the Mission to Mexico and LATAM
At a personal level, this fusion of companies is especially meaningful to me. While I was born and grew up in the USA, and have spent, now a good portion of my life, in many of the fast-paced tech hubs of Silicon Valley, San Francisco, Boston, Atlanta, and New York — originally, my mother's side of the family is from Mexico. Perhaps this gives me a special affinity for the bridging of opportunities and cultures.
In fact, before the merger, nearly 50% of Paystand´s employees were based in LATAM, in one of our two offices in Guadalajara and Hermosillo, MX. This has given us a front-row seat to the rapid growth of the LATAM tech market. And while we have principally focused our customer segments in the midmarket and up and in developed regions like the US, Canada, and Europe, expanding into LATAM in many ways is like finally allowing us to get to work in our own backyard.
Independently, Yaydoo and Paystand have already built great businesses that enable B2B payment networks through their AR/AP software landscape in their focused regions. Now it's time to join forces and deliver solutions that will simplify and digitalize trade among the US, Mexico, and all of the Americas, unlocking a new set of opportunities for automating supply chain commerce for businesses through the imports and exports of one of the most active trade corridors globally.
Sergio, Yaydoo´s CEO, is someone I've known for years, as I´ve watched Yaydoo continually innovate in LATAM. I cannot be more thrilled to partner with him and the whole Yaydoo team on the next leg of the journey. We are fortunate to find a like-minded missionary in Sergio. As he recently put it, "Connecting the US and Mexico is only the first step. We understand very well that each country has its own payables and receivables solutions enabling B2B Payments locally. We want to forge long-time alliances with all these organizations that already know their market in order to build a network that embraces the entire continent", says Sergio. He will continue leading the Latin American expansion of the combined company.
This is the first step of a bold roadmap the company is already executing. The combined organization creates high-return synergies, including access to new markets, product offerings, distribution channels, and talent. In the Americas, the combined company will have the capacity to expand from the USA to Canada and from Mexico to Colombia, where Paystand's and Yaydoo's products can be distributed through existing channels and integration partners. Currently, the companies have already integrated globally with Oracle NetSuite, Sage Intacct, and Xero, and with CONTPAQi in Mexico, enabling access to the largest and most sophisticated mid-market opportunity on the continent.
Our First Acquisition (...we are just getting started)
We see a significant opportunity to both grow and consolidate the market and have a healthy balance sheet and cash position to be able to do so in the future. During a period of market uncertainty, we see both our value proposition of improving the mission-critical cash cycle for businesses around the globe and our position as one of the fast-growing and scaled companies in the space as a huge opportunity to transform the global B2B payment market.
Both Sergio and I have known and raised capital from Roman Leal, Managing Partner of LEAP Global Partners – a firm fittingly focused on crossborder opportunities between the US and LATAM. We think his perspective is insightful, and I quote him, "This is a watershed moment for both companies, the B2B payments ecosystem as a whole, and for the blossoming Latin America tech ecosystem in particular. Equally exciting for small and medium enterprises ("SMEs") across the Americas, PayStand now represents the largest enterprise application leveraging blockchain technology to reduce the cost of digital payments and accelerate the time to cash. We believe this value proposition will resonate even more in this increasingly uncertain economic environment."
There is a significant market opportunity in front of Paystand and Yaydoo. With its scale, the combined company could be on a path to an Initial Public Offering ("IPO") in the next 2 years, re-opening IPO capital access to the tech sector that is struggling in a recession-prone environment.
We Couldn't Have Done This Without You
Of course, there is much to unpack in the news above. And if you've known me for a while, I've often said we're only in inning two of what I believe B2B payments, blockchain, and the next wave of what a better, fairer financial system can ultimately become. It's the beginning of the beginning. And perhaps now, with this incredible fusion of companies, we might just be starting inning three. And here's what I know, after a decade-plus of dreaming about a better financial system and seven plus years running the company: I am more fired up than ever. And I know Sergio would say the same. The future looks bright and the opportunity in front of us is huge.
There is so much more to come because we believe that the emerging DeFi infrastructure that we, alongside many others, are bringing to scale has a future that's as big as the internet itself. However, as fired up as we are to be working on a movement that's bigger than Paystand alone, one thing we know is that category creation happens brick by brick, customer by customer, and employee by employee. So, to that, I extend my heartfelt gratitude to every customer, employee, investor, and stakeholder who has already bet on us. Seriously, thank you. If this mission interests you, we'd love to connect.