Issue #08: The Card Network Killer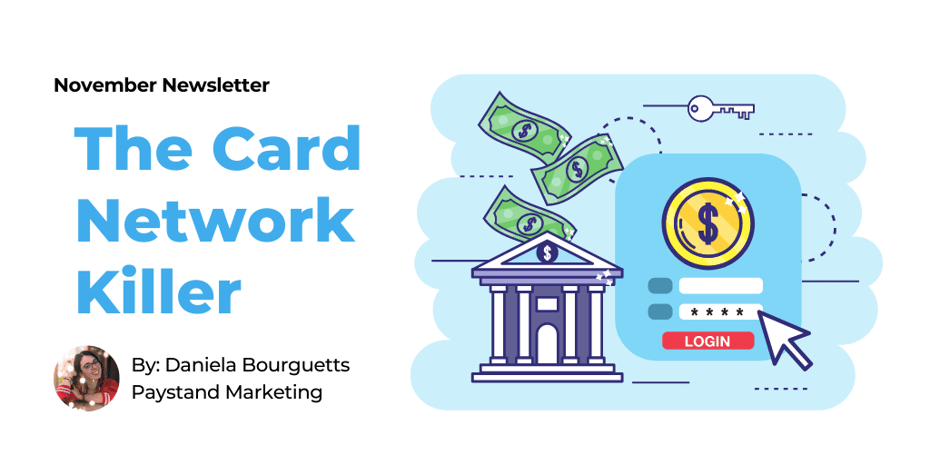 Editor's note: Hey there, my name is Daniela and I'm the editor of Paystand's newsletter. Each month, I send a roundup of the best payments and finance content from Paystand and around the web, direct to your inbox. Don't miss the next issue. Subscribe now.

---
We're nearing the end of 2020 -- a year that brought unprecedented challenges for businesses. Over the past 11 months, businesses have dealt with a sudden shift in the economies of supply and demand, the behavior of staff and payers, and the necessity of digital-first payment methods. Amidst this upheaval, one thing became quite clear: most B2B companies were more burdened than helped by traditional digital payment methods, especially credit cards.
Credit is the most commonly accepted payment method due to speed, but it comes with significant drawbacks, notably high transaction fees. Yet businesses spent $523 billion on cards in 2018, and the number is expected to go up to $763 billion by 2022.
Even in the uncertainty of an economic downturn, merchants are being held to over 300 fees on a single transaction vía card network. Now more than ever, credit cards are proving a costly option for B2B companies and unsustainable in the long term. Fees will keep rising, card monopolies will keep expanding, and businesses will still need to move money faster to survive.
A change in the B2B payments field is long overdue. In this month's newsletter, we're going to discuss why traditional card networks fall short of today's B2B payment needs and the new banking infrastructure that forward-looking businesses are implementing for a future-proof payment strategy.
The New Payment Playing Field
Decades ago, we spent hours at Blockbuster looking for the perfect movie or going to record stores to buy the latest album from our favorite artists. Today we live amidst digital transformation where subscription models like Netflix and Spotify turn entertainment into software for a comfortable, on-demand experience.
Paystand believes money is also becoming software. In consumer payments, platforms like Venmo changed the way people move money from one account to another with a few taps on their phone. Change in B2B has happened more slowly, and that's because traditional digital payment methods don't help solve the fees problem all that much.
Even in a post-pandemic world, there is no way around fees when dealing with card networks. For companies giving away 2-3% is a recipe for going out of business in the fragile state of our economy where over 97,966 businesses have permanently shut down during the pandemic.In retail alone, businesses pay more than $100 billion to these card networks to accept electronic payments.
This is especially true if your business is operating remotely and no one is in the office to collect paper checks arriving by mail. By contrast, digital payments are safe, easy, and less expensive. When you collect payments digitally, that money goes straight into your business' account with little to no delay at a fraction of the cost.
In short: B2B payments is a $56 trillion industry built on top of broken plumbing. Enterprises need a fast and reliable payment network that doesn't consume a chunk of their profits. And they need a way to accelerate that shift.

It Doesn't Have To Be A Zero Sum Game
As pioneers of the zero-fee B2B payments movement, we envisioned how B2B payments should work: a digital-first, subscription model payment network in the cloud, with automation features and transparency for improving efficiency. That's the Paystand Bank Network, a platform that enables secure bank payments that do not require a blanket authorization between trusted parties.
But it's not enough to just build a better network, you have to provide the means for adoption. We asked ourselves: how can we help businesses accelerate the shift away from those expensive cards to zero-fee payments? The answer: make the payment model a non zero-sum process.
Today, we're announcing an update to the Paystand Bank Network that gives all Paystand merchants a way to accelerate their customers off expensive card options. It's called Payer Incentives, and because we believe so strongly in shifting companies away from expensive payments, we're giving it away for FREE as part of our core platform.
Instead of paying a hefty fee to card networks for each transaction, merchants can now choose to discount an invoice or offer immediate cash back to payers. Why pay 3% to a card network? Instead, build a stronger relationship with your payers, incentivize zero-fee payment rails, and keep more money for your business. #NoFees. It's the Paystand way.
Product updates
Our latest product upgrades are all about making invoices, payments, and accounts receivable easier to manage digitally.
✨
What's New
🚀
Our latest product upgrades are all about making invoices, payments, and accounts receivable as a whole easier to manage digitally.
Payer Incentives ARE HERE!:

Every business wants to keep more of the money they are owed rather than having it siphoned off by card networks. But until now companies had to choose between absorbing the pain themselves (paying fees) or passing the pain along to customers in the form of increased costs. In that model, someone always loses. But what if both parties could win? That's Payer Incentives.

Now, any merchant can incentive their customer to pay via the Paystand Bank Network - our zero-fee, secure, fund-verified bank-to-bank payment network. Choose to either discount the invoice a small percentage or offer immediate cash back to your customer. You get to keep more of your money, your customer gets a better price, and no one pays transaction fees. Everyone wins. This new feature is FREE for all merchants, so book a demo today to learn more and enroll!


Early access to Smart Lockbox beta: Over the past few months, we've helped our customers move more of their payment volume to digital channels. And we're excited to announce we've taken another big step forward in freeing businesses from the inefficiency of legacy, paper-based payments. Introducing Paystand Smart Lockbox: our hassle-free Checks-as-a-Service solution.
Paystand Smart Lockbox gives businesses a way to manage and track paper checks from any device with an internet connection. Now you can automate the check collection process and see all your payments in one place without ever dealing with another paper check again. It's B2B payments reimagined. Sign up for early access today!
Industry Articles 📚
DOJ sues to block Visa's $5.3 billion purchase of Plaid Inc. Card networks are facing a reckoning. Visa's billion-dollar purchase of payment infrastructure competitor Plaid would allow Visa to maintain its monopoly position in online debit. Now the Department of Justice is stepping in with a lawsuit. The result remains to be seen, but this proves that digital payment infrastructures are here to stay.


Visa To Acquire YellowPepper To Expand Network of Networks In LATAM. Legacy infrastructures are striving to get a share in the digital market worldwide. Read what this acquisition means for Visa's operation in LATAM in this note by PYMNTs.


Blockchain leaves traditional payments in the dust. Blockchain-based solutions represent the next logical evolution of B2B payments. The benefits of faster transactions appeal to small-to-medium businesses that rely on steady cash flow for survival. Read about how Blockchain is disrupting payments in this note by PaymentsSource.



Social Media 💬
Payment Automation: 33% percent of mid-size businesses report payment processing time as a significant issue. Payment delays can result from a delay in payment from suppliers/buyers or slow processing methods. As remote work becomes the norm, accounting processes should be the first to be automated, benefiting the team's efficiency and businesses' cash flow.
Disruption: Accepting permanent change takes time. Technology has brought disruption in many aspects of our lives, from entertainment to personal and B2B finances. Starting a movement isn't easy, but once it starts it is unstoppable.
I used iTunes from 2004 religiously.

When I switched PCs, I would carefully transfer my data + music

Until, in 2018, I dropped it for Spotify. After 14 years, I never want back

Disruption is when you permanently change long term behaviour

Easy in theory, powerful in practice.

— Aviral Bhatnagar (@aviralbhat) October 15, 2020
Online Debit Monopolies: Merchants could benefit significantly from switching from card networks to alternative payment infrastructures, especially when these networks do so little for their users' wellbeing. Imagine cutting down processing fees to zero, automating payment processes, and having full visibility of transactions at all times. That is what a cloud banking infrastructure like Paystand has to offer.
Sign Up For Paystand Smart Lockbox Beta
Talk to the Paystand team today about how you can shift 100% of your paper-based payments to digital and automate the costly, manual work of monthly paper-check processing. It's hassle-free check processing from invoice to reconciliation.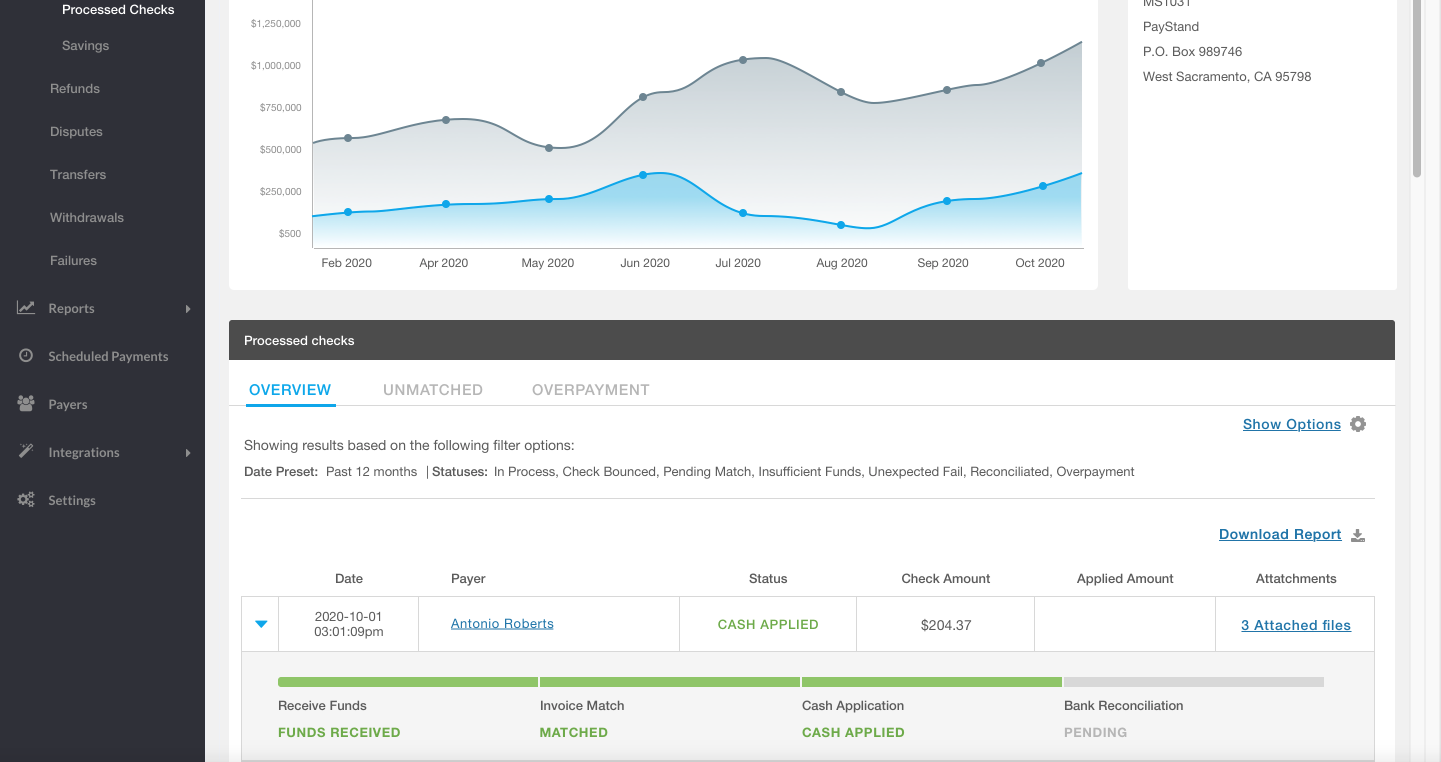 Book a demo of Smart Lockbox today.