Introducing Blockchain Certified Payments
Today Paystand, is introducing a completely new way for enterprise payments to leverage the blockchain. For the first time in the industry, Paystand customers have the option to certify and notarize payments on the blockchain (from payment requests & invoices to completed payment receipts) to ensure that the history of payments are secure, auditable, independently verifiable, and free of tampering.
Digital Notary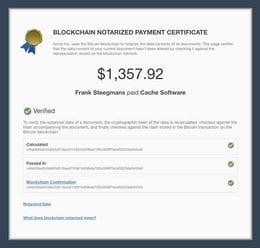 Typically, certifying payment records are the domain of third party notaries or auditors. The blockchain however enables an independent, decentralized and cryptographically secure way to verify through math that a payment has been made and its information has not been tampered with. This is critical, for enterprise level payments, where you need to ensure the veracity of a payment. Examples include title, insurance, supply chain, healthcare, stock transfers, billings, and other mission critical payments.
Increased Security
Certifying payments on the blockchain increases security & audit capabilities that enterprise desperately need. Fraud in trade finance alone accounts for nearly $4 trillion a year, due to exploitable flaws in manual record keeping. Because, unfortunately, humans inherently are prone to errors, mistakes, and worse corruption, and standard record keeping can fall short.
Immutability
Paystand leverages a core feature of the blockchain called immutability. When an electronic record is written on the blockchain, it can never be changed. Traditional record systems are set up to track if a record is altered, but that practice is only as good as the human controls that enforce it. On blockchain however, cryptography guarantees that the electronic record can't be altered, creating a payment history that is secure, certified, and fully auditable. In an era where headlines of corruption occur in far too many industries, immutable records can lead to a much higher degree of transparency and accountability.
Blockchain Mission
J
eremy Almond, CEO of Paystand, says, "Since the founding of the company, Paystand has been a huge believer that blockchain has the ability to radically transform financial services. Our newest blockchain certification product demonstrates our continued commitment to help enterprises leverage cutting-edge and digital native technology to improve their payment, invoice, and billing process."
How it Works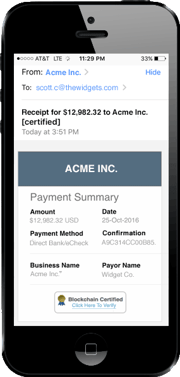 The way it works is every Paystand customer gets to choose if his or her payments are certified. When they choose to enable certification, every payment request and payment receipt as well as its associated data (e.g. name, amount, invoice, etc.) gets a cryptographic hash that is automatically stored on the blockchain At any time the sender or recipient can verify the information hasn't changed since its inception by clicking on the certificate to see that the records sent to both parties match with the permanent & immutable hash stored on the blockchain. All payments still happen in local currency such as U.S dollars and no information is stored on the blockchain, only the auditable proof (i.e. cryptographic hash). Once a payment occurs, similarly a receipt is available to both parities. Within that receipt one can click on the certification to confirm the payment occurred and see the auditable record (i.e. cryptographic hash on the blockchain) that ensures the amount and additional information has not been tampered with. Further all Paystand customers have access to a dashboard seeing the history of all payments and the certify audit trail of each.
Blockchain Future
As the world becomes more digital and physical paper trails become less common, we need a way to ensure that payment records have not been modified; blockchain certification is a novel new approach. Too often payment records are only as secure as the person who controls them. The advantage of a blockchain certified payment receipt, is that it creates greater trust for all parties, enables added compliance and transparency in the system, makes for better digital tracking, reduces errors, and identifies fraud more easily. There's no doubt as blockchain moves from the stuff of whitepapers to production systems like this, it will rapidly improve our financial process.
------
If you'd like to learn more about b2b blockchain payment products for your enterprise, feel free to B2B Payments Platform, We'd love to hear from you..