Paystand Recognized for Best Use of Blockchain in Benzinga Global Fintech 250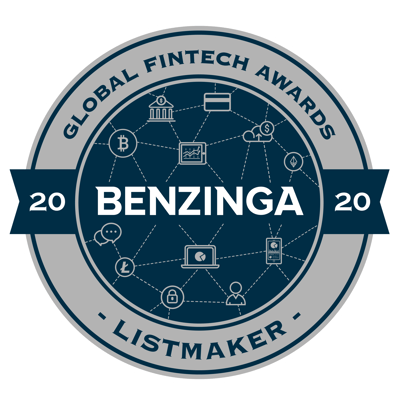 B2B payments leader recognized as Blockchain payments pioneer; named a Benzinga Fintech Listmaker as payment network crosses 160,000 businesses.
Scotts Valley, CA — November 10, 2020 — Paystand, the fastest growing blockchain-enabled B2B payments platform, today announced it was selected as a Benzinga Fintech Listmaker in 2020 at the Benzinga Global Fintech Awards. Among the 250 most respected fintech companies worldwide, Paystand's software is helping unlock billions in economic value that is held up in overdue receivables and siphoned away by outdated AR processes and payment fees.
"Trust in our infrastructure and processes across many sectors of the economy is more critical now than ever," said Mark Fisher, VP of Marketing at Paystand. "In commercial finance, businesses have long been victim to the inefficiencies of the archaic, pre-internet payment infrastructure that is prone to fraud, errors, and delays. Paystand gives businesses a faster, more secure way to transact, without the costly fees of middlemen and gatekeepers. Our zero-fee payment network does more than make business payments easier and safer; it returns economic value to the financial system."
Paystand Eliminates the Zero-Sum Model of B2B Payments
One of the biggest challenges in B2B payments today is that Accounts Payable and Accounts Receivable don't share a common payment infrastructure. This leads to misaligned financial interests and creates a zero-sum mentality between payers (AP) and receivers (AR). Instead of optimizing the entire payment journey, technology and process improvements for one group often lead to inefficiency and friction for the other.

Paystand bridges that gap using blockchain and cloud technology to deliver industry-first Payments-as-a-Service software to digitize and automate the entire cash lifecycle. As COVID-19 forced finance departments to accelerate digital transformation across almost all industries, Paystand helped customers convert receivables into cash 62% faster than current methods. The typical Paystand customer saves $90K in labor, $850K in fees, and $1.2M on total AR costs in just three years.
The company is poised to accelerate growth heading into 2021 on the heels of continued expansion in all areas.
Network: Over 160,000 businesses are now paying through the Paystand Network, a 60% increase over the same time last year.
Product: Paystand released new Smart Lockbox technology to help companies further digitize and automate their entire Accounts Receivable process.
The Paystand Virtual Card: The company launched the industry's first no-fee corporate card to help businesses further accelerate the shift to digital-first payments.
Company: Paystand recently opened its third office in Salt Lake City, Utah to further expand both Sales and Marketing teams as growth accelerates. The company was also named to the Inc. 5000 list as the #9 Fastest Growing Private Company in Silicon Valley.
Paystand Recognized As A 2020 Benzinga Fintech Listmaker
The official Benzinga Fintech Listmakers are comprised of 250 carefully vetted and renowned companies and executives who are striving to revolutionize the fintech industry. From deeply
established companies to the newest startups, this group is impacting sectors like payments, banking, investing, technology and financial literacy.
"We're recognizing the companies that will define the future of our financial lives," says Benzinga CEO Jason Raznick. "Since the inaugural Benzinga Fintech Awards in 2015, our listmakers have closed $300 million in deals and partnered with some of the biggest players in the industry. We look forward to honoring these players for years to come, as well as finding the next generation of fintech."
This list of carefully selected companies will be honored each year as Benzinga continues to highlight the fintech industry's most innovative minds.
To see all the Listmakers go to bit.ly/2020Listmakers
About Paystand
Paystand is on a mission to create a more open financial system, starting with B2B payments. Using blockchain and cloud technology, we pioneered Payments-as-a-Service to digitize and automate your entire cash lifecycle. Our software makes it possible to digitize receivables, automate processing, reduce time-to-cash, eliminate transaction fees, and enable new revenue.
Paystand has been consistently recognized as a top innovator in enterprise financial services. Today, over 140,000 businesses make better payments over the Paystand Network, including 8 of the top 10 healthcare companies, 4 of the 6 largest insurance providers, 2 of the 3 largest hospitality brands, 2 of the 3 largest beverage distributors, and market leaders in real estate, manufacturing, retail, and energy.
For more information about Paystand, visit us at paystand.com. Follow our blog and connect with us on Twitter and LinkedIn.
About Benzinga
Benzinga is a dynamic and innovative financial media platform that empowers investors with high-quality, unique content with the goal of making information easier to consume. Benzinga's mission is to connect the world with news, data and education that makes the path to financial prosperity easier for everyone, everyday.
About the Benzinga Fintech Awards
The Benzinga Fintech Awards is an exciting, forward-looking competition to highlight the companies and individuals with the most impressive technology, advancement and innovation who are building the future of financial services and capital markets. This year, Benzinga is proud to join forces with Envestnet | Yodlee to facilitate the most beneficial education and impactful networking in the quickly changing space.