4 Must-Have Features to Consider When Choosing a NetSuite Payment Solution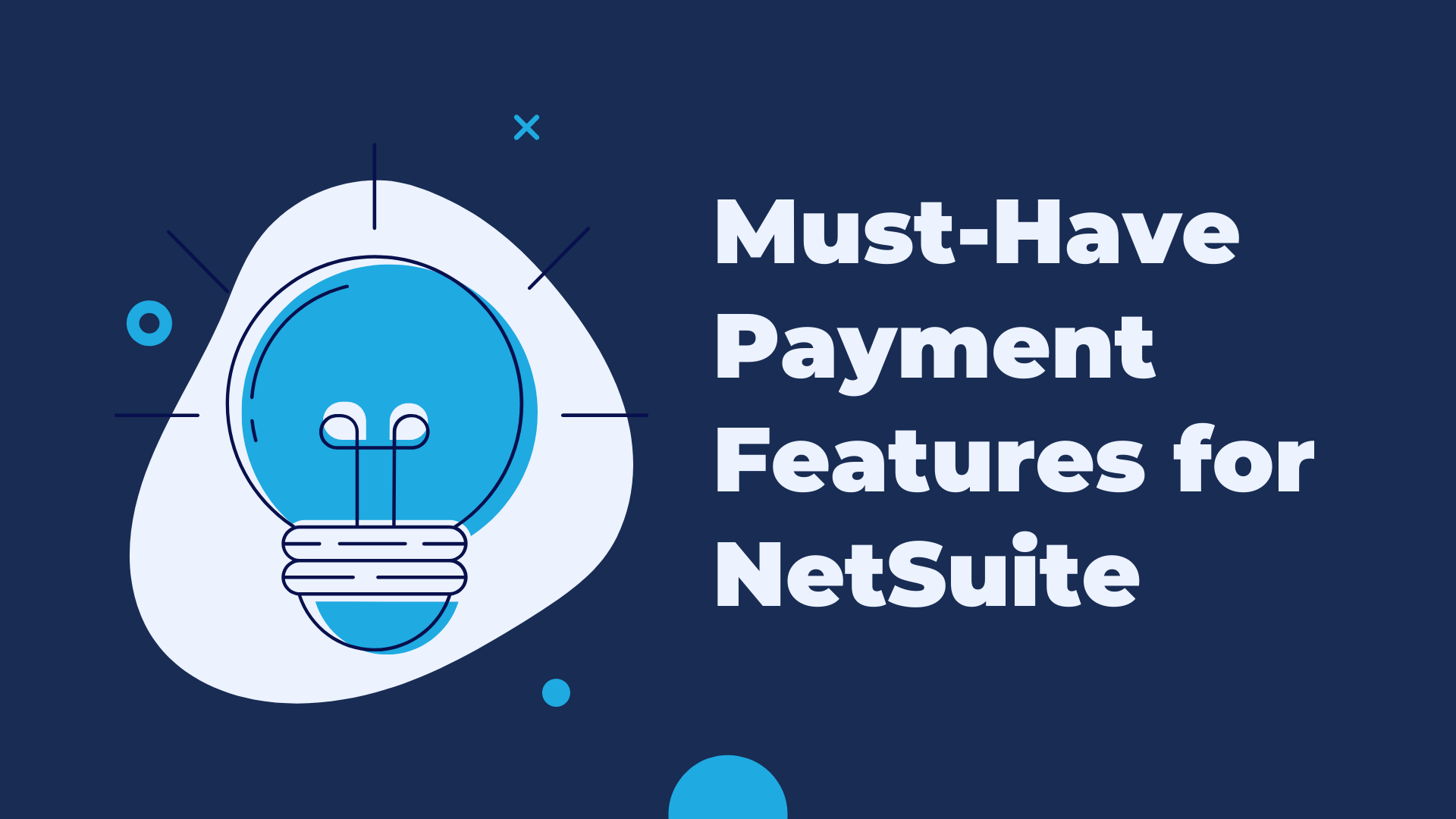 What should you look for in a NetSuite payment solution?
NetSuite has an app-store of solutions called SuiteApps. The right payment solution, or SuiteApp, will not only integrate easily with your current systems, but will also help you reduce processing costs, speed up collections, and streamline the payments process for your customers.

In this blog, we'll explore four key features to look for when choosing a NetSuite payment solution.
1. Multiple Payment Methods and Flexible Options
Many users like to have options or they have their own preference as to which payment method they use to pay invoices. Offering your customers multiple payment options can help you get paid faster, reduce the risk of bad debt, and adapt quickly to changing customer expectations.

Streamlining the payments experience can also help reduce barriers in getting money from customer accounts into yours. Manual billing processes and traditional payment methods like paper checks require time and effort that can be a burden on internal resources. They also require work from your customers and can create a less-than-ideal interaction with your brand.

As a bonus, offering payment options that don't charge transaction fees can also drastically cut processing costs and eliminate manual work typically associated with paper-based options like checks.


2. Automatic Reconciliation
Manual reconciliation is the least efficient and most cost-demanding process in a company. According to a survey by EY, nearly 60% of a financial department's resources are spent on managing transaction-intensive processes. And around 95% of this effort is wasted on transactions that already match, rather than problem entries that actually require attention.

That's why one of the most important features that a NetSuite payment solution can offer is automatic reconciliation. Payment solutions like Paystand can deal with repetitive tasks like transaction matching, giving you the ability to drill down on open entries or exceptions that require additional attention, and also to develop strategic, qualitative activities.


3. Enterprise-Grade Reporting
There's no denying that data-driven insights are the backbone of financial decision-making, helping accounting and finance professionals better understand their customers, receivables, revenue, and more.
Payment solutions with enterprise-grade reporting offer an easy way to access this data to meet your needs, as well as tools to analyze revenue insights and monitor key financial metrics.
When analyzing payment solutions that offer enterprise-grade reporting, look for tools that can customize reporting to your specific needs as a business. The solution should be able to guide your team in identifying opportunities and red flags based on customer payment history.

4. Digitized Processes and Smart Receivables

Digitization is a key element needed in order to speed up time to cash, eliminate human error, reduce manual processing, and improve forecasting accuracy.

Digitizing your process within NetSuite also extends what is possible with your ERP. For example, a key element that Paystand offers is smart "Pay Now" buttons that automatically recognize what open receivables in NetSuite are associated with the customer clicking the button. Because the button recognizes the customer in your "source of truth", Paystand can automatically update all your records when a payment has been made.

By choosing a payment solution that allows you to create and edit smart receivables, you can capture critical customer data within the receivable itself and use it to automate all sorts of back-office activities. Plus you can track and securely store information within the Receivable, and it's all tied directly into your NetSuite ERP.

Find the Best NetSuite Payment Solution

Together, these four features empower you to reduce processing costs, speed up collections, and make payments easier for customers. Your NetSuite payment SuiteApp should deliver a positive ROI in the first year. If you want to go beyond simply accepting payments, contact us to learn more about a NetSuite payment solution that provides savings, scalability, and control.
. . .
Do you want to reduce overhead costs, eliminate transaction fees, and streamline collections? Schedule a free demo with one of our experts or call us anytime at 1-800-708-6413.