Paystand Surpasses 1000% Growth, Selected To 2020 Inc. 5000 List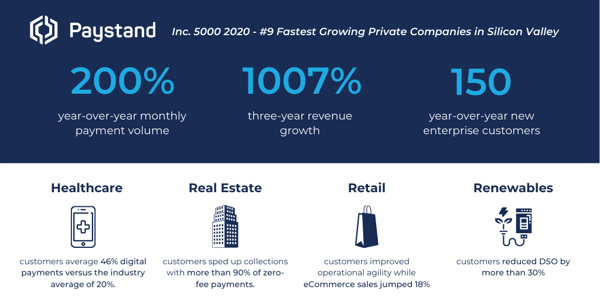 B2B payments leader selected to Inc. 5000 list as top 10 fastest growing private company in Silicon Valley; payment network crosses 140,000 businesses.
Scotts Valley, CA — August 20, 2020 — Paystand, the fastest growing blockchain-enabled B2B payments platform, today announced record-setting growth of 1007% and 150 new enterprise customers. As companies look for ways to improve cash flow and operate more efficiently, Paystand's software is helping unlock billions in economic value that is held up in overdue receivables and siphoned away by outdated AR processes and payment fees.
"This year illustrated that doing business 'the old way' is no longer economically viable. In fact, it's a recipe for going out of business," said Jeremy Almond, CEO and co-founder of Paystand. "Growing 1007% in today's economy shows that businesses need a better way to manage payments and cash. Paystand gives businesses a faster way to transact, without the costly fees and extra steps. Our zero-fee payment network replaces the outdated, fee-based model and we're excited that businesses are reaping the benefits when they need it most."
Paystand Named to Top 10 of Inc. 5000 Fastest Growing Private Companies in Silicon Valley
With 1007% growth, Paystand ranked in the top 10 of all Silicon Valley companies featured in the 2020 Inc 5000 list. Companies that made the list, on average, grew 600% over the same three-year period. During a stretch when the economy grew just 15%, Paystand achieved record growth by enabling businesses to transact more efficiently and more cost-effectively.
"Every person we hire at Paystand knows this is about more than payment processing," said Aliyah Nance, Paystand's VP of People. "Rebuilding $125 trillion worth of broken finance infrastructure requires top talent. Being named on the Inc. 5000 makes it crystal clear that we're designing the breakthrough technology and experiences our customers and the industry need. And yes, we're hiring."
Over the past 12 months, Paystand's payment network has surged as businesses look for better ways to transact in the digital-first economy. Driven by a flat-rate, Payments-as-a-Service business model that creates a predictable cost structure for Accounts Receivable and delivers significant ROI for B2B customers, Paystand saw record growth across all areas of its business and payment ecosystem.
Network: Over 140,000 businesses are now paying through the Paystand Network, a 40% increase over the same time last year.
Business: Paystand accelerated customer acquisition with more than 150 new enterprise customers, fueling 2.5X YoY revenue growth and more than 200% increase in monthly network payment volume.
Product: Paystand released industry-leading AR automation capabilities for NetSuite, Xero, and Magento, as well as Collections Automation to make invoicing, payments, and reconciliation a seamless, intuitive process through the Paystand dashboard or any ERP.
Talent: Paystand also added 10 strategic hires across both its Scotts Valley and Guadalajara, Mexico offices to further fuel this growth, including new VP of Customer Success, David Rhein, an industry veteran from Apptus and Tradeshift.
The Paystand Virtual Card: The company launched the industry's first no-fee corporate card to help businesses further accelerate the shift to digital-first payments.
Zero Transaction Fee Payment Network Surges Past 140,000 Businesses As Digital-First Shift Accelerates
While the broader economy has seen significant pullback due to the global pandemic and subsequent recession, Paystand customers across many core sectors of the economy have benefited from greater operational agility and increased cash flow. Using Paystand, businesses convert receivables into cash 62% faster than the competition and the typical Paystand customer saves $90K in labor, $850K in fees, and $1.2M on total AR costs in just three years.
Complete results of the Inc. 5000 can be found: https://www.inc.com/inc5000
About Paystand
Paystand is on a mission to create a more open financial system, starting with B2B payments. Using blockchain and cloud technology, we pioneered Payments-as-a-Service to digitize and automate your entire cash lifecycle. Our software makes it possible to digitize receivables, automate processing, reduce time-to-cash, eliminate transaction fees, and enable new revenue.
Paystand has been consistently recognized as a top innovator in enterprise financial services. Today, over 140,000 businesses make better payments over the Paystand Network, including 8 of the top 10 healthcare companies, 4 of the 6 largest insurance providers, 2 of the 3 largest hospitality brands, 2 of the 3 largest beverage distributors, and market leaders in real estate, manufacturing, retail, and energy.
For more information about Paystand, visit us at paystand.com. Follow our blog and connect with us on Twitter and LinkedIn.